Seattle Seahawks: Jimmy Graham goes off in win over Bills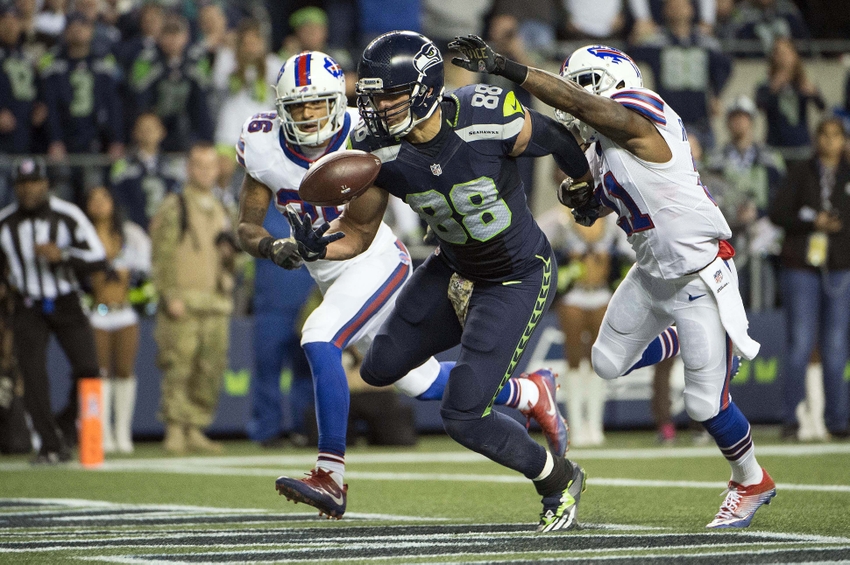 The Seattle Seahawks finally saw the Jimmy Graham they thought they were getting from New Orleans on Monday Night Football…
Once upon a time, there was a player named Jimmy Graham. He caught over 50 touchdown passes in a five-year span with the New Orleans Saints before he was traded to the Seattle Seahawks.
Is that name ringing a bell for anyone?
Jimmy Graham decided to wake up in a big way on Monday Night Football, having his best game of the 2016 season and his best game as a member of the Seattle Seahawks, who won a somewhat controversial contest with the Buffalo Bills.
Graham was spectacular, catching a pair of touchdown passes and hauling in eight passes overall. He looked healthy, fresh, and ready for a big second half surge, making plays like this:
Can't stop watching these @TheJimmyGraham catches…

Incredible. #BUFvsSEA pic.twitter.com/elnidbtBFM

— NFL (@NFL) November 8, 2016
Seahawks head coach Pete Carroll was raving after the game about Graham:
"Jimmy was phenomenal tonight. Gosh, what a game," Seahawks coach Pete Carroll said. "What an incredible player and competitor and all of that. He just continues. Every game is a highlight film of catches. The first one was a one-hander with a guy pulling his arm out. The second one looked like another one-hander… He did a lot of great things tonight. Nothing more fun than watching a guy hurdle somebody like that, an athlete of that kind of stature, it was an extraordinary play. He was phenomenal tonight."
Graham was expected to be the centerpiece of the Seattle passing game when they sacrificed the anchor of their offensive line — center Max Unger — in order to obtain his unique services. Graham has struggled through injuries in his time with the Seahawks, but on Monday night, he proved exactly the type of elite playmaker he is still capable of being.
Seattle is certainly an interesting team offensively, one with plenty of pieces but plenty of underachieving at times as well. Part of that this season has been the health of Russell Wilson, who finally looked like he might be getting back to 100 percent against the Bills as well.
It could all be a perfect storm for the Seahawks, who desperately needed a big surge offensively. They definitely got it from Graham, who excited Seahawks fans and fantasy football players with a dominant night.
This article originally appeared on