Sean Smith Will Bounce Back Against the Atlanta Falcons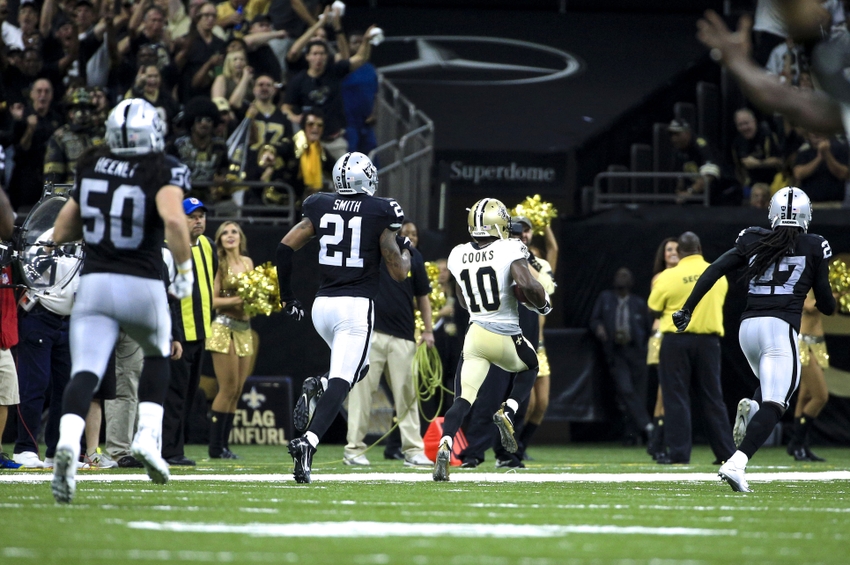 Even though the team won, Oakland Raiders corner Sean Smith took a whuppin' last week!
The Oakland Raiders cornerback Sean Smith had bombs over Bagdad thrown on him last Sunday. New Orleans Saints quarterback Drew Brees threw for 419 yards. Receivers Willie Snead and Brandon Cooks combined for most of those yards.
Raiders cornerback Sean Smith gave up the majority of those yards on big plays. The Raiders certainly didn't pay Smith all that money this offseason to perform the way he did last Sunday. So many a fan in Raider Nation see that as cause for concern.
A lot of great players with other teams have gone to Oakland and squatted on the Raiders in the past. But there's nothing to worry about here, Smith is still an elite corner. He just had a bad day like a lot of top cornerbacks and the top secondaries in the NFL lately.
Kansas City Chiefs quarterback Alex Smith threw for 363 yards against the San Diego Chargers secondary. The Buffalo Bills secondary got torched in Week 1 and on Thursday night. And New York Jets cornerback Darrelle Revis, one of the best ever, is off to a bad start in 2016.
In Smith's case, the perfectly wrong storm hit him last Sunday.
Turn the page for a look at that storm and how next Sunday will be different.
Ascending Stars
Cooks went No. 20 overall to the Saints draft and Snead went to them undrafted in 2014. Saints' all-time receiver Marques Colston was still there and the No. 1 receiver. And Kenny Stills was their deep threat when they got to New Orleans so their ascension was gradual.
Cooks struggled with injuries and physical corners in press coverage as a rookie. Meanwhile, Snead barely made the team so he didn't see the field at all as a rookie. But in 2015, they would both make a big jump to Year 2 and shine a little.
Cooks had 84 catches for 1,138 yards and nine touchdowns while Snead had 69, 84 and three. His health allowed him to play in all 16 games, starting in 13 while Snead played in 15, starting nine.   Cooks made notable improvements against press coverage too.
Head coach Sean Payton and Brees know what to do with players like that. So the Saints cut Colston and traded deep threat Kenny Stills with exciting plans for them in Year 3. We'll hear much more about Cooks and Snead as the year goes on.
Matchup Nightmare
The worse thing for a smaller, quicker corner is a taller receiver than can catch the ball over them. The worse thing for a taller, longer corner, is a smaller, quicker receiver that can shake them. And that's exactly what Cooks and Snead are as they both spend time in the slot too.
They're so sudden and quick, they made Smith miss his jam and beat him for big plays. When you miss a jam on a fast guy, unless you have dependable help over the top, he's gone. So when Cooks got his big play on him, it was for 98 yards and a TD.
On Snead's big play, Smith caught up to Snead and was in on the tackle for a gain of 38. On the day, Cooks had 143 yards on six catches with two TDs and 23.8 yards per catch. Snead had 172 yards on nine catches with one TD and 19.1 yards per catch.
Head coach Jack Del Rio benched Smith after he got burnt deep one time too many. His lack of discipline got him in trouble and Del Rio didn't see where it would get better that day. D.J. Hayden, a smaller, quicker cornerback, went in for Smith and did better.
Better Matchup
The Raiders are playing at home against the Atlanta Falcons on Sunday. Superstar receiver Julio Jones is coming to town, giving Smith a much better matchup than he had last week. Yes, Jones is better and much more proven than Cooks and Snead.
At 6'3″, 220 pounds, Jones is physically dominant with great strength, long arms, and a great vertical leap. Jones also has great speed but he's not quite as fast as Cooks. And he's definitely not as slippery and sudden as Cooks or Snead.
Jones mainly depends on his frame and physicality to go up and get the ball over a corner. But that's what Smith defends best as he is also 6'3″, 220 pounds with extra long arms. He's also very physical at the line of scrimmage when he gets his hands on you.
And for a man that size, he is fast like Jones but neither of them have the track speed Cooks has. I feel funny saying this but this is going to be a physical matchup between Smith and Jones. Corners like Smith were made to play against receivers line Jones.
Pass Rush
There is no NFL cornerback that can consistently cover an NFL receiver for four or five seconds. So you need a pass rush that won't allow the quarterback that much time to throw the football. You especially need that pass rush when the opposing team throws the deep ball.
But the Raiders, coming in with Khalil Mack and Bruce Irvin, didn't get pressure on Brees. For most of the day, the Saints offensive line gave Brees all day to throw. When that happens, we should expect Brees to throw for over 400 yards like he did last Sunday.
Tackles Terron Armstead and Zack Strief are among the top tackle combos in the NFL. As a whole, Pro Football Focus has the Saints offensive line ranked No. 3 in the NFL last year.  And they won their matchup with the Raiders' No. 5-ranked defensive front led by Mack and Irvin.
Do not be fooled by the sack-fumble Irvin had early in the game last week. I counted five seconds that Brees had the ball in his hands in the pocket without moving on the play. You read that right, the one sack the Raiders had was when Brees had fives seconds to throw.
Bottom Line
The Raiders got away with one last week because quarterback Derek Carr saved the day. So Smith and the team learned a valuable lesson while winning on opening day. I say the team because they should know who to match him up with now.
No matter how good the corner is, there are certain receivers out there that he doesn't match up well with. Along with that, the Saints' receivers will have more big games this year become better known. Brees throwing perfect passes will help them continue.
A lot of great corners and secondaries altogether have taken a beating to begin this season. And they're all going to snap back at some point, it's just a matter of when. For Smith, it looks like that time to snap back is Sunday.
He has Jones, the type of receiver he was made to cover, lining up on the other side of him. And hopefully, the Raiders will have Smith follow Jones all over the field. Do no worry Raider Nation, Jones will bounce back and help the Raiders.
This article originally appeared on