Seahawks vs Rams, This week's random thoughts…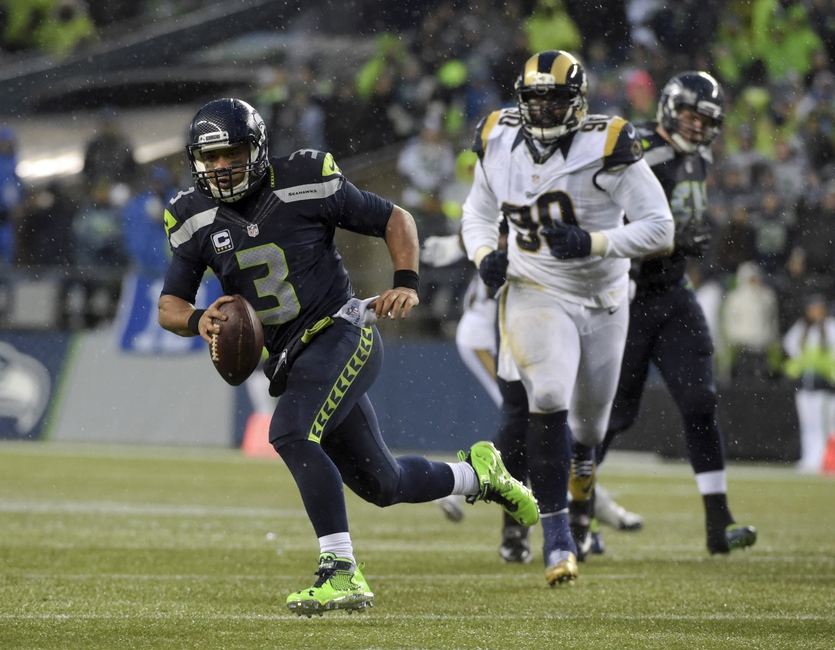 Once again we delve into the realm of random thought's I've had throughout this week about the game Sunday. These are just what it says….random thoughts. Not predictions (OK some predictions). Not analysis. Just things I think about during game week as we look ahead to the Seahawks welcoming the Rams back to Los Angeles this weekend.
I wonder how much more the Rams will blitz to test Russell Wilson's sprained ankle…
If C.J. Prosise's greatest value is as a pass-catching threat out of the backfield, why did he reportedly get so many reps in practice this week with a club on his hand (protecting a broken bone in his wrist)? This worries me…
Jimmy Graham will make some big catches against the Rams. (See? I guess some of these are predictions…)
I don't know if I was impressed by the 49ers young defensive front when they beat the Rams in week #1, or if LA's offensive line is still that bad…. Bennett/Avril/Clark could have a field day…
I think Thomas Rawls will out gain Todd Gurley…
I'm downloading iOS 10 right now…and I'm frightened…
Was that whole William Hayes mermaid and dinosaur story line on Hard Knocks really a bunch of BS?
A mermaid might have more success playing quarterback against this Seattle defense as Case Keenum will…
When the Rams do try and blitz to test Wilson's sprained ankle, there will be plays downfield against a weak LA secondary… I mean, Jeremy Kerley was open on almost every play…
Who is Jeremy Kerley?…
Are there any Color Rush green jerseys left? Did I wait too long? Forget the haters… I LOVE those, and I will own one…
Remember the "Ram rules?" Worst… idea… ever…
As bad as Keenum is, if Jared Goff is the backup this week I realllllllly want to see him in the game…
Now that I've made the big decision to move, I wonder how I'm going to like being a Hawk fan in Cardinal territory…
I think too much is being made of "Jeff Fisher knows how to beat the Seahawks." Different environment this year, different teams, favorable matchup for Seattle…
Oh yeah, Case Keenum is really bad at playing QB, so there's that…
And another oh yeah, Gurley is dumb enough to guarantee a win?
Todd Gurley is wrong…
More from 12th Man Rising
This article originally appeared on