Seahawks vs 49ers: 5 takeaways from Seattle's Blowout win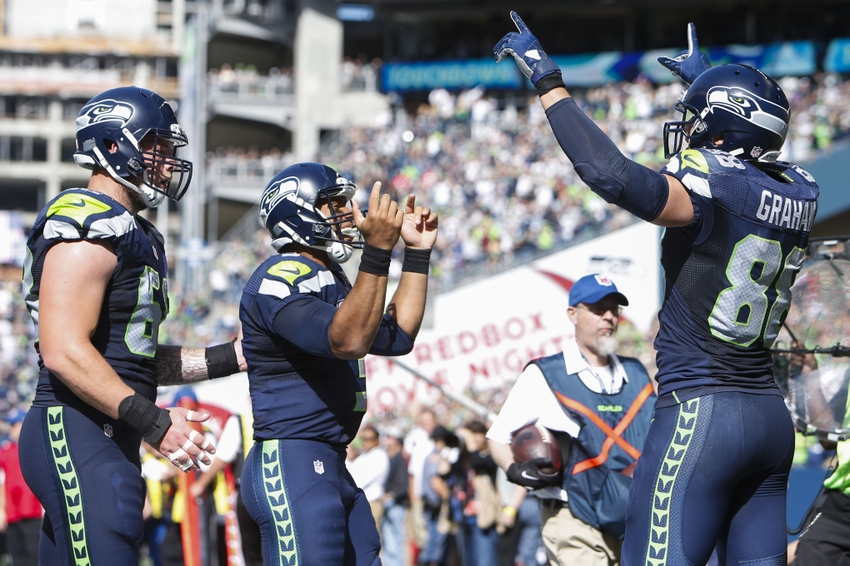 The Seattle Seahawks finally got their offense on track and the result was a massive blowout of the San Francisco 49ers.
This is exactly the type of game the Seattle Seahawks needed. After two weeks of very poor offensive football, they exploded to a 38-18 blowout of division rival San Francisco. The 49ers had no answers for anything the Seahawks were doing on either side of the football.
It should be noted that San Francisco simply isn't a good football team. Beating up on the dregs of the NFL should never be confused with beating a good football team.
At this same time, this is exactly what the Seahawks should do when they play a bad team. If the Seahawks are going to contend for another Super Bowl, they better be able to blow out the bad teams on their schedule.
Here are my fave takeaways from Seattle's blowout win:
1. The offensive line was better…
If we're going to be critical when they're terrible (and they'd been terrible) than it is only fair that we praise them when they play well. Seattle's offensive line played much better this week. When Wilson and Christine Michael get blocking, good things happen.
The unit was still far from perfect. The group was penalized over and over. Blocks were missed and sacks were given up.
Despite all of that, this was still a major step forward for Seattle's line. They were better, and it would be wrong to not recognize the improvement.
2. But now Wilson is even more injured
Late in the third quarter, Wilson was sacked when trying to extend the play. The defender (and I believe it was Eli Harold) rolled up on Wilson's left leg. The result was a knee injury that led to Wilson being pulled from the game.
Wilson missed only one play, but that drive would be the last of the game for him. Trainers fit him for a knee brace, but Pete Carroll decided that Wilson wasn't need since the game was already a blowout.
Live coverage: Russell Wilson speaking to trainers pic.twitter.com/4Nkoe5woS5

— Kayla (@VixenRogue) September 25, 2016
Trevone Boykin looked fine, and even threw his first career touchdown pass. Any belief that the Seahawks can contend with him under center under Wilson is crazy though.
The Seahawks need Wilson if they are going to make a run at another Super Bowl. He's taken an absolute beating this season so far. The offensive line must find a way to keep him from getting hit before the team ends up desperately hoping the rookie can save a lost season.
3. Christine Micheal is legit
We've been waiting a long time for this. The awakening for Christine Michael has been a tremendous story this season. All that talent, and now the production that we've always wanted to see.
Michael rushed 20 times for 106 yards and 2 touchdowns. Those were his first 2 touchdowns of his career. He might have gotten in again, but Seattle pulled him at the start of the 4th quarter since the game had become a blowout
Michael was simply moving a speed that that faster to everyone else on the field. Give him a little blocking, and he'll turn it into a big gain.
The Seahawks now have a decision to make when Thomas Rawls is healthy. Rawls was tremendous last season, but he hasn't been the same this season. He's earned everyone's trust, but the Seahawks no longer have a reason to rush him back.
It is hard to believe that Marshawn Lynch would retire and the Seahawks would still have so much amazing talent at running back.
Jimmy Graham is back!
The debate that Dan I had on the site last week feels like it was a complete waste of time right now. Jimmy Graham was a massive piece of Seattle's offense this week.
6 catches, 100 yards, and a TD. There is simply no way to discredit that type of performance. Graham looked explosive for the first time since he tore his patellar tendon.
This was truly a vintage Graham performance. In the 2nd quarter, a defensive offsides allowed Wilson to take a chance throwing into double coverage deep down the field. Graham simply went up and out muscled two 49ers for the football. It was a thing of beauty.
The challenge now for the Seahawks will be to continue to push the ball to Graham as defenses adjust. It was clear that the 49ers didn't expect him to be a big part of the game plan. Future opponents won't make a similar mistake.
Nickel is the new base
Chip Kelly's offense is a run-first offense. People tend to forget that because of the huge scoring outputs that happened when he was at Oregon, but it is still a run-first offense.
How did the Seahawks counter that? By playing with five defensive backs of course. The League-wide trend to be in the nickel on two-thirds of defensive snaps hasn't skipped Seattle.
And it isn't just because the Seahawks were way out in front and expecting San Francisco to pass. The Seahawks didn't bring in Mike Morgan and the "base defense" until the second quarter. They came out in the nickel and stayed there for the most part.
The Seahawks simply weren't afraid to have San Francisco run at Seattle's cornerbacks. They put a lot of faith in Sherman, Shead and Lane to come up and help in the run game.
Luckily, the Seahawks have the corners to make it work.
This article originally appeared on