Seahawks DVOA Report – Week 2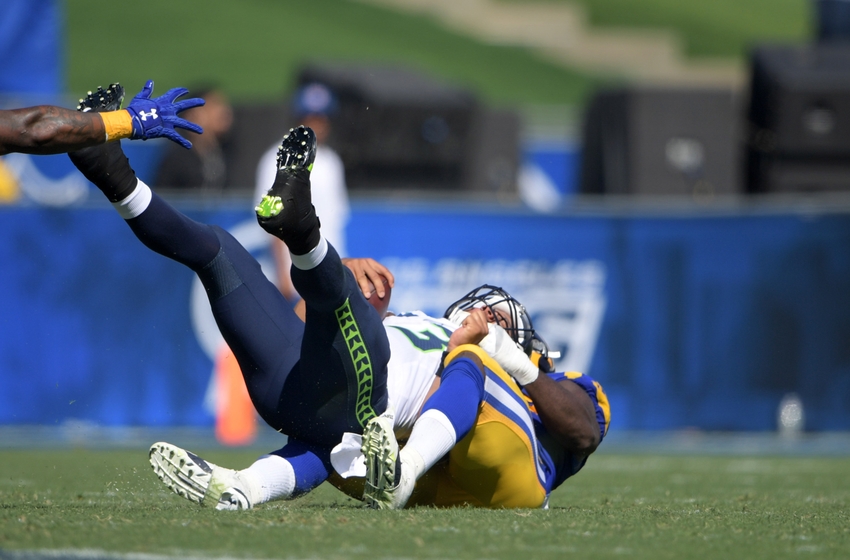 Seahawks DVOA Report: The advanced metrics from Football Outsiders still believe in the Seattle Seahawks, even after a less-than stellar performance in LA last week.
Following week 2 Seattle miraculously still sits atop Football Outsider's DAVE rankings despite a plummeting offensive DVOA ranking. DAVE factors in preseason DVOA predictions, where Seattle was #1 by a comfortable margin, so it will take several terrible games to start really falling down the rankings.
Seattle's defensive DVOA is still firmly number one in the NFL so that helps too. As long as the defense continues its dominance and the offense starts to turn around, Seattle will remain in the driver's seat for the 2016 DVOA title.
Week 2 Recap
New season, same Rams game crap-fest. I really thought (hoped) this season would be different, but apparently the Jeff Fisher and Gregg Williams dynamic duo is the price we have to pay for having nice things. Although I incorrectly picked Seattle to win 24-6 last week, I don't feel as bad about this game now as I did on Sunday afternoon. Several questionable penalties (3 OPI…YGTBFSM!) and a rash of injuries to key offensive players compounded Seattle's traditional issues with the Rams.
Since I think this year's team has the best roster since the 2013 Super Bowl season, I continuously find myself comparing the two seasons. The 2013 game at St. Louis, won 14-9 by Seattle, was surprisingly similar to this past Sunday's game. The two major differences are the lack of defensive turnovers in 2016 (weird) and the perfect red zone TD% in the 2013 game (also weird).
Despite running eight plays inside the red zone on their lone scoring drive, including four inside of the 5-yard line, the Seahawks came away with only three points. I'm no math major, but that doesn't seem good. Two of the other drives that crossed the 50-yard line each ended in a fumble. Efficiency when in scoring position has been a problem throughout the Pete Carroll era so this is something to continue to monitor as the season progresses.
From a DVOA perspective, week 2 looks very similar to week 1 only taken to the extreme. Offensively, the Seahawks were hampered by penalties, injuries, and brutal offensive line play. Tyler Lockett and Christine Michael were both on the verge of saving the day for the hapless offense only to be undone by injury and the game-ending fumble.
The offensive struggles have once again set Seahawks Twitter afire with desperate calls for Joe Thomas trades and other such dreams. It's week 2 and this wasn't entirely unexpected, so let's relax a little bit and see how the offensive line is doing around week 6. By then both Nick Vannett and Germain Ifedi should be healthy and actually blocking opponents along the line.
Fortunately, the Seahawks face their weakest defense yet in the 49ers this Sunday. I'm hopeful Seattle can get an early lead and sit on their suffocating defense in order to give Wilson, Baldwin, and Lockett and opportunity to ease up and get healthy.
The defense was again very strong, allowing just 9 points to the offensive juggernaut L.A. Rams. The only notable weak spot was DeShawn Shead who got torched by Kenny Freakin' Britt (that's his legal name, I looked it up). Nobody scares me on the 49ers offense and I expect the LOB to get their first turnover(s) of the season enroute to another top 3 defensive DVOA performance.
Special teams showed some improvement, despite rolling out Paul Richardson and Richard Sherman as return men while Lockett was out (this gives me heart palpitations every time). The coverage teams gave up only 3 returns for an average of 5 yards and most importantly allowed zero Jeff Fisher special team's magic plays. All in all, the special teams unit moved up from 21st to 16th following week 2. Assuming Lockett returns healthy in week 3, I'd expect this unit to continue to move up the rankings.
Week 3 Outlook
Vegas thinks this is a "get right" game for the Seahawks, initially installing them as 10 point favorites. I tend to agree as Seattle's offense matches up better against this defense than their previous opponents. The 49ers are currently ranked 5th in defensive DVOA, but I think the reality is that they are closer to the week 2 version we saw in Carolina than what we saw in week 1.
On the other side of the ball, Seattle's defense should shut down the niner offense. While his offense has probably changed some, Seattle has shown it can beat Chip Kelly's fast pace offense back in Philadelphia in 2014. In that game Seattle held the Eagles to only 82 passing yards and 54 rushing yards.
The only player that really "scares" me right now for the Niners is Vance McDonald, and that's only because of Seattle's history of getting beaten by tight ends. And I'm not THAT scared of him.
Projection
Last year Seattle started 0-2 and then blew out Chicago at home, 26-0. I think this will be similar. Seattle will force several turnovers and jump out to an early lead, enabling Pete Carroll to lean heavily on the run game. With Thomas Rawls doubtful, watch for THE AWAKENING. I'm starting Christine Michael in every fantasy league I have him, FYI.
I don't think San Francisco will be able to move the ball effectively at all and a shutout is entirely in the realm of the possible. Man, I sure hope I'm not wrong two weeks in a row because I could really use a Seahawks game that isn't stressful this weekend. Final score 23-3 Seattle.
More from 12th Man Rising
This article originally appeared on