Seahawks benefitting from officiating? Not quite.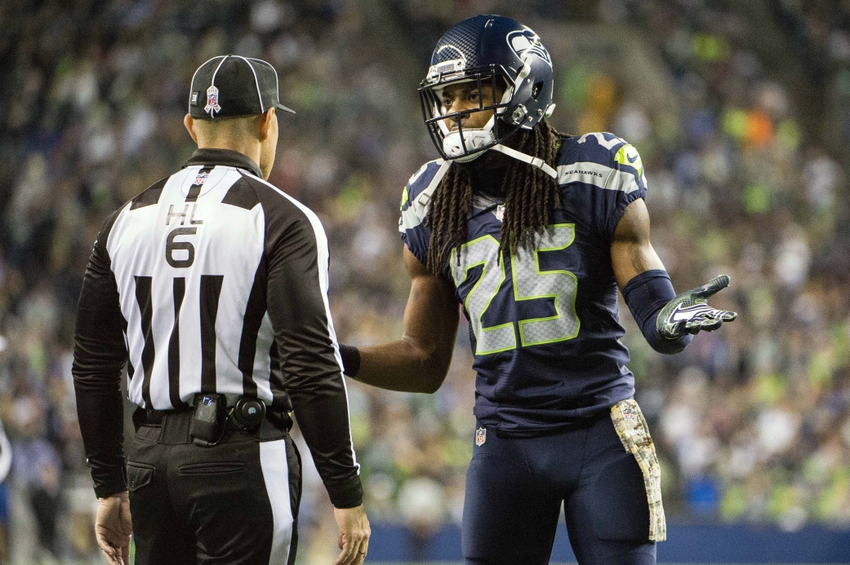 Despite the national outrage over officiating, there is no evidence to support the narrative that the officials are biased towards Seattle.
The national media continues to spin the idea that the Seahawks seem to get all of the calls in crucial situations, especially at home. That storyline is growing tiresome and the entire theory is simply ridiculous.
First it was the "Fail Mary". If the packers DB's would've just knocked it down like they're taught, it would have never been a controversy.
Then it was the "Illegal bat". Anybody who claims to have known what this rule was before that game against the Lions is a liar. Sorry, but I also don't believe Calvin Johnson should have been rewarded by fumbling on the goal line.
And of course there were the complaints about Bobby Wagner's hurdling heroics a few weeks back. Get over it. You are allowed to jump over the line as long as you don't land on top of somebody. It would be a good idea for the Cardinals to invest some time actually coaching their special teams unit. If they switched up their sequence once in a while the Seahawks wouldn't be able to time it so perfectly. There is a reason the Hawks have only ever attempted that in two games.
It feels as if there is the sentiment out there that the Seahawks and their fans should sheepishly apologize for winning close games. Allow me to send my condolences to the national pundits, but that's never going to happen.
Let's go back to as recently as Monday night. The latest example of outsiders being chapped by the favorable officiating. All anybody could talk about was how Richard Sherman is cheap and the officials are too intimidated to make calls at Century Link Field . The overwhelming feeling was that Seattle "got away with one" again.  Please make it stop.
Did the Seahawk's win by three? Nope! So that field goal didn't decide the game and therefore isn't worth talking about. But that would be far too easy, so let's keep going.
The Bills still had a chance to kick the field goal at the end of the half. Guess what? They missed it. I'm sure there are some out there who think kicker Dan Carpenter was injured from the "vicious" hit Richard Sherman unnecessarily put on him. Wrong. If you look at the play closely you'll notice Sherman goes for the ball first and the contact he makes with Carpenter really isn't worth making a fuss over.
Speaking of making a fuss, you'll also notice that Carpenter actually grabs the opposite leg that Sherman made contact with and lays on the ground wincing in pain. So the injury was actually a total hoax. In Pete Carroll words "he hammed it up a bit."
Aside from that, don't try to tell Seahawks fans their team gets all of the calls. In that same Buffalo game there were several calls the officials missed that couldve hurt Seattle. For starters, Jimmy Graham didn't make a couple of one handed touchdown grabs just to show off. He was forced to make those plays because the defender had his other arm pinned down in both situations.
I believe one was called, but the other certainly wasn't. Luckily Jimmy is just that good and can actually overcome adversity. There were also a few other times when pass interference wasn't called, not to mention there were two egregious false starts by Buffalo that went completely unnoticed by the officials. A false start is almost never missed and on Monday the referees missed it twice.
Of course nobody makes a big deal out of the missed calls going the other way. It would be nice if people would watch the tape from the Saints game a couple of weeks back. Maybe then they would realize that all teams have to deal with poor officiating at times. The Seahawks were the victims of several illegal pick plays in key situations and the officials didn't call it. This is proof that this type of thing goes both ways.
The point is calls tend to even out over the course of a game and even when they don't you just assume it will even out over the course of a season. So complaining about one team getting all the calls is really a tired conversation. The Seahawks are a good team and good teams find a way to win games. It's as simple as that.
More from 12th Man Rising
This article originally appeared on