Seahawks at Patriots Recap, Highlights, Final Score, More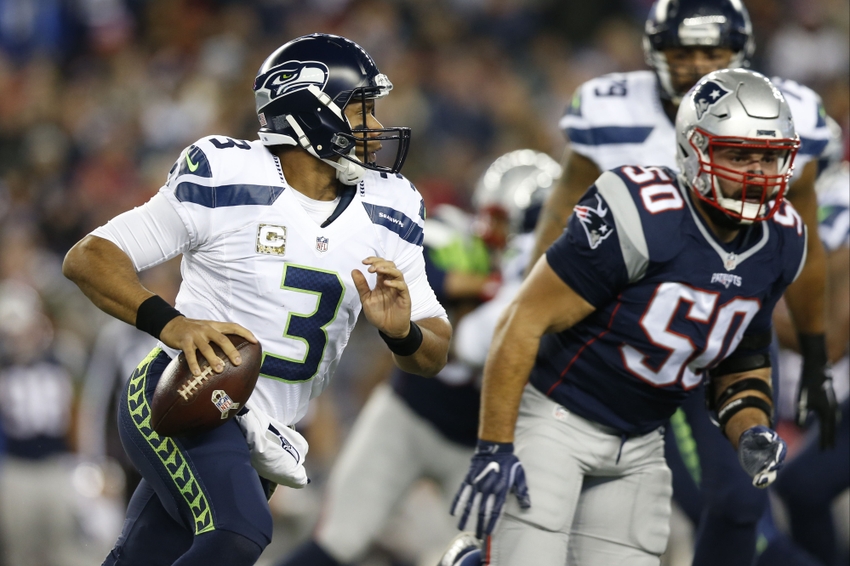 The Seattle Seahawks came up with a late goal-line stand to hold off and knock off the New England Patriots in Foxboro.

31

24
If you don't believe in poetic justice, then Sunday Night Football between the New England Patriots and Seattle Seahawks wasn't for you. As these two teams occupied Gillette Stadium on Sunday, we knew it'd be a war. After all, the wounds from Super Bowl XLIX are almost surely still there for Seattle. On the road in Foxboro, though, they had high hopes of hitting Tom Brady and company right in the mouth.
For most of the night, though, this was an even matchup at its core. LeGarrette Blount scored first on a 1-yard run early on. However, the Seahawks pieced together two drives of over 50 yards in the first quarter to get Steven Hauschka field goals. Seattle was then able to take the lead on a touchdown pass from Russell Wilson to Doug Baldwin, 12-7. The Patriots responded with another 1-yard run for Blount, but Baldwin and Wilson connected again with just six seconds left in the first half to give the Seahawks a five-point lead.
Through the next quarter and a half, though, things got interesting. The lead changed hands four separate times after the break for the half. But with the Seahawks looking to seal victory, it was Baldwin stepping up again with a 15-yard touchdown pass.
That said, Brady and the Patriots still had plenty of time to work. And they moved the ball well as you'd expect. Throws to Julian Edelman, Martellus Bennett, and more were all featured. When he wanted to get deep into the red zone, though, Bill Belichick dialed the number of Rob Gronkowski. He made an amazing sidelines catch at the 1.5-yard line with timeouts left to burn. That's where the poetic justice came into play.
No one has forgotten Seattle's infamous goal-line attempts in that Super Bowl they squared off with the Patriots in. On Sunday, though, they returned the favor. Brady trying to sneak it in was attempted and Blount was denied trying to fly over the pile. That left one play to determine the winner. Touchdown Tom looked to Gronk. but it was tight coverage where either player could've been flagged for . There were no flags, though, and the Seahawks came away with the huge upset win.
Three Stars
Russell Wilson/Doug Baldwin, Seahawks – The Seahawks quarterback certainly doesn't look hurt anymore. Wilson played arguably his best game of the year against the Pat, going 25-of-37 for 348 yards and three touchdowns. I lump him with Baldwin in here because, well, all three of his touchdown passes were to the wideout. Baldwin finished with six catches for 59 yards and the three scores.
LeGarrette Blount, Patriots – Yeah, averaging 3.3 yards per carry isn't something you strive for. However, going for 69 yards and three touchdowns in a single game is. Blount did all of those things on Sunday Night Footbal.
DeShawn Shead, Seahawks – Shead recorded three total tackles and a pass defense on Sunday night. However, he gets a star as he's currently the only player in the NFL this season to have intercepted Tom Brady. Enjoy your moment.
Highlights
Next Game
Seattle looks to capitalize on this win by taking out the Philadelphia Eagles back at CenturyLink Field in Week 11. For the Patriots, they'll have a quality chance to rebound as they face the San Francisco 49ers on the road next week.
This article originally appeared on