Seahawks at Cardinals: 4 keys to victory for each team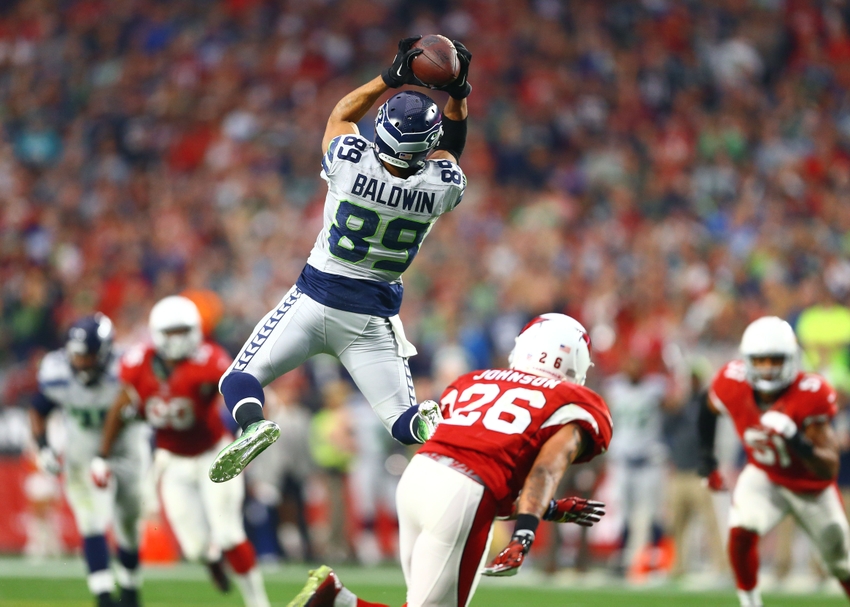 Seahawks at Cardinals: In a decisive divisional battle between a pair of playoff contenders, here are the things each team must do to secure victory.
Keys to victory for Seattle
Throw on early downs to open up the run
Seattle's offensive line has been rather poor at run blocking so far this season. There simply hasn't been running lanes available, and the last thing we want to see is Russell Wilson stuck in third-and-long all game.
Instead, the Seahawks would be wise this week to flip the script and throw often on first and second down, especially early in the game. This will force the Cardinals to back extra defenders out of the box and make things easier for offensive line when Seattle does decide run the ball.
Stretch the field
With Russell Wilson hobbled with a pair of injuries, the Seahawks have been reluctant to leave him in the pocket long enough for their receivers to get deep. Tyler Lockett's knee injury hasn't helped things either.
The result has been that defenses have begun crowding the short and intermediate routes, and Seattle hasn't been nearly as efficient on offense as we've come to expect. Hopefully the Seahawks will recognize this, and get back to opening things up offensively.
Unfortunately, Wilson and Lockett are still banged up. If the Seahawks are going to relocate the safeties off the line, they're going to have to do so with other methods. That means more snaps for Paul Richardson, and more pass blocking for the running backs.
No more miscommunications on defense
The Seahawks dominated the league's top offense last week for 3 out of 4 quarters. In the other quarter, they gave up 227 yards and three touchdowns.
The problem was communication issues in the secondary. Richard Sherman and Kelcie McCray got their signals crossed on a pair of very long touchdowns on the right side. That simply cannot happen this week.
Arizona will be without two of their top 4 receivers for this game. The Seahawks secondary should be dominant once again. As long as they don't mess up their communication, Seattle should have no trouble covering Arizona's receivers.
Make Carson Palmer move
What happens when an already-statue-esque QB pulls a hamstring? We're going to find out on Sunday. Carson Palmer has never been mobile, and an injured hamstring will mean he's going to move at glacial speeds this week.
The Seahawks can take advantage by bringing pressure up the middle. Forcing Palmer to have to run laterally away from the pressure will cause the injury to have the biggest possible impact.
If Seattle brings pressure from the outside, Palmer will be able to step forward to avoid it. That's much easier to do with a bad hammy, and thus won't be as effective of a strategy for the Seahawks.
If the Seahawks can force Palmer to move off his spot, good things will happen for Seattle.
Keys to victory for Arizona
Protect Carson Palmer
Carson Palmer missed most of the team's practice time this week with an injured hamstring. He's listed as questionable, but is expected to play.
Palmer is naturally pretty much a statue in the pocket. Any further limitations to his mobility because of the hamstring injury will make him a very easy target for Seattle's pass rush.
If Arizona's passing game is going to have any shot at being productive this week, they're going to have to give Palmer better protection than he's used to getting. The they can't do that, it'll be a very long game for Arizona's passing attack.
Get David Johnson the ball in space
Arizona running back David Johnson has developed into a Marshall Faulk-esque dual threat playmaker. When the Cardinals are moving the ball effectively, it is because Johnson having a massive impact in both the running and passing game.
The problem for the Cardinals this week is Seattle's extremely stout run defense. Seattle is 2nd in the NFL in yard per carry against. Pounding Johnson into Seattle's line isn't a recipe for success.
The Seahawks are also extremely good at stopping screen passes, which is one of the ways that the Cardinals get Johnson extra touches. Instead, Arizona is going to have to get creative to get Johnson his usual number of opportunities.
Instead, Arizona is going to have to scheme Johnson touches away from the Seattle's defenders. Look for plenty of swing passes and angle routes as the Cardinals looks for other ways to get the ball into the hands of their dynamic running back.
Don't let Christine Michael get going
Last year's game in Glendale ended up as a 36-6 blowout win for Seattle. One of the big reasons for the lopsided score was running back Christine Michael.
Michael exploded for 102 yards on just 17 carries. By averaging 6 yards per carry, Michael opened things up for the rest of the offense. Unfortunately for him, Will Tukuafu and Bryce Brown poached his much-deserved touchdowns.
If Arizona doesn't want a similar result this week, they must prevent Michael from having a similar game.
Don't be afraid to check down
Without John Brown to stretch the field, the Seahawks are going to be able to be able to squeeze Arizona's passing game. Combine that with the the fact that Seattle has Richard Sherman and Earl Thomas who will be covering two-thirds of the deep zones, and Arizona probably should avoid trying to rely on the deep ball.
Instead, the Cardinals need to take a page out of the Patriots game plan from Super Bowl 49. Seattle's cover-3 zone is susceptible to dink-and-dunk passing.
If Arizona wants to keep Russell Wilson and Seattle's offense off the field, they need to sustain drives. Throwing deep with their receivers against Seattle's secondary simply isn't a recipe for consistent success.
More from 12th Man Rising
This article originally appeared on