Scouting the Buccaneers' Opponent: The Bears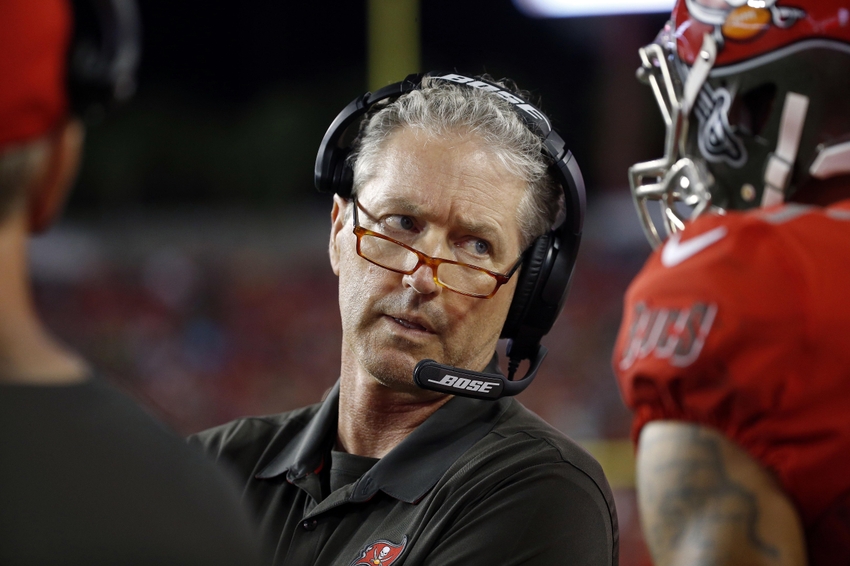 A sit down discussion about the Buccaneers' matchup with the Chicago Bears this weekend.
More from The Pewter Plank
The Buccaneers head into the second half of the season desperate to get back on the winning track. They play host to the Chicago Bears on Sunday afternoon, looking to salvage the final game of a three-game homestand.
The Bears are looking to salvage a season as well, coming into this weekend with a 2-6 record. They aren't a team to look past, however, with players like Alshon Jeffrey on the offensive side.
One of the great things about being a member of the FanSided network is that due to sheer size, we have websites that cover all of the teams. This way, we can get insights from experts all over the league, and that is what we have the chance to do this afternoon.
Mike Burzawa from our Bears site, Bear Goggles On, sat down with us to discuss the upcoming game. Read on for thoughts on the game and some insights into the 2016 Chicago Bears.
Why the Record?
Pewter Plank: The Bears sit at 2-6, what's the biggest reason? There is talent on this team.
Bear Goggles On:
Bear Goggles On:
I hate to take the easy out, but I think the biggest reason for the Bears' 2-6 start is injuries.  I know that all NFL teams deal with injuries, but the Bears were hit particularly hard in the first half of the season.  It started in training camp when arguably the Bears top pass rusher Pernell McPhee started the season on the PUP list.  They lost starting center Hroniss Grasu during training camp.  Starting cornerback
Kyle Fuller
had a knee injury flare up that put him on IR.  Other members of the Bears secondary have been in and out of the lineup.  Up and coming second year wide receiver
Kevin White
was just starting to find his groove when he headed to IR as well.  Pro Bowl guards
Kyle Long
has been playing hurt most of the season while linemate
Josh Sitton
missed a game as well.
But perhaps the biggest losses on both sides of the ball have been
Jay Cutler
and
Eddie Goldman
.  People can say what they want about Cutler but this team is better when he is under center.  We'll get to him on the next question.  Getting nose tackle Eddie Goldman back should provide a huge boost to the defense.  He's the anchor of the Bears 3-4 defense and they just don't have someone backing him up that's nearly as good.
The good news for the Bears (and bad news for the Bucs) is that the Bears are coming off the bye and are significantly more healthy than they have been at any point in the season.  Kyle Fuller and Kevin White remain on IR, but we can probably expect just about everyone else to be available for the game.
Cutler the Enigma
PP: Why is Jay Cutler such an enigma? He's so good at times and is so baffling at others. What's with this guy?
BGO: You and just about every Bears fan would love to know the answer to that question.  Cutler is what he is.  He'll dazzle you with throws into seemingly impossible windows and then he'll throw the most lame-brained interception or cough up a strip sack fumble on the next play.  I wouldn't say Cutler doesn't have the "killer instinct" as much as he just can't seem to put it all together consistently.
When the Bears brought Cutler here, they seemed to think that it was a plug and play proposal – just plug Cutler into your lineup and sit back to wait for the championships to start rolling in.  Then-GM Jerry Angelo miscalculated tremendously.  The Bears had been built around defense, but didn't have the offensive talent around Cutler in the skill positions or the offensive line to give him the supporting cast he needed to succeed.  Then Phil Emery was hired and decided to build around offense and Cutler.  They loaded up with tons of weapons like Brandon Marshall, Martellus Bennett, etc. and hired an offensive-minded head coach in Marc Trestman.  Those Bears forgot how to play defense and the Bears kept losing by getting outgunned every week.
Stopping the Dynamic Duo
PP: In a season of regression for the Bucs, the combination of Jameis Winston and Mike Evans are rapidly becoming elite. How do you stop them?
BGO: Wow, that's the great question.  I was hoping you could give Bears defensive coordinator Vic Fangio some clues about that.  Winston and Evans are becoming quite the dynamic duo and will certainly give the Bears defense all they can handle.  The Bears best strategy will probably involve putting a lot of pressure on Winston to try to force some mistakes.
They don't have Peanut Tillman anymore to shadow the opponents' best receivers like he used to with Calvin Johnson.  Their best healthy cornerback is probably Tracy Porter, who's had a bit of a resurgence the last couple of seasons with the Bears.  I'd expect to see a fair amount of Porter on Evans to try to slow him down.  It's a shame that rookie cornerback Deiondre Hall is still nursing an ankle injury and remains questionable for Sunday.  He's got good length and has proven to be a good cover corner, especially in the red zone.  You might see rookie Cre'Von LeBlanc and Bryce Callahan trying to slow down Evans, but either of them will be giving up significant height to the 6'5″ receiver.
Winston and a Prediction
PP: Give me an outsider's scouting report on Winston.
BGO: Winston has surprised me since he came into the league last season.  Coming out of college, he seemed to me to have all the makings of a bust not because of his physical tools but what was between the ears.  I was pleasantly surprised to see his football IQ and good command of the pro game.  Like most young quarterbacks, his decision-making comes into question.  If he can learn to protect the ball and not turn it over, he certainly has the talent to become an elite signal caller in this league.
PP: Prediction for Sunday?
BGO:
I'm usually not a big Bears homer when I give my predictions, but I feel like they've in a good spot headed into Sunday.  They won their last game against the Vikings in Week 8 and enjoyed a bye last week.  They head down to Tampa well rested and ready to pick up where they left off and try to continue a winning streak.  The Bucs are pretty banged up at running back, so that could make their offense a little one-dimensional if
Doug Martin
isn't ready to return.  I expect a healthy Bears defense to get after Winston and try to get some takeaways.  On the other side of the ball, Jay Cutler and
Alshon Jeffery
will try to extend Jeffery's TD streak to two games.  Look out for rookie running back
Jordan Howard
to try to run against the Bucs' 25th ranked rush defense.
I'll take the Bears in a thriller.  Bears 26, Bucs 23.
Thanks to Mike Burzawa for taking the time to talk to us, and check him out along with his team at Bear Goggles On, they do a fine job covering all things Bears.
This article originally appeared on