Scouting Seahawks: 2017 NFL Draft Watch List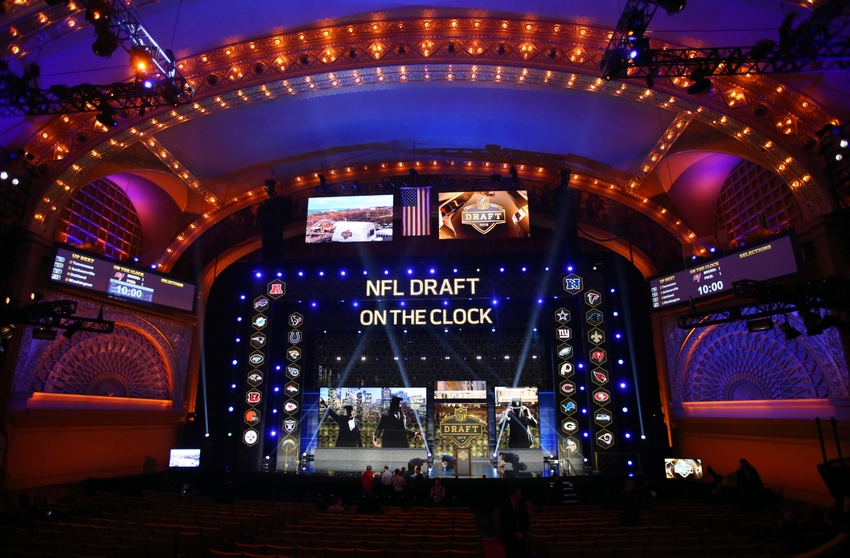 Scouting Seahawks, a 2017 NFL Draft Watch List: Your guide to Saturdays, with a Seahawks twist.
It's still very early, and Seattle still has a lot of football left. However, I felt it best to look ahead after last week's demoralizing loss to New Orleans. After delving into some college film, I found some guys that may interest Seattle during the upcoming draft process. Obviously, some of these players will change as we head near April's draft, and I may update this later, but here are some players to watch in the 2017 NFL draft at positions of need.
Offensive Linemen:
Ryan Ramczyk, Wisconsin
Dion Dawkins, Temple
Adam Bisnowaty, Pittsburgh
Dorian Johnson, Pittsburgh
Tyler Orlosky, West Virginia
Garett Bolles, Utah
To say that the Seahawks offensive line is atrocious is an understatement and an insult to all of the other atrocious offensive lines in the NFL. The root of the problem is in the mediocre, penalty prone offensive tackles. Unfortunately, the 2016 offensive tackle class isn't offering any solutions.
Wisconsin offensive tackle Ryan Ramczyk is the best of a bad bunch. The Badgers are known for churning out big, physical offensive linemen and the 6'6, 314 pound junior is the latest product off the Badger's enormous offensive linemen assembly line. Not only does he pass the eye test, but Ramczyk is an uber-athletic lineman with the technical skills to start immediately. Ramczyk probably won't declare, but he's one to monitor.
Outside of Ramczyk, Temple LT Dion Dawkins could be the next best option. At 6'5, 320, Dawkins has the versatility to be a guard or tackle in the NFL. He is a fantastic run blocker who uses his large frame to drive defenders off the ball. With Seattle's current problems in the run game, Dawkins' physicality could be a real boost.
More from 12th Man Rising
Bisnowaty and Johnson make up the left side of Pat Narduzzi's line. Dorian Johnson is a guard who plays with a nasty streak similar to Germain Ifedi. While he doesn't have Ifedi's sheer size and muscular frame, he is a more refined player than Ifedi was at this point. Johnson excels when he uses his quickness to get to the second level.
Adam Bisnowaty isn't a great athlete, but he may stick at tackle in the NFL due to his footwork and length. He's a smart player who will start immediately in the NFL. His length, intelligence and wrestling background will make him appealing to Seattle. In addition, Pittsburgh runs a pro-style offense, which will make both Bisnowaty and Johnson extra attractive to Tom Cable.
Justin Britt has been a revelation at center this season. However, he is due for a contract extension soon. The offensive line penny-pinching Seahawks may not want to pool up the big bucks for a player with one season of quality production. They did draft Joey Hunt in the sixth round, but who knows if he is the long-term answer?
West Virginia's Tyler Orlosky is a very intriguing player. At 6'4, 296, Orlosky is built very similar to former Seahawks center Max Unger. Orlosky is an incredibly intelligent center who wants to be a coach when he hangs up the cleats. He's not particularly explosive, but he's always eager to bury defenders with his strength and toughness. He keeps a wide base and gives up very little ground. He is the clear leader of the West Virginia offense. 
Elsewhere, Utah LT Garett Bolles is very "Seahawky", but he is a junior and may not declare. Keep an eye on him in 2018.
EDGE Rushers:
Takkarist McKinley, UCLA
Tim Williams, Alabama
Dawuane Smoot, Illinois
Taco Charlton, Michigan
Takkarist McKinley has been rising up draft boards as he continues to produce. The 6'3, 265 pound senior is still very raw, but he flashes the potential to be an elite player in the NFL. McKinley has an interesting backstory, as he was abandoned by his parents and raised by his grandmother. McKinley committed to Cal but failed to qualify academically.
After starring at Contra Costa Community College, McKinley signed on to play for the Bruins a few games into the 2014 season. During his first two seasons, McKinley played out of position on the interior defensive line, limiting his production. This season, McKinley has exploded. Before the season, he said that he would be the best pass rusher in the country. He has backed up this claim thus far, as he is tied for first with 9.0 sacks.
12s Draft Note: Keep an eye on UCLA DE Takkarist McKinley. A little raw, but an athletic freak with a "Seahawky" attitude. 6'3, 265 pounds.

— Jacob Sosler (@JacobSosler) October 28, 2016
UCLA's McKinley shows fantastic explosion off the edge. He does play too high, which can lead to him getting bullied off the ball. McKinley does have a "Seahawky" attitude. He has a nonstop motor and doesn't take snaps off. He displays the grit necessary to be a Seahawk. 
I already talked about Tim Williams at length in my Alabama vs Tennessee preview, so I'll keep this one short and sweet. Williams is an elite pass rusher. Whether it's using his dynamic athleticism, violent hands or flexibility, Williams excels at winning the edge and getting to the quarterback. Off the field issues may keep him out of the top ten, but Williams is a special athlete on the field. 
Smoot is one of the best pass rushers in this draft class. While he isn't the pure athlete that Tim Williams is, Dawuane Smoot has the size, strength, and technique to be an effective pass rusher.
He has impressive burst and an elite first step. Fellow Illini DE Jihad Ward was a 2nd round pick last year, but Smoot is already more refined than Ward at this point in his career. Smoot was an all-state hurdler in High School. He excels at converting speed to power. 
The Seahawks love draft prospects with unique physical traits and Taco Charlton has unique size and athleticism. The 6'6, 272 pound Charlton has a long, lean, muscular frame. He's an incredibly raw prospect, but his sky-high potential could have teams salivating to get him in their building. Plus, his mentor at Michigan was former Michigan defensive end and current Seahawk Frank Clark.
Running Back:
Nick Chubb, Georgia
D'Onta Foreman, Texas
Brian Hill, Wyoming
Jamaal Williams, BYU
Samaje Perine, Oklahoma 
After Marshawn Lynch retired, Thomas Rawls was considered the newest heir apparent to "Beast Mode". But, Rawls has been unable to stay healthy over the past year, with ankle and fibula injuries sidelining him for long periods of time. Despite Rawls' lengthy absence, Christine Michael has awoken from a heavy slumber to lead the Seahawks ground game.
Michael has rare explosion from the running back position, but it is clear that he lacks the physicality to be a tone setter in Seattle's system. This long hyped running back class is one of the deeper draft classes in recent memories, but with the exception of LSU's Leonard Fournette, it lacks physical, tone-setting running backs.
Nick Chubb has dealt with several crushing knee injuries that may severely limit his explosiveness. However, when he is/was fully healthy, he's the complete package. He has the frame and physicality to churn out yards between the tackles, but he also had game-breaking speed and elusiveness. 
D'Onta Foreman is a fantastic running back, but he may lack the athleticism Seattle craves. Also, he is leaning toward staying in Texas for one more season. He is probably the most complete back in this draft class outside of Fournette. Fresh off of a 341 yard performance against Texas Tech, Foreman may rise past Seattle's draft range if he declares.
More from 12th Man Rising
Wyoming RB Brian Hill is only a junior, but he's already Wyoming's all-time leading rusher. He is a bit bigger than the typical Seattle running back at 6'1, 220, but he has the speed to make up for his larger frame. Hill is very hard to bring down, especially in the open field. His small school background and open field speed may remind some of former Northern Iowa running back David Johnson. While he's not as dynamic as Johnson, Hill has the talent to carve out a niche in the NFL.
BYU RB Jamaal Williams has some character and injury issues to sort out, but he could be a lead back in the NFL. Williams combines fantastic agility with elite shiftiness and power. He's a team captain and a former High School track star. Williams doesn't have Christine Michael's rare explosion, but he has a similar running style to the Seahawks lead back.
BYU HB Jamaal Williams has 452 yards AFTER contact and has forced 26 missed tackles so far. Last week he ran for a school record 273 yards. pic.twitter.com/9Ecvbka9Uw

— PFF College Football (@PFF_College) October 8, 2016
If Seattle is looking for a tone setter to complement their existing pool of running backs next season, look no further than the 236 pound Oklahoma RB Samaje Perine. Apart from having a fantastic name, Perine is a terror for opposing defenses to stop. His bruising running style makes it very difficult to tackle him with only one defender. He lacks top notch speed and he isn't very elusive, but Perine's power and would make him a good fit alongside the quick, shifty runners Seattle has now. However, Perine's aggressive nature could leave him susceptible to injuries, especially at the next level. 
Others:
WR John Ross, Washington
TE Evan Engram, Mississippi
LB Zach Cunningham, Vanderbilt 
CB Marquez White, Florida
LB Jarrad Davis, Florida
DT Jarrod "Chunky" Clements, Illinois
LB Azeem Victor, Washington
CB Kevin King, Washington
DT Caleb Brantley, Florida
DE/DT Derek Barnett, Tennessee
DE Solomon Thomas, Stanford
QB Patrick Mahomes II, Texas Tech
CB Brandon Facyson, Virginia Tech 
CB Des Lawrence, North Carolina 
As good as Seattle's defensive line is, their Achilles heel may be the interior pass rush. Brantley has an elite first step and fantastic quickness. He doesn't get noticed enough in the loaded Florida defense, but he's an explosive defensive tackle that can get to the quarterback. Clements has the burst and athleticism to fill a Jordan Hill type role in Seattle. As evidenced by their free agent visits, Seattle is always looking for versatile defensive linemen, and Derek Barnett, Solomon Thomas, and DeMarcus Walker are athletic enough fill the "Michael Bennett" role in Seattle.
Obviously, the quarterback position isn't a need, but if Seattle wanted to draft some insurance in case Russell Wilson goes down, Patrick Mahomes II is a mobile quarterback with the best physical traits of any QB in this class.
He's a major project, but Seattle would allow him to develop behind Wilson before (hopefully never) throwing him into the fire. However, the NFL's constant craving for good quarterbacks may push Mahomes into day two of the draft and out of Seattle's reach.
One of the bigger storylines last offseason was how Seattle would fill the SAM linebacker spot vacated by Bruce Irvin. Mike Morgan emerged out of training camp as the starter. Instead of directly inserting him into Irvin's role, they have used more nickel concepts to combat the NFL's high octane offenses. This means that the position may not be a high priority come draft day, but there are some really good players available. Vanderbilt's Zach Cunningham, Washington's Azeem Victor, and Florida's Jarrad Davis are three athletic, sideline to sideline linebackers that have a nose for the ball.  
More from 12th Man Rising
One of the great things about this 2017 draft is that it looks like Seattle will enter it with very few immediate needs. This could open the door for an offensive luxury pick or two early, especially with the poor offensive tackle class. Mississippi's Evan Engram is a tight end in college, but his role in the NFL will probably be as a slot receiver that creates mismatches.
He's a very similar player to Jordan Reed, although Engram is lighter and arguably more athletic. If Seattle wants to take their offense to the next level and add another mismatch opposite Jimmy Graham, look no further than Engram.
Most Seattle area fans are probably already familiar with Husky John Ross, but the 5'11 speedster could add a new element to an offense. Ross combines his reported 4.25 speed with fantastic route running abilities and great hands.
Ross' ability to take the top off of a defense would obviously be beneficial to any offense. For it to work in Seattle though, Russell Wilson actually needs time to throw first.
This defensive back class is stacked, so I thought I should highlight a few later round options quickly. Facyson, King, Lawrence, and White are big, physical cornerbacks that fit Seattle's ideal size profile. Of those, Facyson has great technique and could rise into day one of the draft. King is a freak athlete who oozes potential. It may take him a while to realize that potential, but King just feels like a Seahawks cornerback.
This article originally appeared on