Scott Tolzien Good Enough to Win, But Colts Teammates Can't Pick up Slack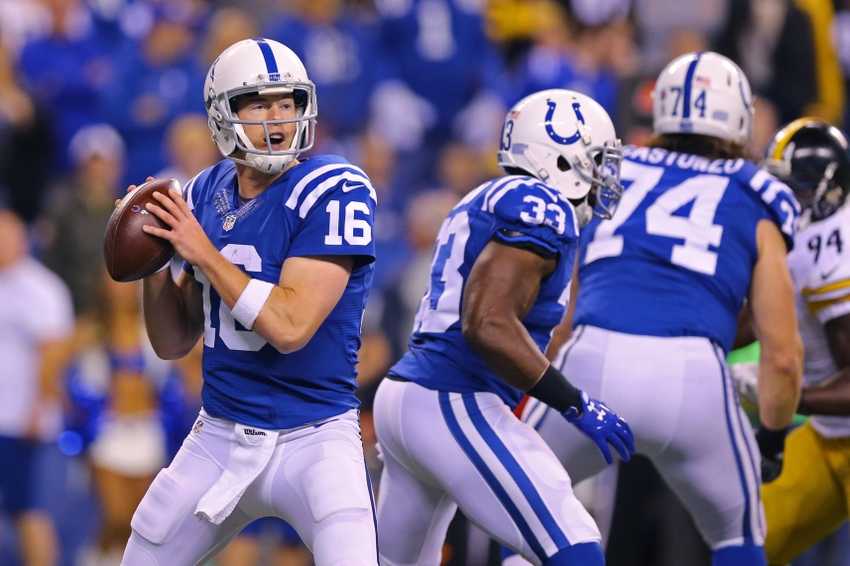 Indianapolis Colts quarterback Scott Tolzien gave his team a chance to win on Thanksgiving night–filling in for injured superstar Andrew Luck due to a concussion.
Having had his last career start come exactly 3 years to the day, Tolzien wasn't perfect, but made most of his throws while showing a live arm in the process. Not to mention, Tolzien stood strong in the pocket despite taking a number of QB hits:
"As far as Scott (Tolzien) goes, he gave us a chance," said head coach Chuck Pagano in his post-game press conference.

"I thought he played his ass off. He's one tough son of a gun, and he hung in there, hung in there, and hung in there, and made some really tough throws and took some shots along the way. Very proud of that kid."
On the evening, Tolzien completed 22 of 36 throws (61.1%) for 205 passing yards, a passing touchdown, and a passer rating of 62.8–the latter which was significantly impacted by two late game interceptions with the game nearly out of reach.
However, as has been the case with the Colts all season, when their starting quarterback isn't great–usually Andrew Luck, the rest of their roster simply hasn't been strong enough to pick up the slack.
While Tolzien battled, his receivers including T.Y. Hilton, Donte Moncrief, and Phillip Dorsett all had critical drops–2 of the 3 which would've been touchdown receptions, for a total of 4 drops on the evening:
"You can't have it. Those guys know it. It crushes you … When you have chances to make plays like that and extend drives, score touchdowns, you've got to make the plays," added Pagano on his receivers untimely drops Thursday night. 
Meanwhile, the Colts offensive line once again consistently struggled in pass protection, as per Pro Football Focus, Tolzien was sacked three times, hit 8 times, and hurried 7 times under considerable duress in the pocket.
The running game, while through no fault of starter Frank Gore's own, was dormant, as the veteran running back rushed 15 times for a meager 28 total rushing yards (1.9 ypc avg). The Colts leading rusher was 3rd-string backup running back Jordan Todman, who had 37 rushing yards in garbage time.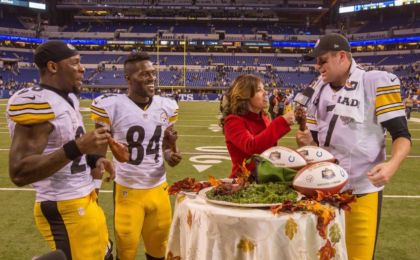 Otherwise, the Colts defense couldn't stop the Pittsburgh Steelers 'Big 3', as star quarterback Ben Roethlisberger and wide receiver Antonio Brown connected for 3 touchdowns, while running back Le'Veon Bell ran loose for 120 rushing yards on 23 carries (5.2 ypc avg) and a rushing touchdown:
"What we set out to do a few weeks ago (against the Green Bay Packers) and take care of a couple of 'game wreckers', we set out to do the same thing. We understood that we had to make sure that #84 (Antonio Brown) didn't wreck the game. #26 (Le'Veon Bell) didn't wreck the game, and we just didn't get the job done. We've got to be better."
Certainly not helping matters besides starting cornerback Vontae Davis getting beaten by Brown in one-on-one coverage twice for touchdowns, was that the Colts pass rush couldn't generate any consistent pressure with 0 sacks on Roethlisberger:
Only 5 Colts defenders had a pressure tonight, and none of them had more than 1 pressure

— Nathan Jahnke (@PFF_NateJahnke) November 25, 2016
Starting their backup quarterback, the Colts were going to need their receivers, offensive line, and ground game to help pick up their offense.
Indianapolis was going to need it's defense to make a big play or two and keep at least one of the Steelers 'Big 3' in check.
Instead, none of the above happened.
The Colts had a shot with Tolzien–with a winning effort that may have come closer to fruition had the team actually converted two 1st and goals, which ended up being two turnover on downs respectively.
However, the rest of the team's roster simply couldn't pick up the Colts quarterback when he needed them the most, as has nearly been the case all season.
If the Colts starting quarterback isn't great, then the Colts more times than not aren't going to be victorious. Problem is, Tolzien–as a backup, played good enough to win on Thanksgiving night.
The rest of the Colts roster simply didn't get it done.
More from Horseshoe Heroes
This article originally appeared on