Sashi Brown: There are no shortcuts in the NFL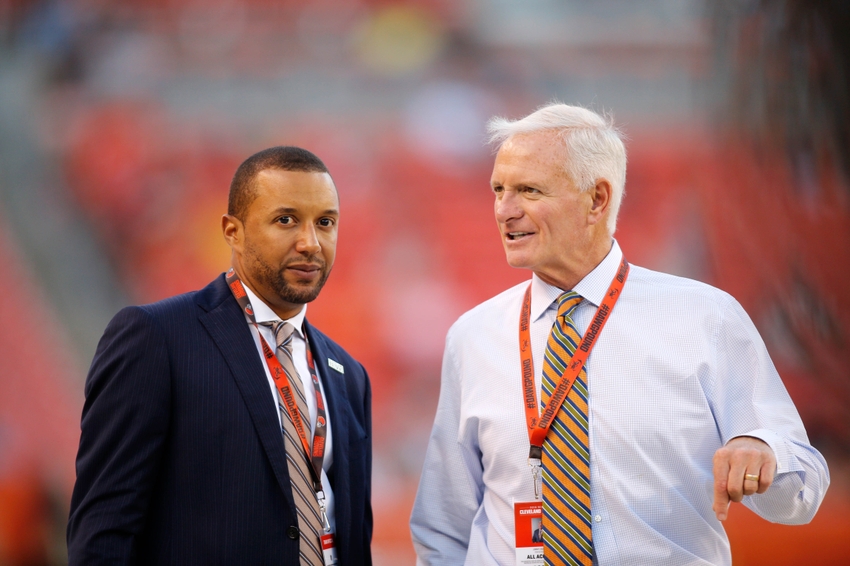 Cleveland Browns executive Sashi Brown tried to calm the fears of the team's fans on Monday by explaining the team's commitment to the process of rebuilding the right way.
The Cleveland Browns are getting ready for what was once the biggest game of the season as they will host the Pittsburgh Steelers on Sunday.
But with the Browns at 0-10 and the Steelers riding a four-game losing streak, some of the shine has been taken off the game.
Stepping in to fill the void was Sashi Brown, the team's executive vice president of football operations, who spoke with the media on Monday.
Here are four takeaways from his session.
The culture is changing
The Browns signaled that the nonsense was over when they released Johnny Manziel in the off-season and traded Justin Gilbert at the end of training camp. Those two players, more than any others, personified the dysfunction that has enveloped the team for far too long.
Those days are thankfully over.
"For us, big time – I talked about this in January, and Jimmy and Dee (Haslam) did, as well – we really needed to more than anything else change the culture of this locker room, the culture of this building," Brown explained. "I give Hue and his coaches a ton of credit. A lot of that credit also goes to the players and their makeup and character in terms of what they have put out on the field in terms of effort, buy in and focus."
Analytics is just another tool
Even though he has said it before, some fans and media members still have not grasped the concept that there is nothing new about the use of analytics in the NFL.
Brown reiterated, once again, that analytics is simply another tool in the team's tool box, but is far from the only or dominating one.
"We have said this before, we look at analytics as just a piece of information," Brown said. "I would say never do we get to a point where solely analytics is driving any decision. It is just information that we use as part of a calculus. In some ways, it is part of a lot of things we do, but it never is the driving decision maker."
Everyone knew this was going to be tough
Heading into the season many fans understood that things were about to get a lot worse before they got better with the Browns.
Even knowing that, seeing the Browns open the season with 10 consecutive losses has been, at times, disheartening. But trying to take the easy way to this rebuild is not in the cards.
More from Dawg Pound Daily
"There are no shortcuts to the type of success and championship level success that we want to have here in Cleveland. There just are not in this league," Brown explained. "We have seen a number of teams try to take those shortcuts, and it does not pan out. This is not an easy task. It is not every organization where you undergo this. It is not every head coach that would be able to undergo this.
"We know how hard this task is. We know how hard it is going to be on our fans, on our people in the building, but we will get through it and come out the other side. There are brighter days ahead. I am confident."
The future is (allegedly) bright
Every time the Browns make a change the new regime comes in with a plan and sells the fan base that this time things are going to work out for the best.
Two years later, and sometimes sooner, the grand plan goes out the window, people are fired, and the team starts all over again.
Brown is no different, but the one area that is a bit of a change is the acknowledgment that there is a lot of hard work that needs to be done.
"We know that if we trust in our plan and our process and our people, the winning will follow. That is the hard thing to do right now is to stay together, but that is being done," Brown said. "I think for those of you that are here in the building every day, you can feel that there is an energy here that is positive. That it is not 'Woe is me.' Our guys know that this is our task. Only we can dig our way out of this hole, and we will.
"We have the right coach in place. We have the right character in our players coming into the building. We are positioned well for success as we move into the draft next year with two first-rounds, two second-rounds picks. We will have a host of players that learn to play with each other and will be on this roster for a long time, making our fans proud."
This article originally appeared on