San Francisco 49ers: Winners & Losers over the Disastrous 2016 Season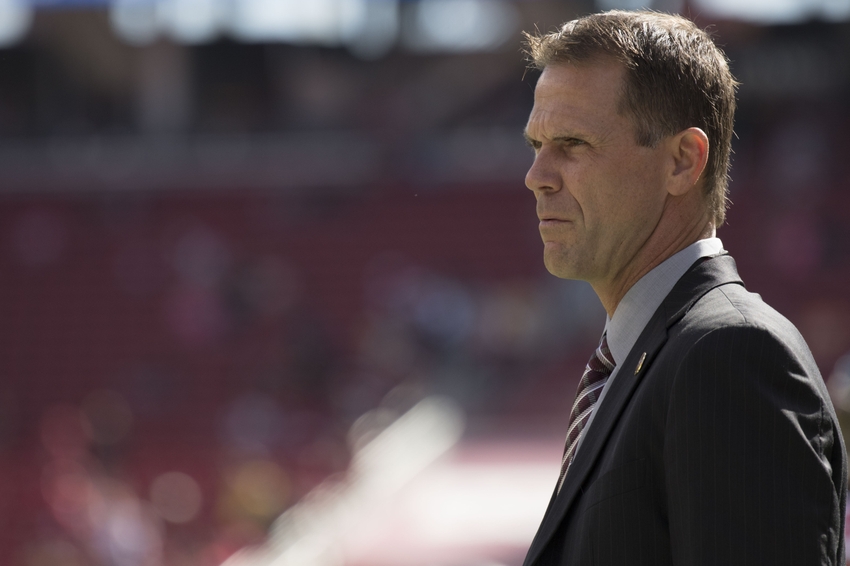 The San Francisco 49ers can write off the 2016 NFL season as a complete loss. But, as with anything, there are winners and losers. Let's look at those who won or lost up to this point in the year.
Congratulations, San Francisco 49ers. You have accomplished almost nothing over the course of 2016. Your fan base is alienated, the team is in utter disarray and the Niners are back to being the laughingstock of the NFL.
49ers Injury News: Linebacker Shayne Skov Lands on IR, Safety Marcus Ball Promoted
As a whole, the 49ers have lost and lost big this season. At 1-10, and with five games remaining on the schedule, nothing points in the direction of positive takeaways down the stretch.
Or are there some positives?
Believe it or not, this season isn't completely useless.
True, the Niners are god-awful bad. And while picking out losers is easy, what about the winners? Are there any of those?
You bet. San Francisco has some winners within its ranks. Although some might not be there for the reasons we'd like to think.
So let's break down some of those winners.
Let's not forget the losers either, although we'll focus on the biggest players/front-office types on the short end of the equation.
Winner: Tight End Vance McDonald
Remember all the talk last season and before about how big a bust tight end Vance McDonald was?
He had stone hands, was injured too often and would never live up to his second-round draft status.
Well, maybe McDonald is just a late-bloomer. Right now, he's got 382 receiving yards and four touchdowns to his name in 2016 — both career-highs. And those numbers could increase, especially if the Niners ever land another receiving threat or two to help take the pressure away.
All that has led to the possibility of the 49ers extending him once his rookie contract comes to a close.
"He's gotten much more consistent, he's doing a good job blocking," general manager Trent Baalke said of McDonald, via Matt Barrows of the Sacramento Bee. "He's a good all-around football player, and he has a chance in this scheme to do some things, as you say, because the matchups are favorable."
The fourth-year pro couldn't have picked a better time to start producing, even amid a talent-strapped Niners offense. He'll get a decent contract this offseason, if not sooner.
Loser: Wide Receiver Bruce Ellington
Move over, wide receiver Bruce Ellington. Your role, and possibly future with the Niners, has been replaced by wideout Jeremy Kerley.
Ellington has missed all of this season with a hamstring issue. Injuries also plagued the 2014 draftee ever since the 49ers took him in Round 4 that year. He's never emerged as anything but an OK return guy and depth receiver.
San Francisco traded for Kerley this offseason. He's definitely a winner, although the Niners have to consider re-signing him after 2016 is over.
If they do, the 49ers have essentially pushed Ellington out of the slot-receiver role and possibly off special teams altogether. While Ellington is still under contract through next year, it's perfectly obvious his role — and future — is in danger.
Winner: Right Tackle Trent Brown
Second-year offensive lineman Trent Brown is an obvious winner here.
Why? Well, he's the guy who pushed former first-round draft pick Anthony Davis out of a starting position at the beginning of the year and, eventually, back into retirement.
And when the reigning Super Bowl MVP, Von Miller, praised Brown so highly, well, that has to say something, right?
Brown has some work to do, and he's certainly not the best run blocker San Francisco has up front. According to Pro Football Focus, Brown's run-blocking grade is a mere 41.1.
Look for that to improve. In the meantime, Brown can take a little comfort knowing he's been one of the few good stories the Niners have had out of recent drafts.
Loser: Edge Rusher Tank Carradine
Remember how edge rusher Tank Carradine was supposed to provide a huge pass-rushing impact to the 49ers defense after switching from a 3-4 defensive end to an outside-linebacker type?
Well, that never materialized in spite of the Niners seeing good things about him and picking up his fifth-year option for 2017.
Perhaps Carradine is a winner that way, unless San Francisco admits the mistake and parts ways with him after this season. The former Florida State standout has yet to generate a sack this season and is only a situational pass-rusher at best.
Don't even get us started on his run defense. It's awful, in case you didn't guess.
San Francisco will be looking for another pass-rusher this offseason, either via free agency or the NFL Draft, which will push Carradine to the periphery.
Winner: Linebacker Gerald Hodges
Remember when the 49ers had a bit of a logjam at inside linebacker heading into 2016? Yeah, that was a point when San Francisco was trying to figure out who would start alongside NaVorro Bowman.
Linebacker Ray-Ray Armstrong won the job over fellow ILBs Gerald Hodges and Michael Wilhoite. But season-ending injuries to both Bowman and Armstrong opened up the door for Hodges to assume a prominent role.
Quietly, he hasn't disappointed.
Hodges leads the Niners with two interceptions and also has two sacks to go along with 28 tackles on the year. According to Pro Football Focus, Hodges' 81.1 overall mark makes him the highest-graded starter on San Francisco's defense.
The 25-year-old linebacker will be a free agent after this season, so at least he's hitting his stride at the right time.
Loser: Wide Receiver Torrey Smith
Oh, to be a non-fit in head coach Chip Kelly's offense.
Wide receiver Torrey Smith is best known for his deep-threat capability. And Kelly's offense features more quick throws and routes, which takes away the time necessary to allow Smith to beat his defenders.
Smith's numbers have taken a hit as a direct result.
San Francisco's perceived No. 1 receiver has just 20 grabs for 267 yards and three touchdowns — all on pace to fall behind his career-low marks from a season ago.
Poor quarterbacking play over 2016 didn't help much either. And who knows to what extent the Niners coaching staff has misused him.
Still, Smith's contributions have been nearly nonexistent. It's frustrating, considering the money general manager Trent Baalke threw his way.
Winner: Quarterback Colin Kaepernick
Yup, quarterback Colin Kaepernick is a winner here. Although the reasons might be a bit unorthodox.
Let's get the game play out of the way. Kap's last four games have been notably good, as the fantasy football video below suggests:
Kaepernick's stats this year don't necessarily suggest he's trending back to the accolades and abilities that made him such a unique threat back in 2012 and 2013. But they do hint at the possibility of him resurrecting what was a dormant career not long ago.
This bodes well for Kap moving forward. With the ability to opt out of his current contract, Kaepernick can pitch for a new deal elsewhere in 2017, citing his recent success as a reason for such an investment.
And then there's the social awareness the quarterback has brought to the table. Whatever your take is on it, Kap is relevant again. He's part of the national discussion.
Whether it be good or bad, any attention is better than no attention at all.
Loser: Coordinator Jim O'Neil and the 49ers Defense
Pick a major category and, chances are, the 49ers are towards the bottom in it on defense.
Defensive coordinator Jim O'Neil was an odd choice to helm this side of the ball entering 2016. His defenses with the Cleveland Browns ranked 32nd and 30th against the run in 2014 and 2015, respectively.
Not surprisingly, San Francisco's defense ranks dead last in that category and a slew of others.
True, injuries have been a major hindrance to the team's efforts this year. So that bears some blame.
But it's impossible to overlook the responsibility O'Neil has in leading one of the worst defenses in recent NFL history.
He'll likely be shown the door once this season is over — there's no reason to retain him — and won't have an easy time landing a coordinator gig at the pro level anytime soon.
As for the rest of the defense? Well, the stats speak for themselves. And they aren't a good reflection on any player from that side of the ball.
Winner: Head Coach Chip Kelly
Wait, so a 1-10 head coach with a bad NFL reputation is a winner on this list?
Yes, absolutely.
Head coach Chip Kelly is a winner simply because he inherited one of the ugliest situations possible this offseason. And no matter what he did/does with it, Kelly can always turn back to the context and point out the obvious.
Kelly already has. Remember his comments about the 49ers depth? How about his statements about the Niners not being built to throw the ball often enough?
Those are subtle potshots at general manager Trent Baalke. Baalke is responsible for the roster makeup. Not Kelly.
Let's assume, for a moment, a feud exists between Kelly and Baalke right now. Who wins that scenario?
Well, it would depend how CEO Jed York views it. And it's just as possible Kelly wins out in a power struggle.
This could change on a dime, but Kelly's job looks much safer than Baalke's.
Speaking of the general manager…
Loser: General Manager Trent Baalke
"If we don't get it done, put it on me. We've got all the resources necessary."
Those are the exact words of general manager Trent Baalke, when he appeared on KNBR 680 earlier this week (h/t Eric Branch of SFGate.com).
Well, "putting it on you" isn't exactly a hard thing to do for the fans.
Baalke has been tasked with rebuilding this roster. But he's also the person largely responsible for the shape it's in right now.
We don't need to get into the year-by-year specifics dating back to when he took over GM duties in 2010. USA Today's Niners Wire writer Kyle Madson already did that.
Instead, tack on the issues between Baalke and his head coaches — Chip Kelly and former coach Jim Harbaugh. And how about the sour relationship Baalke has with quarterback Colin Kaepernick. Whatever your feelings are on Kap, this interaction isn't a good look for the Niners GM.
Baalke might be on the outs once this season is over. And while his career as a scout might be suited elsewhere, it's easy to understand why he's a No. 1 enemy of many 49ers fans.
This article originally appeared on