San Francisco 49ers: Why It's Hard for the Team to Tank over the Rest of 2016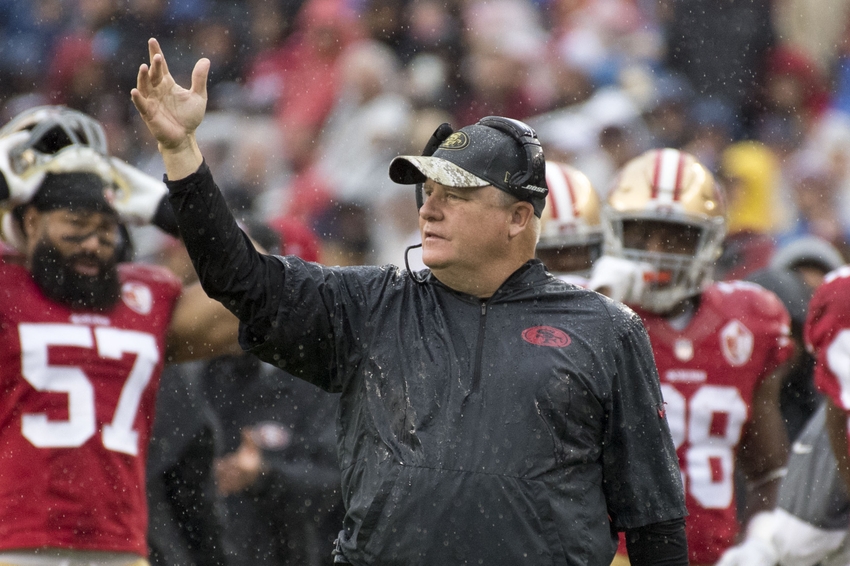 The San Francisco 49ers are 1-10 on the 2016 season, which has left many fans hoping they lose out in order to gain a better pick in the 2017 NFL Draft. But it's not that simple.
Amid the franchise's worst losing streak in its 70-year history, the San Francisco 49ers have little else to play for over the remainder of the 2016 season.
49ers vs. Dolphins: The Good, Bad & Ugly for San Francisco in Week 12
Pride remains and, of course, determining where the Niners pick in the upcoming 2017 NFL Draft.
Currently the 49ers sit at 1-10 and hold the No. 2 overall pick behind the winless Cleveland Browns. If the season were to end today, the 2-9 Chicago Bears would have the third pick in the draft, followed by the 2-9 Jacksonville Jaguars, based off strength of schedule.
Fans may hope the Niners simply "tank" for the rest of the season, hoping the team holds onto that No. 2 pick or, possibly, the Browns wind up winning one or two more games and shake up the draft order in the process.
While this might be a nice thought — especially if a player like Texas A&M edge rusher Myles Garrett is the target — simply trying to lose out isn't that simple.
Why not? Well, just tell that to the players and coaches involved.
Viewing NFL Teams as a Group of Independent Contractors
The higher the draft pick, the more value it has. It's obvious. And this draft-value trade chart, from Pro Football Talk, gives us an idea how much a difference exists between pick Nos. 1 and 5.
Tanking sounds good, right? Especially considering how many needs the 49ers have and/or the likelihood of nabbing a top-two prospect.
But tell that to an NFL player.
"They're professionals and I think they're all competitors so I don't know what they'd gain from packing it in," head coach Chip Kelly said, via CSN Bay Area. "Is that going to make them feel better? They want to straighten this thing out so they're going to go out and compete and we've got a bunch of competitors in there that want to go win."
Each player on any given team is an independent contractor of sorts. Coaches too. Tanking would mean those players would have to take hits, statistically. And what would that say about future contracts, openings and the privilege of continuing to play in the NFL?
Just like an independent contractor, these players' craft will influence what happens next.
All 31 Other Teams Are Watching
Considering how bad the Niners are, it's safe to say no one's job is truly safe moving forward. From Kelly on down to practice squad players, each guy on San Francisco's roster can't feel too comfortable about his job moving forward.
Contracts expire and players get cut. It's part of the everyday business the NFL uses.
Chris Chase of USA Today's For the Win wrote:
The NFL is the most "every man for himself" team sport. In a situation such as this (when your team is 3-12 or 4-11 or whatever) you're playing for you. You're playing so that your GM sees you and wants to bring you back or to get enough tape so another GM wants to bring you in.
Just because things aren't working with the 49ers doesn't mean it wouldn't work elsewhere. Playing well, despite a bad team, increases the likelihood of signing on with another team when that time comes. Not playing well ensures the opposite. It's not hard to figure out.
How Does a Team Tank?
It's one thing to suggest a team should tank for a better draft pick. But figuring out exactly how is another question altogether.
Does this mean, "Hey, don't tackle that guy," or "Be sure you run the wrong route next time."?
All that stuff shows up on tape. It might not be obvious to the untrained eye, but scouts notice it. "Why was he out of position?" or "Why didn't he execute proper tackling technique there?" they'll ask.
Players are taught, even at the college level, to go at no less than 100 percent. Just ask KNBR 680's Tom Tolbert, when he broke down this same question with Kelly last Monday.
So maybe the coaching staff can instigate a tank job, right?
Well, not so fast. Kelly is a perfect example. His team stinks and everyone knows it. Tanking would only reinforce an already stained reputation about his abilities at the NFL level. And it wouldn't help his collegiate accolades much either, if he chose to bolt for the NCAA ranks in 2017.
While the idea of tanking seems like a smart move, when thinking about the draft alone, the reality is it simply can't be a reality.
And for the kicker, the NFL Draft isn't a surefire results-getter anyway. It's why the NFL hasn't instituted a draft lottery of any time. Just ask all the teams who have held No. 1 overall picks, only to find their landed prospect turned into a bust.
So no, the 49ers aren't going to tank for the rest of 2016.
This article originally appeared on