San Francisco 49ers: Top 10 Cornerstone Players to Build Around in 2017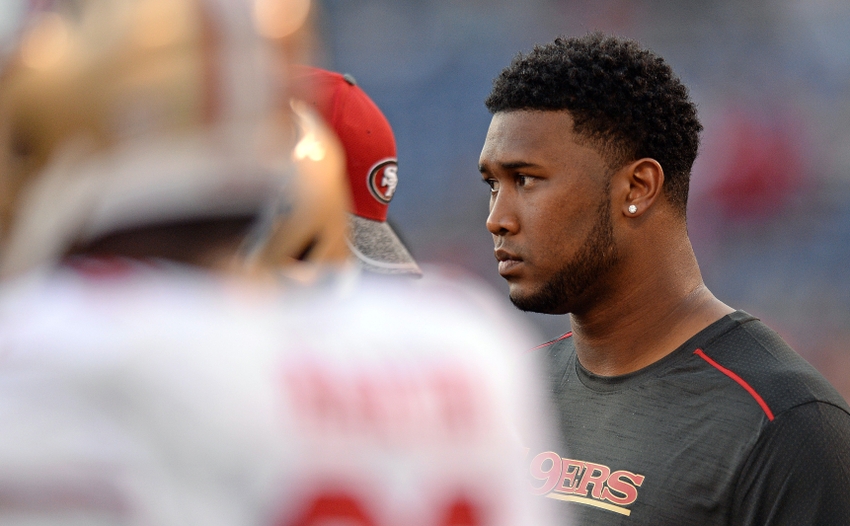 The San Francisco 49ers are going through yet another disappointing season under head coach Chip Kelly. Yet the franchise has a few pieces in place around which the Niners should build in 2017 and beyond. Niner Noise looks at 10 of them.
2016 isn't going to be a kind year for the San Francisco 49ers.
49ers Quarterback Switch: Why We Should Temper Expectations for Colin Kaepernick
At 1-4, this season is little more than an audition for what needs to take place this upcoming offseason and the following year. Head coach Chip Kelly has relatively few pieces in place with which to work, and the Niners roster is largely devoid of talent.
Regardless whether general manager Trent Baalke is around next season or not, the 49ers do have a few players around which the team can build in coming seasons. Even ESPN's John Clayton noted how the Niners have a number of "blue-chip players" already on the roster.
Yes, San Francisco needs more talent. A lot of it. But what about the guys who are already here?
Let's focus on those players and break down the top-10 Niners who should be cornerstones of the franchise moving forward.
As not to state the obvious, we'll leave three guys off this list — running back Carlos Hyde and linebackers NaVorro Bowman and Aaron Lynch. They're the pinnacle players on the offense and defense, respectively. So including them would, in all intents and purposes, be redundant. We know the 49ers should feature them.
But who else?
We'll break down and rank the 10 players who could help comprise a competitive 49ers squad in coming seasons.
No. 10: Defensive End Ronald Blair
Rookie defensive end Ronald Blair could still wind up being the hidden gem of the 2016 NFL Draft.
Taken in Round 5 of the draft, largely due to his small-school pedigree, the 6-foot-3, 272-pound pass-rusher already has half a sack in limited action this season (59 total snaps). San Francisco should try to get more out of him in coming weeks.
Blair has versatility too. He can line up as an interior defender and also can work as an outside pass-rusher.
Teams can never have too many of those.
With fellow edge rusher Tank Carradine not living up to his expectation level, the 49ers would be wise to give Blair a larger role moving forward.
No. 9: Running Back Mike Davis
The 49ers will need a decent backup to support No. 1 running back Carlos Hyde in coming years.
Second-year pro Mike Davis should be this guy moving forward and not current No. 2 Shaun Draughn.
True, Davis' rookie campaign was one to forget. But he managed to turn a page in the preseason and averaged 4.8 yards per carry on 19 attempts — good enough for a change-of-pace tailback.
Davis has had just five yards on five attempts in the regular season, which wouldn't suggest much of an improvement over last year's mark. Still, if San Francisco is eyeing the future, it's time to give a younger player some looks in coming weeks.
No. 8: Cornerback Will Redmond
Rookie corner Will Redmond has yet to take a snap in the regular season, while he recovers from a nagging collegiate knee injury.
One might think this is a mark against the Niners' third-round pick from 2016. But we shouldn't close the door on the latest of general manager Trent Baalke's "All-ACL" team picks just yet.
San Francisco needs nickel corner help. With cornerback Chris Davis (knee) landing on injured reserve, and the possibility Redmond returns from IR, one could see a scenario later this season in which Redmond is placed into impact situations.
The 49ers have spent considerable effort over the past few years stocking up their secondary.
If Redmond lives up to his draft status, the Niners would have a good cover option to build and grow.
No. 7: Outside Linebacker Eli Harold
The 49ers should be starting second-year linebacker Eli Harold over veteran edge defender Ahmad Brooks.
Pro Football Focus is grading Brooks with a 44.3 overall mark on the season. While Harold's overall grade (49.1) isn't substantially better, one has to factor in how much younger — and cheaper — Harold is at this point in his career.
And it isn't as if Brooks is going to return to his Pro Bowl-caliber self, as we saw back in 2013.
Harold is also notably better against the run, which has emerged as a prime weakness this season for San Francisco's defense.
Start Harold. Sit Brooks. It's that simple. And look to keep Harold in the mix next season.
No. 6: Defensive Tackle Quinton Dial
Earlier this offseason, Niner Noise put together an assessment why 26-year-old defensive tackle Quinton Dial is emerging as one of the unsung heroes of San Francisco's defense.
It's no fluke. The fourth-year pro is currently ranked as the No. 1-graded interior defender along the 49ers defensive line, per Pro Football Focus, and he's regularly been a contributor ever since seeing his role increase dramatically a year ago.
Not bad for a fifth-round investment.
Dial can play the nose and either end. And he's one of the better run defenders along San Francisco's D-line.
Keeping him a main part of the equation will be a smart move on the 49ers' part this offseason.
No. 5: Defensive Back Jimmie Ward
If his rookie season was any indication, defensive back Jimmie Ward was going to be yet another first-round bust for the 49ers.
But 2014 was merely an adjustment period for Ward, who turned a page his second year and emerged as one of the better San Francisco defenders entering this season. His abilities within the slot, on the outside and at safety make him versatile — a good piece moving forward.
Pro Football Focus gives Ward an 82.6 overall grade on the season, which is second only to rookie cornerback Rashard Robinson (we'll get to him shortly) within San Francisco's secondary.
Ward is currently dealing with a quad injury, but the 49ers would be wise to start the third-year pro alongside Robinson in what would be a nice up-and-coming cornerback crop in future years.
No. 4: Cornerback Rashard Robinson
Yes, defensive back Jimmie Ward is looking pretty good. But rookie corner Rashard Robinson is ranking even better this season.
He already has four pass-breakups on the young season and is quickly looking like the kind of shutdown corner the 49ers have lacked for a number of years now. And Pro Football Focus ranked him the No. 3 overall rookie entering Week 6.
Not bad. Not bad at all for the 21-year-old fourth-round pick.
Robinson should be starting over veteran corner Tramaine Brock moving forward. Again, the 49ers need to continue their youth movement.
So any snaps with Brock starting over the rookie are merely holding back what could be a promising development.
No. 3: Defensive End Arik Armstead
Yes, then-rookie defensive end Arik Armstead seemed pretty raw and unfinished when the 49ers took him in Round 1 of the 2015 NFL Draft.
But, in limited action, Armstead ended up with a plus-15.1 overall grade on Pro Football Focus' (subscription required) advanced grading criteria, which ranked second on the defense behind only nose tackle Ian Williams.
Armstead wasn't seen as much of a pass-rusher. But he's already posted three sacks in just a year-plus of pro-level action.
He had only four over three collegiate seasons at the University of Oregon.
San Francisco's defense still needs pocket-wrecking forces. Armstead fits the bill. And with fellow DE DeForest Buckner on the other side, the Niners defensive line looks to be in place for years to come.
No. 2: Offensive Guard Joshua Garnett
Earlier this week, Cam Inman of the San Jose Mercury News reported rookie guard Joshua Garnett was going to see his first NFL start in Week 6 against the Buffalo Bills.
That's a good thing. The 49ers need to generate some early returns from their second of two first-round picks from this year's draft.
Garnett still needs work in pass protection. We know this. But the reason San Francisco traded up to get him was for his run-blocking abilities. Those are what made Garnett an Outland Trophy recipient — awarded to the best collegiate interior offensive lineman.
San Francisco's offensive line currently ranks No. 31 in the NFL, per Football Outsiders, in their adjusted line yards metric.
This number measures running back gains and assigns responsibilities to the O-line.
With the 49ers struggling in this area, getting the rookie onto the field and contributing can't happen soon enough.
No. 1: Defensive End DeForest Buckner
Defensive end Arik Armstead may be the senior of the two former Oregon linemen. But rookie DeForest Buckner has the much-higher ceiling.
Buckner's efforts have been so-so through five weeks of NFL action. His run defense has been a bit problematic, but there aren't any doubts about his pass-rushing capabilities. Pro Football Focus gave him a 72.2 grade in this specific aspect.
So why is Buckner the No. 1 player around whom the 49ers need to build?
Well, any top-10 NFL Draft pick needs to be worked into an equation. Unless they're destined for the "bust" moniker, of course.
If groomed properly, Buckner may wind up being the next Justin Smith-type player — someone capable of locking up multiple blockers and opening up lanes for San Francisco's remaining pass-rushers — guys like Eli Harold and Aaron Lynch.
We'll have to monitor how well Buckner progresses over the remainder of his first-year campaign. And we'll see if he makes the "big leap" of which coaches so often speak between year one and year two.
If he does adequately enough, the Niners defensive line will, once again, be pretty good. And San Francisco desperately needs a unit of strength moving forward.
All statistics, records and accolades courtesy of Pro-Football-Reference.com andSports-Reference.com unless otherwise indicated.
This article originally appeared on