San Francisco 49ers Three-Round 2017 NFL Mock Draft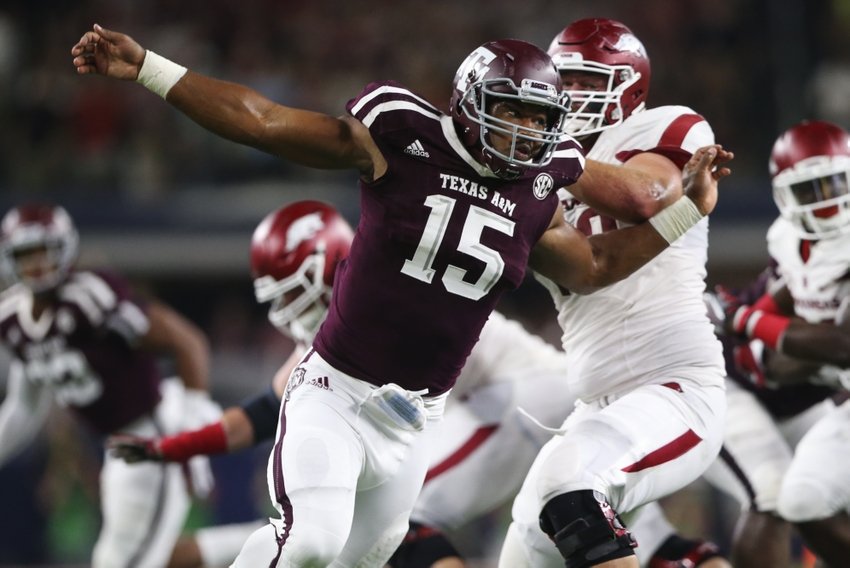 The San Francisco 49ers have fallen a long way in just the past three years, going from the NFC championship to a possible top 3 draft pick.
No doubt GM Trent Baalke is already under loads of pressure for letting this thing get away from him. Can he and head coach Chip Kelly turn this team around quickly with one bold stroke in the 2017 NFL draft? Well if they catch a few breaks it might be possible. This latest mock draft should help illustrate how potentially lucrative it might end up being for them.
1st Round
1
Myles Garrett
DE,

Texas A&M
Current rumors are strong that the Cleveland Browns have eyes for quarterback Mitch Trubisky in the draft. If that's the case and the 49ers end up at #2 as they are currently slated to then the job is clear. They have no definitive pass rusher on the edge and haven't since Aldon Smith left. If that strong defensive line is going to thrive then somebody has to be able to take advantage of their presence by turning single blocks into frequent sacks.
Most draft sources are in agreement that Myles Garrett is the best overall talent expected to come out. With good reason too. He's just as good as Smith was and is a better athlete with none of the off-the-field baggage. He can play in any scheme, wins with power or speed depending on requirement and forces offenses to account for where he is at all times. Yes they need a quarterback but with limited options this is the next best thing.
2nd Round
2
Deshaun Watson
QB,

Clemson
Is Blaine Gabbert the future? No. Is Colin Kaepernick the future? Unlikely. San Francisco wrote the modern manual on great quarterback play in the 1980s and 90s with Joe Montana and Steve Young. Until they find a way to lock that position down again, they can't expect to get back into the Super Bowl conversation. To say nothing of their other roster issues. At last Chip Kelly drafts a QB with a style that fits his system, and at a relative discount for his team no less.
Deshaun Watson was the surefire #1 pick in the eyes of many when the 2016 season began. That is how much he dominated 2015. Unfortunately he's struggled a bit since. Though his numbers remain impressive, his accuracy and decision-making as a passer have regressed to a degree. Nevertheless his supreme athleticism, quick release and poise in big moments make him an attractive option for Kelly and the 49ers who can make great use out of his talents.
3rd Round
3
Curtis Samuel
WR,

Ohio State
Another thing the 49ers don't have enough of is weapons. Wide receiver has underachieved to a large degree for years, even during their great run between 2011 and 2013. If they're going to make things work with Watson, they have to get him playmakers. Not just sure-handed possession guys or one-trick deep threat. Legitimate threats who are dangerous with the ball in their hands. Kelly is notorious for coveting such types so it makes sense.
Curtis Samuel showed just how dangerous he can be in that unforgettable Ohio State-Michigan epic. Not only is he fast and knows how to get open, just handing him the football in the backfield leads to big plays. Game-winning plays. Scouts will talk down his modest 5'11" size but that doesn't matter. Samuel is a receiver that stresses defenses. He makes them work harder. Combined with that up-tempo style? It's a match made in heaven.
This article originally appeared on