San Francisco 49ers: Revisiting the Franchise's NFL-Leading Week 1 Winning Streak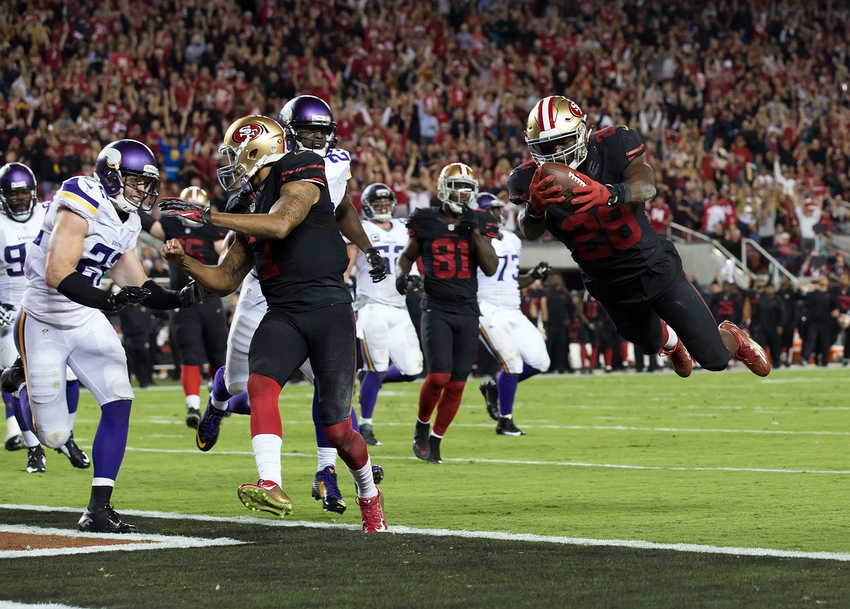 The San Francisco 49ers have a good recent history in Week 1. The Niners haven't lost a season opener since 2010 and are tied for the NFL lead for Week 1 opening victories entering the 2016 season.
Believe it or not, the San Francisco 49ers may actually set themselves apart from the rest of the NFL this Monday.
Carlos Hyde: Identifying 49ers RB's Scheme Fit in 2016
And for the good reasons. Not the bad.
San Francisco hosts the Los Angeles Rams on Monday Night Football to kick off their 2016 season, and the Niners have good Week 1 history they can carry into the game.
In fact, the 49ers haven't lost a regular-season opener since 2010 — the days of former head coach Mike Singletary.
Four of these five Week 1 wins came during the reign of former head coach Jim Harbaugh. And, with the exception of 2014, it's easy to see why the Niners were able to dominate the first game of each schedule.
Last year, one-and-done head coach Jim Tomsula led San Francisco to victory on Monday night — a rare victory in what was otherwise a disappointing 2015 campaign.
Currently, the 49ers are tied with the Denver Broncos and New York Jets for the longest Week 1 winning streak, per Pro Football Reference.
Denver already won its Week 1 bout. And if the Niners win and Jets lose, San Francisco will have one category in which it stands alone.
So let's take a look back at the 49ers history in Week 1 over the last five years and revisit some fun times for the red and gold.
2011 — Versus the Seattle Seahawks
49ers 33, Seahawks 17
2011 turned out to be the final year in which the 49ers had dominance over their hated NFC West rivals, the Seattle Seahawks.
San Francisco won both of its contests against that team from up north, and it all started with a 33-17 victory at Candlestick Park.
Fans will remember this as the first game in the Jim Harbaugh era.
Harbaugh took over as head coach during the offseason and would eventually lead the Niners to three consecutive NFC Championship games and one Super Bowl berth.
But the game itself featured some familiar 49ers names — quarterback Alex Smith, running back Frank Gore and wide receiver Michael Crabtree.
Smith managed a one-yard touchdown run, but it was the Niners defense and special teams that made the victory possible. Then-49ers kicker David Akers connected on four field-goal attempts, and even kick returner Ted Ginn managed a 102-yard touchdown return.
Most notably, the 49ers held Seahawks running back Marshawn Lynch in check. The now-retired Seattle standout managed just 33 yards on the ground.
In total, San Francisco gave up just 219 all-purpose yards and sacked Seahawks quarterback Tarvaris Jackson five times.
The 49ers defense would continue to lead San Francisco deep into the playoffs.
2012 — at the Green Bay Packers
49ers 30, Packers 22
Through the 1990s and into the 2000s, the Green Bay Packers owned the 49ers in almost every meaningful contest, with the exception of "The Catch II."
All that stopped in 2012 though. And even with quarterback Aaron Rodgers at the helm, the Niners turned the table on Green Bay in what became an impressive, albeit brief, domination of the green and gold.
Keep in mind, the days of quarterback Colin Kaepernick running over the Packers hadn't quite happened yet. The playoffs were a ways down the road when the Niners knocked off the Packers 30-22 at Lambeau in Week 1.
Quarterbacks Rodgers and Alex Smith each exchanged two touchdown passes, and Rodgers even managed to throw for 303 yards against a stalwart San Francisco defense.
But Rodgers' one interception, picked off by linebacker NaVorro Bowman, and three sacks taken proved to be the difference.
San Francisco never trailed in the game. And running back Frank Gore continued his storied red-and-gold legacy with a 112-yard, one-touchdown effort.
The 49ers were well on their way to a Super Bowl berth with this victory over one of the NFL's best.
2013 — versus the Green Bay Packers
49ers 34, Packers 28
Wouldn't you know it? The 49ers opened back-to-back seasons against the Packers. And it was more of the same results.
Albeit with some different contributors.
By 2013, quarterback Colin Kaepernick had taken over the primary signal-caller duties. Former QB Alex Smith had been sent off to the Kansas City Chiefs, and the Niners looked to be en route to another deep playoff push after a tough loss in Super Bowl XLVII.
Kaepernick torched Green Bay in the playoffs the year before. And he did so again in Week 1, although it was with his arm and not his legs.
Kap finished the contest with 412 passing yards and three touchdowns. Packers QB Aaron Rodgers had a commendable 333-yard, three-touchdown performance as well. But this contest was Kaepernick's to brag about.
Even if Green Bay linebacker Clay Matthews took a late shot at Kap, which drew ire from left tackle Joe Staley.
Oh, and we can't forget about wide receiver Anquan Boldin, whom the Niners acquired via a trade earlier that offseason.
Boldin's 208-yard performance was another note of accolade — one which 49ers fans could only hope for in 2016.
2014 — at the Dallas Cowboys
49ers 28, Cowboys 17
The 49ers window was coming to a close in 2014, although no one knew it at the time.
And San Francisco's Week 1 stomping of the Dallas Cowboys certainly indicated head coach Jim Harbaugh's squad was poised for yet another deep playoff run.
The Niners never trailed in the game and carried a 28-3 lead into halftime. San Francisco's scoring got off to a great start, thanks to a 35-yard fumble returned for a touchdown by cornerback Chris Culliver.
But this Week 1 performance was highlighted by Vernon Davis, whose two touchdown receptions seemed to reaffirm his presence among NFL elite tight ends at the time.
Unfortunately, those two TD grabs turned out to be all Davis would have that season. And his 245 total yards in 2014 marked the lowest in his 10-year career.
Dallas crawled back in the second half and managed to score 14 unanswered points. In many ways, this was an indication of the times to come.
Trouble was brewing within the 49ers organization, and the team would finish with an 8-8 record. Harbaugh and the Niners "mutually" parted ways the following offseason, and the disastrous 2015 campaign was just beyond.
2015 — versus the Minnesota Vikings
49ers 20, Vikings 3
Who knew what to expect out of the 49ers entering 2015. Jim Tomsula, who had never been a coordinator at the NFL level, was now head coach. And the team was reeling from a slew of offseason retirements and free-agent departures.
Nobody told the Niners though. At least not in Week 1.
Last year's Monday Night Football performance was thought to be running back Carlos Hyde's coming-out party.
After all, he only rushed for 168 yards and two touchdowns.
And who could forget this:
Week 1 last year seemed to indicate the 49ers might not be that bad after all. San Francisco's defense even managed to hold star running back Adrian Peterson to just 31 yards. And this same unit sacked Pro Bowl-to-be quarterback Teddy Bridgewater five — yes, five — times.
Of course, we all know what happened thereafter.
This contest turned out to be the only decisive victory in San Francisco's five-win 2015 campaign.
Hyde dealt with a nagging foot injury for the first half of the season before being sidelined for the second half.
Tomsula's offense finished dead last in the league with 238 points scored, and the Niners defense didn't fare much better.
So it wasn't a surprise to see San Francisco can its one-and-done head coach and admit the need to go through a complete overhaul of the franchise.
It's an overhaul which can get off to a good start with a sixth-consecutive Week 1 victory in 2016.
All statistics, records and accolades courtesy of ESPN.com, Pro-Football-Reference.com and Sports-Reference.com unless otherwise indicated.
This article originally appeared on