San Francisco 49ers: Not Activating CB Will Redmond Is Another Strike Against GM Trent Baalke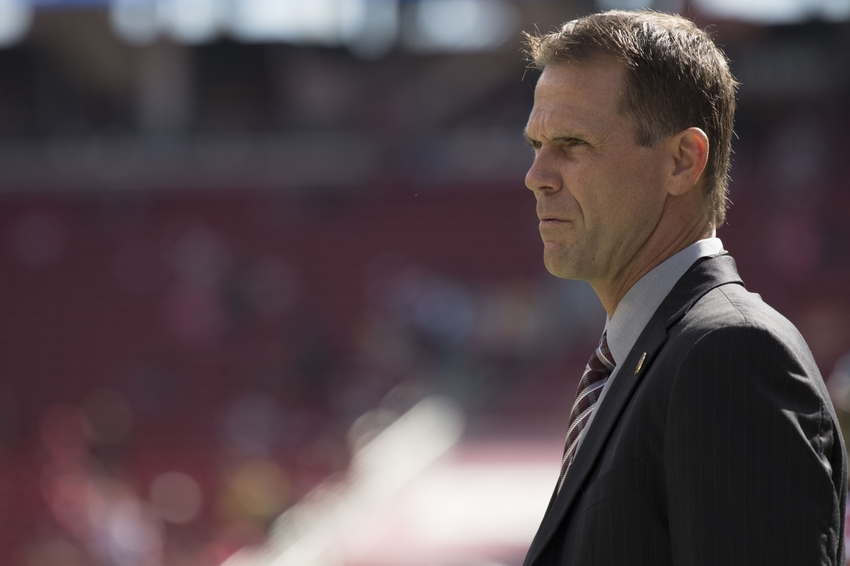 The San Francisco 49ers aren't going to activate injured cornerback Will Redmond by the Tuesday deadline, which means general manager Trent Baalke has yet another black eye from yet another "All-ACL" pick.
San Francisco 49ers general manager Trent Baalke took another hit on Tuesday with the news rookie cornerback Will Redmond would not be activated to the 53-man roster prior to the 4 p.m. ET deadline.
Let's Make the San Francisco 49ers Great Again
Redmond (knee) is the latest of Baalke's "All-ACL" picks — a third-round selection from the 2016 NFL Draft. Despite seeing some time in the preseason, Redmond landed on injured reserve at the start of the season, although he did have a designation to return.
But he won't now.
The 49ers won't activate Redmond, according to defensive coordinator Jim O'Neil (h/t Matt Maiocco of CSN Bay Area). The rookie will spend the rest of the year on IR.
Tack on another strike in the growing list against Baalke.
San Francisco's general manager is already on the hot seat this season. And his history of drafting injured players is one of the major points working against him.
The theory might have been a good one back when Baalke started the process in 2013. Players like edge rusher Tank Carradine or running back Marcus Lattimore were seen as stash-away players. San Francisco's roster was good enough then.
The problem is those players never filled the void adequately enough. And Redmond is merely the latest case, at least for now.
Even more troubling is how Baalke stressed Redmond would be ready for training camp. Remember these words (h/t Eric Branch of SFGate.com)?
#49ers Trent Baalke after using No. 68 pick on Will Redmond: "He will be healthy. He will be ready to go." Redmond won't play snap in 2016.

— Eric Branch (@Eric_Branch) November 8, 2016
True, Redmond might wind up having an impact next year or thereafter. But, right now, this was a wasted pick for a San Francisco team in desperate need of help.
And it's just another shake of the head against Baalke.
This article originally appeared on