San Francisco 49ers Name 10 Players to Practice Squad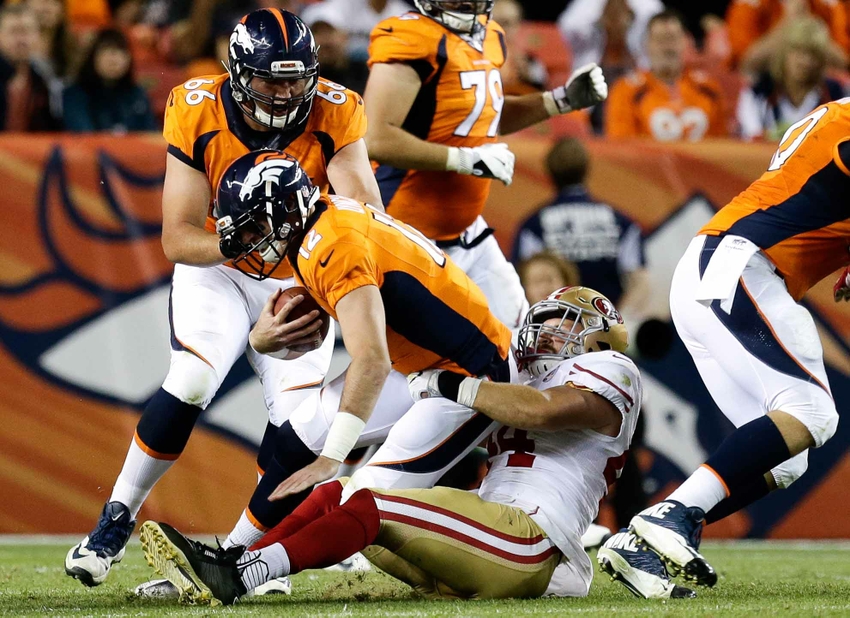 The San Francisco 49ers have officially placed 10 players on their practice squad, per various sources and reports. Niner Noise breaks down each transaction.
A number of players from the San Francisco 49ers offseason roster have landed on the team's practice squad.
Carlos Hyde: Identifying 49ers RB's Scheme Fit in 2016
The NFL upped the number of players teams can keep on a practice squad to 10. Previously, back in 2013, only eight players could be kept.
Here's the breakdown of practice squad eligibility, courtesy of David Fucillo of Niners Nation:

In order to be eligible for the practice squad, players must meet one of the following requirements:
Have no prior Accrued Seasons in the NFL (An accrued season is six or more games on the active roster);

Have one prior Accrued Season in which the player was on the 45-man active roster for no more than 8 games;

Each club will be permitted to sign a maximum of 4 Practice Squad players who have earned no more than 2 accrued seasons of free agency credit;

If served two seasons on a practice squad, are eligible for a third season only if the team has at least 53 players on its active/inactive list for the duration of that player's employment.

A player has served one season on the practice squad if he is on the practice squad for at least 6 games. The rule previously required 3 games on the practice squad roster.
Practice squads are designed to give developing players a chance to hone their skills at the NFL level without having to count against a team's 53-man roster or various other injury lists.
So let's look at players the Niners managed to get onto their practice squad for 2016.
Outside Linebacker Marcus Rush
One might think linebacker Marcus Rush should have made the 49ers' 53-man roster to start the season.
After all, Rush posted an NFL-leading six preseason sacks.
But Rush still has some issues against the run, which is probably a reason other teams stayed clear when the 25-year-old pass-rusher was going through waiver claims.
It's still an interesting move though. The Niners will be without No. 1 pass-rusher Aaron Lynch (suspension) for the first four games of 2016. Even with the rise of players like Tank Carradine and Ronald Blair, having a situational pass-rusher like Rush might have been beneficial.
At least the 49ers will have the option to promote Rush if necessary.
Wide Receiver Chris Harper
Former New England Patriots wide receiver Chris Harper will be joining the 49ers practice squad, as Harper tweeted out Sunday.
Flyin to San Fran tonight. Thankful for the opportunity from the 49ers.

— Christopher Harper (@ItsChrisHarper) September 4, 2016
Harper spent 2015 on both the Patriots' active and practice squad rosters. Last season, he totaled one reception on three targets but also doubled as a punt returner.
He feasibly could be a backup to wide receiver Jeremy Kerley, whom the 49ers acquired earlier this preseason.
Wide Receiver Dres Anderson
Second-year wideout Dres Anderson probably should have been on the 49ers' 53-man roster to start the season.
After all, he hauled in a nice 30-yard touchdown pass against the Denver Broncos two weeks ago and made a very physical grab against the San Diego Chargers, which helped set up a touchdown in the final week of preseason action.
Nonetheless, Anderson finds his way onto the Niners' practice squad to start the season.
Anderson spent 2015 on injured reserve and didn't see action. Perhaps the 49ers would like the developing talent to hone his skills a bit before taking part in on-field action.
He should be a strong candidate for promotion to the 53-man roster if San Francisco winds up suffering from a lack of contribution from this position.
Running Back Kelvin Taylor
Had it not been for the strong preseason performances by second-year tailback Mike Davis, rookie running back Kelvin Taylor probably would have made the 49ers' 53-man roster in Week 1.
Davis was one of the Niners standouts in the preseason. And he looked nothing like the player who averaged a mere 1.7 yards per carry in 2015.
Taylor, whom San Francisco selected in Round 6 of the 2016 NFL Draft, didn't see much action until the Niners' final preseason game against the Chargers. During that contest, Taylor led all 49ers rushers with nine carries for 56 yards and a touchdown.
This might have put San Francisco in danger of losing Taylor to a waiver claim.
It didn't happen, and Taylor is now headed to the practice squad.
Behind No. 1 tailback Carlos Hyde, the 49ers also have Davis and Shaun Draughn.
Offensive Lineman Fahn Cooper
San Francisco drafted rookie offensive lineman Fahn Cooper in Round 5 of the 2016 NFL Draft.
A number of draft experts, including our own here at Niner Noise, pegged Cooper as a better prospect than fellow Niners draftee lineman John Theus.
But Theus made the 53-man roster. Cooper is headed to the practice squad.
Cooper played at both tackle and guard during training camp and the preseason. So at least he offers some depth and flexibility in the Niners' developmental program.
Oh, and Cooper's solid backing up of standout tackle Laremy Tunsil at Ole Miss certainly bodes well for the former's future.
Inside Linebacker Shayne Skov
Third-year linebacker Shayne Skov starts off the regular season on the practice squad once again. He couldn't beat out veteran linebacker Michael Wilhoite for one of the remaining spots on the 53-man roster.
Although Skov did manage to appear in 15 regular-season games for the 49ers in 2015, although most of these appearances were on special teams.
Skov's special teams abilities do give San Francisco some flexibility and insurance against injury.
Last week against the Chargers, Skov ranked second on the Niners defense with seven tackles and also had two passes defended.
It's worth noting he played every defensive snap as well.
Tight End Je'Ron Hamm
The 49ers are pretty stacked at tight end entering 2016. The team already has Vance McDonald, Garrett Celek, Blake Bell and Bruce Miller here, as well as long-snapper Kyle Nelson.
For tight end Je'Ron Hamm to make the roster, one of the above TEs would have had to suffer an injury. Or, possibly, the Niners didn't think Bell was developing enough after a year-plus worth of action at the pro level.
Hamm did flash some abilities during the 49ers' 31-21 preseason victory over the Chargers.
The 24-year-old Hamm led all San Francisco receivers with four catches for 65 yards.
Offensive Lineman Norman Price
Rookie offensive lineman Norman Price also made it to the practice squad.
San Francisco signed Price as an undrafted free agent in 2016 out of Southern Mississippi.
The 49ers offensive line is one of the deeper units, surprisingly, entering this season. So it's not much of a shock to see a player like Price not make the 53-man cut.
If there is a bonus, Price provides some decent depth in case of injury. Although the Niners probably won't be calling Price's name first if someone goes down.
Offensive Lineman Alex Balducci
Rookie UDFA Alex Balducci is another player the 49ers hope to develop on the practice squad.
Balducci, a former University of Oregon product, converted over from the defensive side to the offensive line.
And head coach Chip Kelly had some good things to say about Balducci's efforts in the move.
San Francisco will hope Balducci continues to develop following the position switch and emerges as a solid backup piece in the 49ers future.
Cornerback Prince Charles Iworah
San Francisco's final pick of the 2016 NFL Draft, cornerback Prince Charles Iworah, was a long shot to make the 53-man roster.
But with a 4.32 40-yard dash time at the NFL Scouting Combine, Iworah may be one of the faster defensive backs on the team's roster.
Iworah is extremely raw but has a lot of the physical attributes teams like to see out of prototypical nickel cornerbacks. At 5-foot-9 and 192 pounds, Iworah may not be equipped to match up on the outside. And he still needs work in man coverage.
More from Niner Noise
But coaches can't coach speed or raw potential. And that's what Iworah has.
Who knows how the rookie's development will go. Yet the former Western Kentucky corner could wind up as one of the better pieces to emerge from San Francisco's practice squad.
All statistics, records and accolades courtesy of ESPN.com, Pro-Football-Reference.com and Sports-Reference.com unless otherwise indicated.
This article originally appeared on