San Francisco 49ers: Losing Devon Cajuste and Bryce Treggs to Waiver Claims Hurts WR Group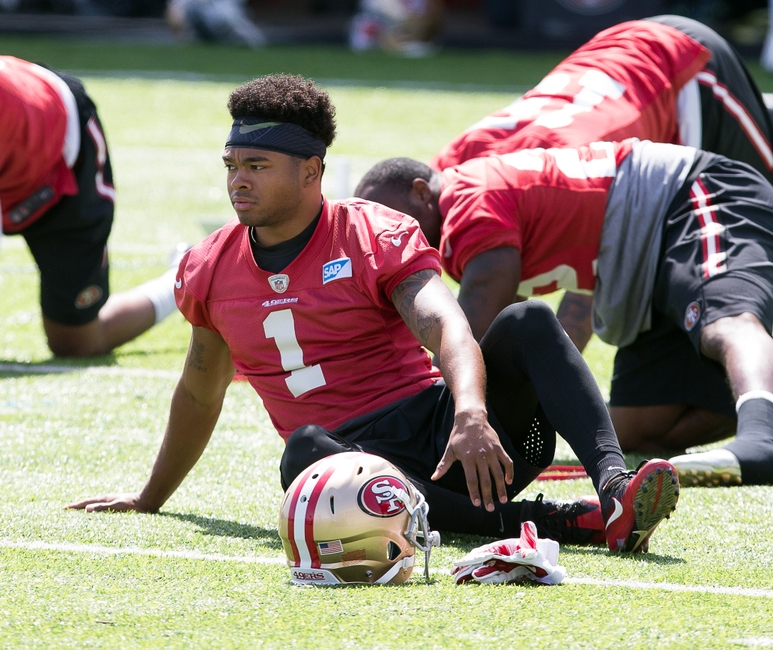 The San Francisco 49ers, and all other 31 NFL teams, were required to trim their roster to 53 players over the weekend. And the Niners lost rookie wide receivers Devon Cajuste and Bryce Treggs to waiver claims. These two departures may hurt the 49ers' long-term picture at the position.
NFL roster cuts are never easy things, and the San Francisco 49ers were forced to part ways with a number of players Saturday who might have ended up significantly impacting the franchise.
Carlos Hyde: Identifying 49ers RB's Scheme Fit in 2016
Former 49ers wide receivers Devon Cajuste and Bryce Treggs were among the cuts San Francisco elected to make.
Both players made it to the Niners via undrafted free agency this year. And both still have tremendous potential and upside. Given San Francisco's uncertain and unproven future at this position, these departures may easily come back to haunt the Niners offense.
UDFAs rarely make a regular-season roster. If they do, these players typically wind up as depth options and little more.
Yet both Cajuste and Treggs offered unique intangibles that could have benefited a 49ers offense in need of receiver help.
Both now and in years to come.
So why does each player's departure via waivers hurt so much? Let's try to answer that.
Why Losing Devon Cajuste Hurts
Cajuste, a former Stanford standout, hauled in only one pass for 40 yards during preseason action.
To be fair, Cajuste didn't do much to stand out during training camp and the preseason. But the 49ers obviously liked the 6-foot-4, 227-pound receiver's abilities when they signed him after the draft.
Cajuste's height and hands make him an ideal red-zone threat.
Consider this — the 49ers ranked No. 31 in the league last year with a red-zone efficiency rating of just 43.59 percent, according to TeamRankings.com.
Head coach Chip Kelly may not have gotten a whole lot out of Cajuste his rookie season. But he easily could have been a project target and a force within opponents' 20-yard lines.
The Niners didn't place Cajuste on their 53-man roster, and he didn't clear waivers either.
Per Eric Branch of SFGate.com, the Green Bay Packers elected to swipe him up:
Cajuste would have been the tallest receiver on the 49ers roster had he made the cut. But he didn't.
Let's hope the Niners don't pay for it.
Why Losing Bryce Treggs Hurts
Treggs was one of the few Niners wideouts separating himself from the pack in what was a very unproven roster position.
And he looked to be one of the few depth receivers with the potential to earn a spot on the team's 53-man roster.
Treggs suffered a slight setback during the preseason when he sprained his MCL against the Denver Broncos. Prior to that point, the former Cal product had two catches for 29 yards. One of those was a 29-yard reception as well.
San Francisco wanted to place Treggs on its practice squad, per Matt Barrows of the Sacramento Bee. Unfortunately for the Niners, the Philadelphia Eagles laid claim on the 6-foot-0, 185-pound receiver.
Source confirms that Eagles claimed former Cal receiver Bryce Treggs, who had been heading to 49ers practice squad.

— Matt Barrows (@mattbarrows) September 4, 2016
Treggs might not be an impact player his rookie year. But he arguably had the best potential out of this young group. At least according to The Read Optional's Jerod Brown:
I don't think the #49ers realize they won't be good this year. Arguably the best WR w/eye towards future was Bryce Treggs. Let him go.

— Jerod Brown (@jerodbrown62) September 4, 2016
San Francisco will be without third-year pro Bruce Ellington (hamstring) for the year. While the Niners added veteran wideouts Jeremy Kerley and Rod Streater recently, this position still has to be considered a major weakness.
Who knows if Treggs would have provided an impact in year one. But San Francisco may still be looking for help here a year down the road.
More from Niner Noise
Proving the lack of a solid, playmaking receiver can hurt the offense's chances in years to come.
Maybe Cajuste and Treggs never pan out at the NFL level. Heck, they were UDFAs for a reason, right?
But each had a skill set the 49ers need. Right now. And the inability for the Niners to retain them will likely be a problem right away and down the road.
All statistics, records and accolades courtesy of ESPN.com, Pro-Football-Reference.com and Sports-Reference.com unless otherwise indicated.
This article originally appeared on