San Francisco 49ers: Full-Tiered Breakdown of the 53-Man Roster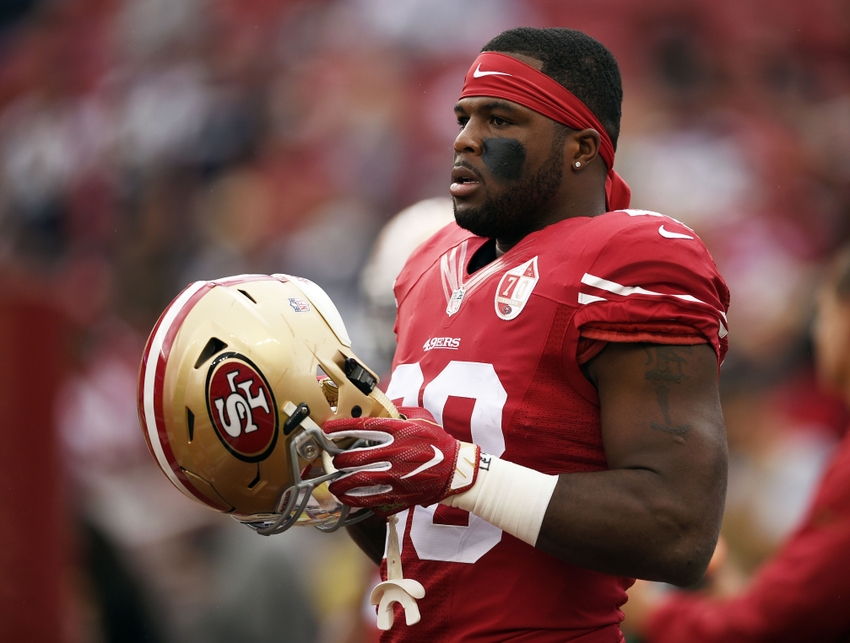 The San Francisco 49ers need a ton of talent infusion in coming years, and it's safe to say the roster is currently about as bad as it gets. But what if we tiered the roster in terms of who to build around, who just holds the line and who simply needs to go?
The San Francisco 49ers are bad. We know this.
Super Bowl Results From Every Election Year Reveals Major Trends
And it would be easy to spend the next few paragraphs going on and on about what's wrong, who's underperforming and whatnot.
The reality is San Francisco is now focused on nothing but the future. There's no other reality but that.
We can speculate all we want whether general manager Trent Baalke will be here in 2017 or not. He's on the hot seat. And the roster he created is one of the worst in the NFL.
Rather than call for Baalke's head or an ultimate changeover in Santa Clara, lets simply look at the roster itself and see who's worth keeping.
To do this, let's break this down into three tiers:
Tier 1: Cornerstone-worthy players
Tier 2: Viable stopgap options
Tier 3: Little/nothing to offer
This will be a 53-man roster breakdown. But we'll throw in other names of note — guys like linebacker NaVorro Bowman — who should be considered next season for obvious reasons.
We'll touch on contract stuff a bit too. Yet with a projected $46,305,666 in cap space next year, per Over the Cap, San Francisco shouldn't have too much to worry about regarding dead money.
Let's start off with Tier 1.
Tier 1: Cornerstone Players
Sadly, the 49ers only have a handful or so of cornerstone players around which the franchise can build.
Obvious names would include linebacker NaVorro Bowman. He's the linchpin of the defense, even if he's out the remainder of the year with an Achilles injury.
We also need to include second-year defensive end Arik Armstead into this mix. Like Bowman, Armstead is out for the rest of the year, but with a shoulder injury. Fellow DE DeForest Buckner also is part of the equation too. One shouldn't give up on top-10 draft picks after one season.
Staying on defense, we can look to the secondary as one of the few areas of relative strength.
San Francisco has two defensive backs worth building around moving forward — Jimmie Ward and Rashard Robinson. Ward ended up being one of the Niners' best defenders a year ago, and his 78.4 Pro Football Focus grade this year suggests he is still a viable piece.
PFF also had nice things to say about Robinson (72.6 grade), even though he's dinged up with a knee injury right now.
Fellow rookie Joshua Garnett is another player worth building around, although the guard didn't get a start until midway through the season.
The rest? Well, there's a reason the 49ers are bad. San Francisco doesn't exactly have anyone else worthy of being considered a cornerstone player.
Tier 2: Stopgap Options
A good chunk of the Niners' talent falls into this category, even if many of the players were once considered to be cornerstone pieces.
Chief among these is running back Carlos Hyde.
Hyde should be a figurehead and bell cow for the offense. But a slew of injuries dating back to last year have caused him to miss 11 games out of 24 dating back to 2015. He's 25 years old too, and one has to wonder if he'll stick around much longer.
Maybe receiving targets like Quinton Patton, Jeremy Kerley, Vance McDonald and Bruce Ellington are OK options until something better comes along. But just maybe.
The same could be said of defensive tackle Quinton Dial. He's been the best all-around defensive lineman this season, per Pro Football Focus, but he might best be used as a situational player. We could say the same about linebacker Gerald Hodges too.
Based on his age alone, we have to throw left tackle Joe Staley into this mix as well. He's 32 years old, and the time will be soon for which San Francisco will need to find a long-term replacement.
Fellow tackle Trent Brown might be an OK player. But he's terrible in run support. At least center Daniel Kilgore looks decent enough to move forward. So does guard Andrew Tiller.
Let's also consider safeties Eric Reid and Jaquiski Tartt, and linebacker Aaron Lynch too. Reid hasn't looked like the Pro Bowl rookie he was back in 2013. And Lynch, despite the hopeful hype in 2015, hasn't made the next-level jump. Neither has Tartt.
Again, if something better comes along…
Tier 3: Jettison-Worthy Players
No, general manager Trent Baalke isn't going to get rid of all these guys. But anyone not named yet should at least be viewed as expendable.
This means no to 49ers quarterbacks Blaine Gabbert and Colin Kaepernick. They're not long-term answers. Neither is the remaining crop of running backs, outside of DuJuan Harris… maybe.
Scrap the rest of the offensive line and its depth, which means Baalke's big free-agent acquisition, Zane Beadles, is gone and replaced with Andrew Tiller.
Safety Antoine Bethea? Gone. Linebacker Ahmad Brooks? Gone. Both of those guys are nearing the end of relatively hefty contracts, and the 49ers would love the extra cap space.
Scroll through the rest of San Francisco's roster — even some of the guys on injured reserve. Any of the not-mentioned names strike intrigue? Maybe someone like cornerback Dontae Johnson. But the fact he isn't seeing much of the field has to raise eyebrows.
Oh, and punter Bradley Pinion hasn't been an asset either. Just think for a second. The guy Pinion replaced, Andy Lee, is averaging 47.0 yards per punt this season. Pinion's average is 42.5. And it's not because of better field position.
OK, so you might argue a player should be considered for Tier 2 instead of Tier 3 or vice versa. And maybe you feel stronger about running back Carlos Hyde if he had a better cast around him.
But the gist of this article is simply to point out how devoid of talent the 49ers truly are.
And if that's the case, what's the point in keeping the vast majority of players who have made this situation possible?
This article originally appeared on