San Francisco 49ers: Evaluating Each Front-Office Scenario in 2017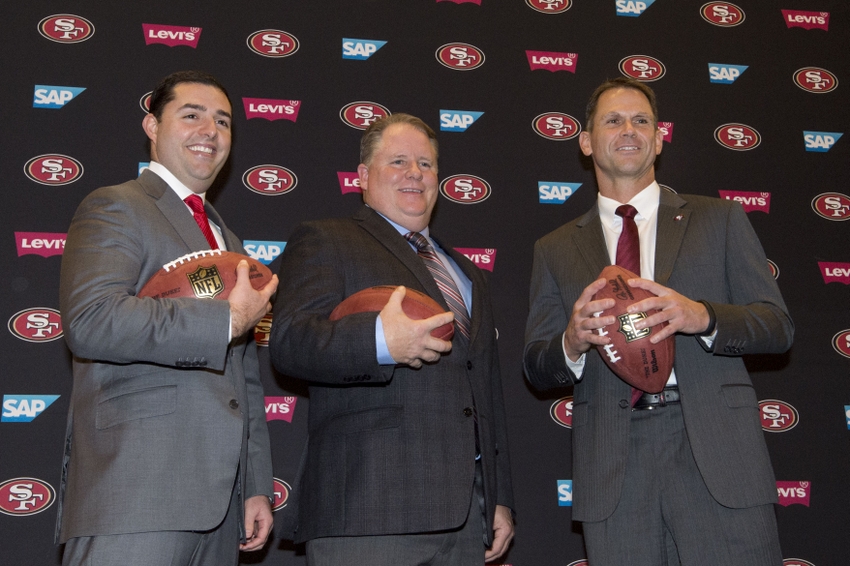 The San Francisco 49ers are 1-11, and this season has been more of a disaster than the ugly 2015 campaign. With changes likely on the horizon, how does CEO Jed York go about shaking up the front office?
The San Francisco 49ers are a clear-cut laughingstock and a dumpster fire of a franchise this season.
Colin Kaepernick Free-Agent Value Takes a Huge Hit in 49ers Loss to Bears
A 1-11 record would put anyone's job in danger on any NFL franchise, so it's no surprise everyone involved in the Niners front office is on the hot seat down the stretch.
Ultimately, the decisions fall upon CEO Jed York, who has already drawn the ire from San Francisco's fan base ever since the team "mutually" parted ways with former head coach Jim Harbaugh.
York stayed. So did general manager Trent Baalke. Those are your constants. And the Niners are far worse as a result.
Fans can call for York to be "held accountable" or to step down. It's not going to happen, so let's cross that off the list of offseason actions. The York family isn't going to sell the team, former owner Eddie DeBartolo isn't coming back and Jed York is going to retain his spot atop the organization.
But that doesn't mean the Niners stay idle this offseason.
Tim Kawakami of the San Jose Mercury News keeps a running list of 49ers scapegoats. Regardless what you think of him or his work, it's an eerily accurate prediction.
So this means York will try to deflect blame, right? Let's take a look at how some scenarios might pan out.
No Front-Office Changes at All
Inaction can be an action in of itself, so let's first look at the possibility CEO Jed York does nothing to the front office this offseason.
Outside of the minor changes to lower staff, of course.
Zero changes would mean general manager Trent Baalke would stay in place, as would head coach Chip Kelly. Assistant GM Tom Gamble would be there too.
Is there actually a possibility of this happening?
According to Bleacher Report's Jason Cole, the Niners weren't going to go the route of dismissing Baalke this offseason, per Cole's sources back in October and seen in the video below:
Of course Cole also reported the 49ers wanted to retain former head coach Jim Tomsula after his forgettable 2015 campaign, but that didn't exactly happen. So make what you wish out of Cole's report.
If this was the case, and no changes took place, the Niners fan base would be rife with displeasure. York may not care about your opinion, but he does care about empty seats at Levi's Stadium and all those banners flying around and being displayed.
None of that is a good look for his brand — a brand trying to lure in sponsors and executive-level suite owners.
Think corporate here.
And that's why zero action at all doesn't make a lot of sense.
49ers Keep Trent Baalke but Fire Chip Kelly
CEO Jed York has backed general manager Trent Baalke through a lot of questionable situations. And York certainly had Baalke's back during the GM's feud with former head coach Jim Harbaugh.
Guess who won that one?
A 1-11 record, and stat lines at/near dead last, would be enough to put almost any NFL coach in the hot seat. Head coach Chip Kelly is no exception. And his offense and type of leadership might not be the right fit for San Francisco anyway.
So there is room for arguing Kelly is dismissed after the year is through.
York publicly backed Baalke last offseason. The CEO hasn't done anything of the sort for Kelly. At least not yet.
But if Kelly were to be fired, the Niners would be searching for their third head coach in as many years. Nothing shows dysfunction more than continuously toppling head coaches on a year-to-year basis.
Remember when the Oakland Raiders were bad during the final years of Al Davis' reign?
And who would want to come in and coach the Niners in 2017? Certainly none of the top candidates would want to go anywhere close to Santa Clara.
49ers Fire Trent Baalke but Keep Chip Kelly
If head coach Chip Kelly isn't going to be the scapegoat for 2016, general manager Trent Baalke has to be, right?
It's the likeliest of scenarios.
Forget about Kelly for a second. Baalke is responsible for the shape and state of the roster. It's his job. And that roster is about as thin and talent-strapped as one could be in the NFL.
Sure, Baalke can't shoulder the blame for San Francisco's disastrous 2015 offseason departures. But he can be faulted for not adequately replacing the talent lost.
Niners Wire's Kyle Madson took a detailed look at Baalke's shortcomings in recent NFL Drafts. We don't need to break down each issue or draft class. But it's possible to highlight major gaffes.
Baalke hasn't taken a wide receiver before Round 4 outside of the 2012 selection of A.J. Jenkins (Round 1). That move didn't work at all, but it doesn't mean the general manager should have shied away from other moves for this position.
And Baalke's love of ACL-injury picks — none of whom have adequately panned out — is another stain on his record.
The Niners haven't drafted well in recent years. It's that simple. And few head coaches around the league would be able to get much of anything out of this current roster.
At least assistant GM Tom Gamble would get his shot if Baalke goes, because the Niners love to promote from within.
49ers Clean House
Start at zero. Hit the reset button.
Maybe that's what is best — get rid of everyone atop the organization, just as Bleacher Report's Matt Miller suggested not long ago:
Goodbye, Trent Baalke. Goodbye, Chip Kelly. And goodbye, Tom Gamble. No one stays. Not even Joan in payroll.
It's not that bad of an idea. Just think, the 49ers went through something similar to this back in the late 1970s with then-general manager Joe Thomas and a slew of one-and-done head coaches. That stretch marked one of the worst phases in Niners history.
But then Eddie DeBartolo handed things over to a relatively unknown Bill Walsh, who had to take some time to turn things around. 1979 was dreadful, as was the following year.
And yet 49ers fans know what happened thereafter.
Not saying anything like this is on the horizon for San Francisco now. Merely "cleaning house" worked previously. The Niners might have to turn to this tactic again.
Whether or not they will is an entirely different question.
This article originally appeared on