San Francisco 49ers: Chip Kelly Expected To Bail For College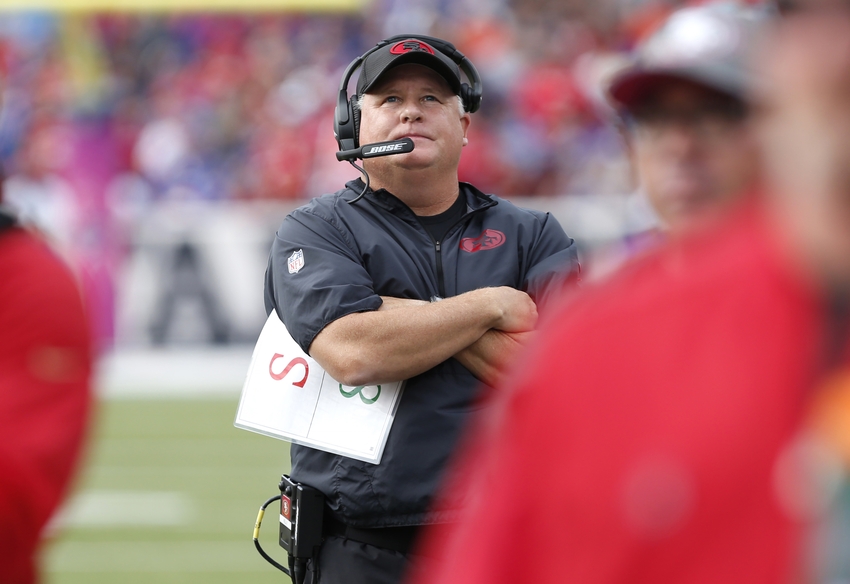 The San Francisco 49ers hired Chip Kelly out of belief he could fulfill their vision of what they wanted their new team to look like.
So far at 1-5 it appears they've made a major miscalculation. Things have not improved under his watch at all. If anything they look even worse than before. Injuries are piling up on defense and Kelly's vaunted offense is once again stuck in neutral due to quarterback problems. Some wonder just how long it might be before this team is competitive again. Based on new rumors it might be longer than some wish to believe. Especially if the head coach decides to bail after one season.
Jason La Canfora of CBS Sports claims there is a general belief among coaches and executives that Kelly will punch his ticket out of town and head back to the NCAA ranks.
Especially as boosters at top NCAA programs start putting feelers out all over the place. You'll hear rumors about Jon Gruden and possibly Sean Payton as well (yes, even after just signing that long-term extension). With schools like LSU and Texas and Oregon and Penn State all possibly in that mix, it's going to heat up soon.

Kelly's offense continues to be ridiculed by his peers in the NFL, and several coaches I spoke to expect him to hit the eject seat button after this season and return to college before his stock continues to drop given the horrible roster he has in San Francisco.

"He just keeps running the same shit and it isn't fooling anybody," one NFL executive said. "Do you think they could bring him back to Oregon?"
If that's the case, it would mean the 49ers would be on their fourth head coach in four seasons. They already fired Jim Harbaugh and Jim Tomsula over the previous two years. Aside from it indicating another bad misfire at such a key job, it also sheds a very bad light on GM Trent Baalke. Top coaching candidates won't want that position if they feel there's a strong chance they could get fired at the first signs of struggling. That and the questionable state of the roster means it's time to start questioning how much longer Baalke will be in charge.
Many felt Chip Kelly should've left for college this year. It was obvious from how things ended in Philadelphia that his style wasn't working at the NFL level. Players have spoken out against him numerous times and it's clear his schemes don't frighten anybody like they did at Oregon. The puzzlement was widespread when the 49ers chose to hire him. Now that decision may come back to bite them, setting their progress back again.
This article originally appeared on