San Francisco 49ers: 5 Disturbing Stats Six Weeks into 2016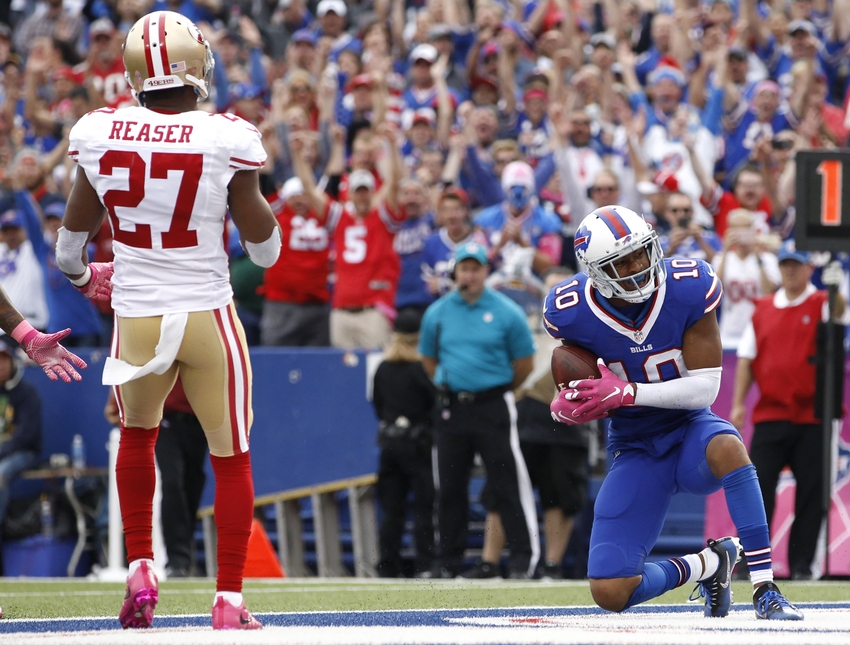 The San Francisco 49ers are a bad team in 2016 and seemingly have no direction in which they're headed. Niner Noise takes a look at five disturbing stats for the franchise after six weeks of NFL action this season.
Statistics can be a funny thing for any NFL team, including the 1-5 San Francisco 49ers.
49ers Last Few Drafts Filled With Regret
They tell us a lot about how well a team is performing. And we generally can deduce, from the basic ones, how good or bad any given team is over the course of a 16-game season.
For the Niners, 2016 has been nothing short of disastrous. Even the most casual of football fans can see how poorly this group is playing after six weeks.
And the numbers back it up.
Let's take a look at those numbers and see why head coach Chip Kelly's 2016 campaign has gotten off to such a rocky start.
In reality, one can pick almost any stat line and find the 49ers at, or near, the bottom of the league's list. That's significant too. But let's focus on the numbers and rankings which have caused the most problems for San Francisco.
You can already guess a few. The Niners run defense is on this list. So is the 49ers' third-down conversion rate.
But what else?
Opponents' Average Offensive Drive Starting Points
Special teams rarely get love when the unit is playing well. But when it's not, things go bad in a hurry.
Such is the case for the 49ers.
Through six weeks, opposing teams are averaging an offensive-drive start on their own 33.1 yard line. No other defense is averaging a shorter field against which to defend than the Niners right now. That number is the worst in the league.
A lot of things factor into this. For starters, a failed offensive drive — let's say, a 3-and-out — typically forces a punt deep within San Francisco territory. And punter Bradley Pinion? He's averaging 46.2 yards per punt — 15th in the league. The guy he replaced, Andy Lee, is sixth with 49.5 yards average.
Coverage is an issue too. Missed assignments, failure to cover lanes and converge on ball-carriers has hindered the 49ers' special teams unit most of the year.
To put this into perspective, Football Outsiders' special teams DVOA metric has the Niners at minus-4.6 percent, which ranks No. 27 in the league.
And this just puts the Niners' scuffling defense at even more risk.
Opponents' Third-Down Conversion Percentage
Force a 3-and-out and get off the field. That's the mantra of any NFL defense, right?
Well, not so much for the 49ers.
According to TeamRankings.com, opposing offenses are converting 43.68 percent of their third-down attempts against San Francisco. This number puts the Niners defense at No. 25 in the league so far.
And it isn't as if the 49ers are talented enough, defensively, to "bend but not break."
While San Francisco's run defense is widely viewed as the biggest problem, the pass defense has been an even bigger issue on this crucial down. Out of the 87 third downs the Niners defense has faced, opponents have converted 25 of these via the pass, as opposed to just 14 on the ground.
Still, it's hard to state the run defense is much better. Just look at this third-down conversion on a 3rd-and-20 play:
The 49ers Third-Down Conversion Percentage
So the Niners defense can't stay off the field, and the offense can't stay on it.
Such is certainly the case when head coach Chip Kelly's uptempo offense ranks last in the league with an average of 2:01 per drive and last in all-purpose yards (1,757).
The biggest of big problems here is the lack of efficiency on third downs.
Back to TeamRankings.com, the Niners are 25th in the league with a third-down conversion percentage of just 35.63 percent. And for an offense lacking playmakers, this stat doesn't bode well for the rest of the season.
Passing on third down has been particularly problematic for San Francisco's offense.
Niners quarterbacks have a passer rating of just 59.0 on third down, compared to 74.4 and 83.3 on first and second down, respectively.
Yes, quarterback Blaine Gabbert was largely responsible for these woes. But now-starting QB Colin Kaepernick wasn't particularly good in Week 6 either. His third-down passer rating was a paltry 44.6, and he managed just two first-down passes on 10 attempts with seven incompletions.
And so it goes… the 49ers offense is off the field quickly, and the defense is back out to try and stop what they can't.
Offensive Yards per Play
One of the main reasons factoring into the Niners' lack of prowess on third down is the lowly yards-per-play average.
San Francisco is currently averaging just 4.6 yards per play which, you guessed it, ranks dead last in the NFL.
The Atlanta Falcons are currently leading the league with an average of 6.9 yards per play, and the league-wide average is 5.6.
A big problem behind this stat is the 49ers lack playmakers on offense. No. 1 wide receiver Torrey Smith has been scantly used, aside from his 53-yard touchdown grab in Week 6. And teams know San Francisco has to run the ball in order to gain any sort of offensive rhythm. So defenses are clamping down against the run.
And it doesn't help the Niners offensive line ranks No. 31 in adjusted line yards, according to Football Outsiders.
Rushing Yards Allowed
You knew this was going to be on here.
Through six weeks, the 49ers have given up a whopping 1,046 yards on the ground — most in the NFL. In comparison, the next-to-most Miami Dolphins have allowed 882.
San Francisco defense is on pace to be historically bad, as the Sacramento Bee's Matt Barrows pointed out:
Of all the ugly statistics the team has accumulated, one stands out. The 49ers are on track to allow 2,789 rushing yards this season, which would be the most since the Houston Oilers gave up 2,814 in 1985. The Oilers' defensive coordinator that year, Jerry Glanville, was hired as interim head coach with two games remaining in 1985 and as head coach after the season.

A feeble run defense also underscores how quickly the most dominant attribute from the 49ers' recent winning past has disappeared.
Instead of continuing to point out how big a problem this is, let's consider why.
The Issues
First, scheme has to be an issue under defensive coordinator Jim O'Neil. We keep having to refer back to it, but Niner Noise's Rich Madrid already laid out how problematic O'Neil's scheme was going to be before the season even began.
And we can also point to missed tackles. David Fucillo of Niners Nation, citing Pro Football Focus, broke down how many of these the 49ers have dealt with:
The San Francisco 49ers were bulldozed for 312 rushing yards on Sunday against the Buffalo Bills, and missed tackles were a big problem. Pro Football Focus charted Nick Bellore with four missed tackles, and Michael Wilhoite with two. Bellore has nine missed tackles in two games, which is tied for the league lead. And that's the league lead for players who have played every game this season.
It's a situation not likely to get much better. San Francisco's best tackler, linebacker NaVorro Bowman, is shelved for the season with an Achilles injury.
The Niners young up-and-coming defensive linemen, Arik Armstead and DeForest Buckner, have also struggled against the run.
What are the fixes? Well, the Niners might want to start linebacker Gerald Hodges over Michael Wilhoite. Maybe that helps. And, possibly, San Francisco starts to load the box and leave its defensive backs in one-on-one coverage.
But that creates problems in of themselves.
This, just like the rest of the 49ers' issues, don't appear to be going away anytime soon. Rough.
All statistics, records and accolades courtesy of Pro-Football-Reference.com, Sports-Reference.com and ESPN.com unless otherwise indicated.
This article originally appeared on