San Francisco 49ers: 10 Players with a Lot to Prove Down the Stretch of 2016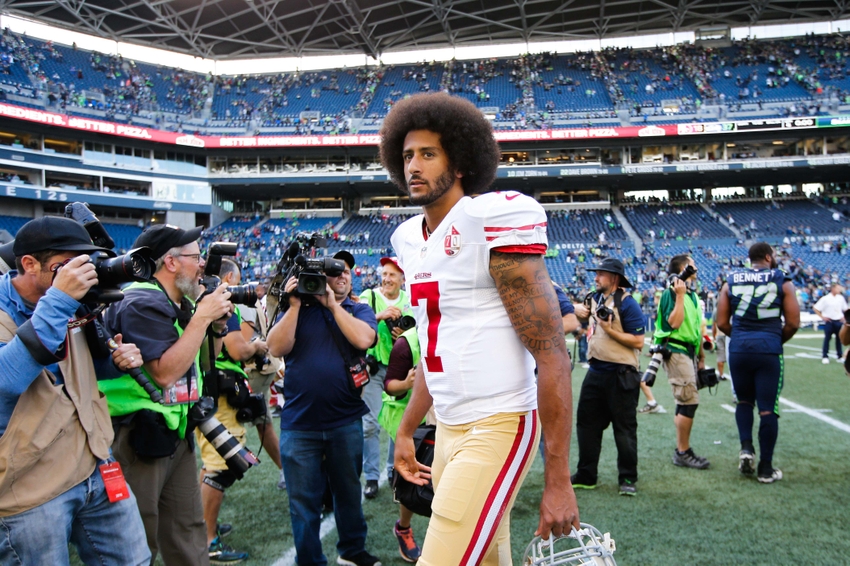 The San Francisco 49ers of 2016 are a lost cause. But that doesn't mean the rest of the season is without value. Niner Noise looks at 10 players on the roster with a lot to prove heading down the stretch.
At 1-9, it's safe to say the 2016 San Francisco 49ers have little else to play for but pride.
But these remaining games offer more than just lowly bragging rights. The NFL is a league where players have to prove themselves on a monthly, weekly and even daily basis. Just ask Dallas Cowboys quarterback Tony Romo and his now-replacement, Dak Prescott.
In a way, the 49ers' remaining six games are an audition for who sticks around next season. And that staying power isn't just confined to the Niners either. All 31 other teams will be watching.
So let's take a look at which players will have a lot to prove over the remainder of the year.
We'll take into account what each player has done up to this point. And, of course, contractual obligations will factor into the mix from time to time.
Yet it's safe to say the Niners aren't committed to the vast majority of guys on their 53-man roster.
When the team has such a lowly record, and the stat lines are towards the bottom in nearly every category, everyone's job should be on the line.
Here are the 10 biggest ones to watch.
No. 10: Running Back DuJuan Harris
Running back DuJuan Harris is 28 years old, and it's safe to say his NFL career is probably coming to an end sooner rather than later.
A prototypical journeyman tailback, Harris has struggled to land a consistent job with any team over his six-year career. Even the 49ers regularly released and re-signed him this season, meaning he was essentially No. 53 on the 53-man roster.
But Harris had some bright moments this year in No. 1 running back Carlos Hyde's stead. More of an elusive back, Harris still gives the offense a change-of-pace look. It's somewhat of a surprise the 49ers didn't feature more of him (nine combined carries) between Weeks 10 and 11 after Hyde returned from a shoulder injury.
San Francisco will likely try to add some competition in the backfield this offseason.
If Harris wants to be a part of that discussion, a strong finish to 2016 would go a long way in ensuring he sticks around next year.
No. 9: Safety Antoine Bethea
Like a handful of the other veterans on San Francisco's roster, safety Antoine Bethea's career is starting to wind down to its conclusion.
At 32 years old, Bethea still has one year remaining on his current deal with the Niners. The 49ers could save $5.75 million by releasing him and not have too significant a cap hit. And it's possible they do this with second-year safety Jaquiski Tartt waiting in the folds.
Tartt and fellow defensive back Jimmie Ward might wind up being the safety tandem of the future, especially if the 49ers don't re-sign now-injured safety Eric Reid after 2017. Or San Francisco can simply play Tartt alongside Reid next season.
This could easily happen.
If that's the case, Bethea would be trying to finish out his San Francisco tenure on a positive note. With Reid (bicep) out for the year, Bethea is now tasked with safety duties alongside much younger players like Tartt.
Teams looking to add a veteran prowess in the secondary this offseason will be watching how Bethea does.
No. 8: Offensive Guard Zane Beadles
Yes, general manager Trent Baalke's big free-agent acquisition is on this list.
Offensive guard Zane Beadles is still in the starting lineup, despite the Niners having both Andrew Tiller and Joshua Garnett as options on the left side.
Rookie Garnett is starting on the right, which is probably best for him at this point in his career. But why Tiller isn't starting is a bit baffling.
According to Pro Football Focus, Beadles has a lowly 49.1 overall grade, and posts 43.8 in pass blocking and 50.0 in run blocking. Tiller's numbers are 74.9, 78.4 and 75.2, respectively.
Not sure what's going on here.
Regardless, Tiller is probably chomping at the bit to reclaim a starting job. And while Beadles likely won't go anywhere — he's in year one of a three-year, $9.75 million deal — his play down the stretch could mean the difference between a starter and backup interior lineman.
No. 7: Tight End Vance McDonald
Tight end Vance McDonald just had to wait until the final year of his current contract to make us think he'd be a valuable commodity in the 49ers offense, didn't he.
San Francisco might want to pick up the former 2013 second-round pick's fifth-year option between now and 2017, since they don't exactly have a lot of other bona fide options at the position. Maybe Garrett Celek, but that's a maybe at best.
McDonald has 18 catches for 322 yards and four touchdowns on the season, and he could easily surpass last year's career-high numbers in grabs (30) and receiving yards (326).
Hands and injuries have been the problems keeping McDonald from living up to his draft status. He seems to have gotten those under control, somewhat, this year. And this is a good indication moving forward.
But if those issues resurface, the Niners might figure they'd be better off looking elsewhere for tight end help.
No. 6: Wide Receiver Quinton Patton
Hey, wide receiver Quinton Patton is on pace to have a career year. And yet his numbers don't do anything to suggest he'll be worth keeping around in 2017.
Injuries and inconsistency have plagued Patton ever since he was drafted in Round 4 of the 2013 NFL Draft. He was supposed to be someone who could contribute right away, but that hasn't exactly materialized.
One might argue the 49ers are working him into the rotation more. And with quarterback Colin Kaepernick under center, Patton seems to have a bit more of a rapport with the offense.
Patton is in the final year of his rookie contract, although the 49ers could still exercise his fifth-year option heading into 2017. Not having done so yet means the team is still in evaluation mode.
A guess would be the Niners keep him as insurance, in case they are unable to land a top-tier receiver in the draft or free agency. That might buy Patton some time to prove his case, but he'll want to continue making notable contributions down the stretch to ensure he gets that chance.
No. 5: Linebacker Ahmad Brooks
Each year, it seems as if veteran linebacker Ahmad Brooks is on the bubble entering training camp. And each year, Brooks somehow finds away to stick around.
This points to the reality the 49ers simply don't have any other options to replace him. Brooks is no longer playing at the Pro Bowl-caliber level we saw in 2013. And his 44.7 overall grade, per Pro Football Focus, suggests he's becoming even more of a liability.
San Francisco needs to move on from Brooks. But his current contract, which has him signed through 2017, makes things a bit interesting.
The $848,750 in dead money, should the 49ers release him this offseason, is well worth the $7.8 million saved. It's cash San Francisco can use to upgrade the roster elsewhere in free agency.
Brooks likely understands this all too well.
And at 32 years old, he'll likely be playing for the final contract he'll ever receive at the NFL level.
It will just be somewhere else.
No. 4: Cornerback Tramaine Brock
Believe it or not, veteran cornerback Tramaine Brock is the best defensive back on the 49ers roster.
At least according to Pro Football Focus.
As PFF's Jeff Deeney pointed out, when Brock gets beat, he gets beat bad:
But Brock's 81.7 pass-coverage grade, per PFF, is highest among all Niners corners and safeties.
So why is he on the watch list?
We all know how much general manager Trent Baalke has invested in defensive backs in recent years. And with up-and-coming players like Jimmie Ward and Rashard Robinson, one has to wonder at what point Brock becomes expendable.
He'll need to prove he's worth sticking around.
No. 3: Linebacker Aaron Lynch
Linebacker Aaron Lynch remains the best San Francisco pass-rusher. And the 49ers pass rush is pretty abysmal.
Lynch got off to a strong start in his rookie 2014 campaign with six sacks and 17 tackles. And that production increased to 6.5 quarterback takedowns and 30 tackles the year later.
Injuries have been a problem for Lynch though. He missed two games a year ago and is currently listed as questionable (ankle) heading into Week 12, which would make four consecutive games he's missed this year.
Tack on the four-game suspension he had to serve at the start of the season, plus being out of shape for the start of training camp, and one has to wonder if Lynch will ever deliver that big impact the Niners so desperately crave.
He has just one sack on the season. One would expect more, even with the limited number of games he's played.
With a collegiate prospect like Texas A&M edge rusher Myles Garrett on the 49ers' radar — really everyone's — it might be time for an upgrade.
No. 2: Running Back Carlos Hyde
Let's get one thing straight — running back Carlos Hyde is going to be on the 49ers roster in 2017.
He's one of the few offensive playmakers the team has. So moving on from him after the season would be the last thing San Francisco wants to do.
But the only question is how big a role the team wants to give him moving forward.
Hyde's injury concerns are the prime example why fans and the coaching staff should be concerned. He missed seven games in 2015 and already missed another two this year. That's nine combined out of a total 26 contests since he took over the No. 1 duties last season — 35 percent.
The 49ers will need to add depth this offseason. They likely will.
And yet staying healthy isn't the only issue.
As Niner Noise's Rich Madrid pointed out, Hyde has shown a tendency to bounce around and not hit holes with decisiveness:
Maybe he's trying to save his body. Perhaps the 49ers offensive line isn't that good at run blocking.
At any rate, Hyde's inconsistencies have been frustrating, which makes these remaining games important to determine whether or not he can be a major impact player.
No. 1: Quarterback Colin Kaepernick
Quarterback Colin Kaepernick could opt out of his current contract after 2016. Given the ugly ride he's had since 2014, it wouldn't be surprising at all to see him do this.
Let's assume, for a second, he does this. Where would he land?
At this point in his career, Kap is a unique talent who was once viewed as one of the bigger up-and-comers in the NFL and not much more. The days of him intimidating opposing defenses are gone, and the accuracy woes and decision-making abilities continue to plague his reputation.
Would he find a likable suitor? Could he start anywhere, outside of a few bottom-dwelling teams?
Kaepernick has finally shown some progress under head coach Chip Kelly over the last three games. But, as our friend Rob Lowder of USA Today's Niners Wire pointed out, the improvements do nothing to suggest he's a long-term fixture.
So these remaining games will go a long way in determining how the rest of the league, even the 49ers, view him as a possible candidate to be under center.
Maybe the upward trajectory is exactly what Kap needs to stay relevant, let alone effective.
This article originally appeared on