San Diego Chargers Week 10 studs and duds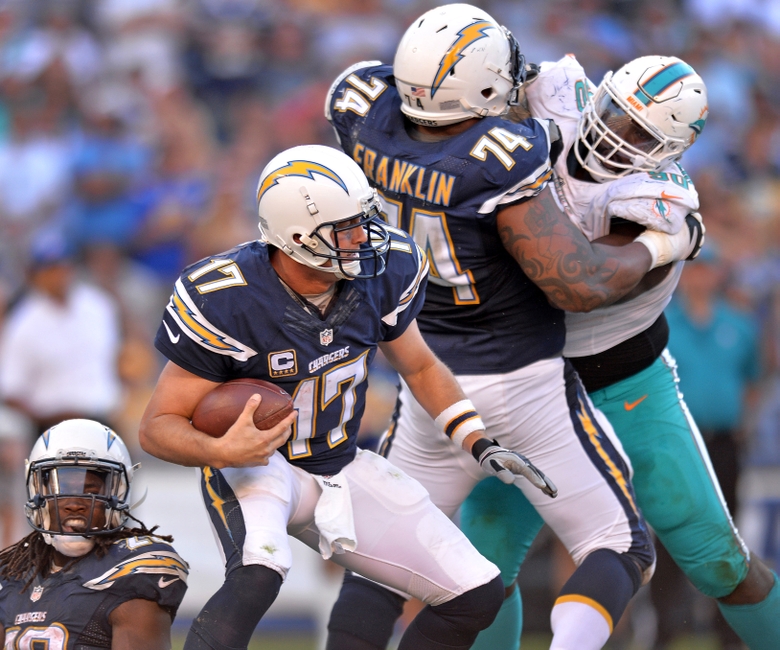 How many tough games are the San Diego Chargers going to lose this year? That's probably a bad question to ask, because at the rate things have been going, there could be more to come.
The Chargers had a golden opportunity to get back to .500 with a home victory over the Miami Dolphins on Sunday, only things didn't quite work out that way. The Dolphins were able to capitalize on four interceptions en route to a 31-24 victory that may have turned their season around for the better while sending the Chargers toward the bottom of the AFC.

24

31
The Chargers have winnable games remaining on their schedule, but will they be able to get back into the race at this point? If not, fans will have to spend the offseason wondering what could have been had the team stayed healthy and pulled out games in the end.
On Monday came the tough news that defensive tackle Brandon Mebane will miss the rest of the season with a torn biceps.
But before we look any further into the future, let's focus back on the game against Miami and see who shined… as well as who failed to shine.
Tyrell Williams
Wide receiver Tyrell Williams has really stepped up this year in the wake of all the injuries the Chargers have experienced at the wide receiver position. On Sunday, he caught five passes for 125 yards, including a 51-yard touchdown pass that appeared as though it would be enough to put the Chargers over the top.
That wasn't to be.
The problem in this game was the fact that Williams seemed to be one of the only receivers Philip Rivers trusted in this game, particularly in key moments. Williams was the intended receiver on nearly every interception that Rivers threw in the game.
But don't blame Williams for that. After catching all of two passes during his rookie season last year, Williams has grabbed 43 receptions this year and should finish the season with a solid number in that department.
San Diego Pass Rush
There is no doubt that the Chargers' pass rush is much improved, but it was mostly absent on Sunday. Melvin Ingram got the team's lone sack and though the Chargers were able to get some hits on Dolphins quarterback Ryan Tannehill, but the limited pass rush was partly responsible for the fact that Tannehill was able to stand back and complete nearly 71 percent of his passes.
A clean pocket was provided for most of the day in the Dolphins' passing attack, and the Chargers couldn't do much about it. Joey Bosa, who had four sacks in his first three career games, has now gone three straight games without one.
This is something that will have to change for the Chargers going forward.
Melvin Gordon
It wasn't the best day on the ground for Melvin Gordon, who ran for just 70 yards on 24 carries. But he contributed in the passing game, catching five passes for 62 yards.
The Dolphins were clearly ready to stop Gordon, something most teams have had a tough time doing this season. They held him to 2.9 yards per carry, but when Rivers can find him out of the backfield, he is a tremendous threat in open space.
Gordon is the one player on the Chargers who might make the "studs" section every game thus far as he has had a terrific season. It was a shame the Chargers couldn't get him in the end zone in this one, particularly when the team got down to the goal line.
Yes, Gordon has had better days and he may not have won you your fantasy football game this week, but it's scary to think where this team would be without him this year.
Korey Toomer
What a job this young man has been doing.
Pressed into action due to a rash of injuries, Korey Toomer is playing for his fifth NFL team. On Sunday, he led the Chargers with 11 tackles, including 3.5 for a loss. He also had one pass defensed.
On the season, Toomer has racked up 38 tackles and three forced fumbles. Despite injuries to key players Manti Te'o and Jatavis Brown, Toomer has stepped up in a big way. He has 20 tackles in the team's last two games.
Philip Rivers
It's not often that you'll find Rivers on this list, but he was a dud with a capital "D" on Sunday. He threw four interceptions—all in the fourth quarter—washing away the Chargers' chances.
The interceptions Rivers threw weren't just bad plays, they were terrible plays. He looked like a guy who was just trying to do too much, almost trying to do it all himself. You have to wonder if the loss of all these key players just finally broke Rivers in this game.
With the game tied at 24, Rivers just needed to get the Bolts into field goal range to have a chance to win it. Instead, he threw the ball right to Dolphins linebacker Kiko Alonso, who took it the other way for a touchdown. That was the most costly of Rivers' four interceptions, but they were all bad.
It's hard to place too much blame on Rivers as he does so much for this team, but he made some terrible mistakes against Miami that played a huge role in the team's defeat.
More from Bolt Beat
This article originally appeared on