San Diego Chargers: Players that shoud earn trip to Pro Bowl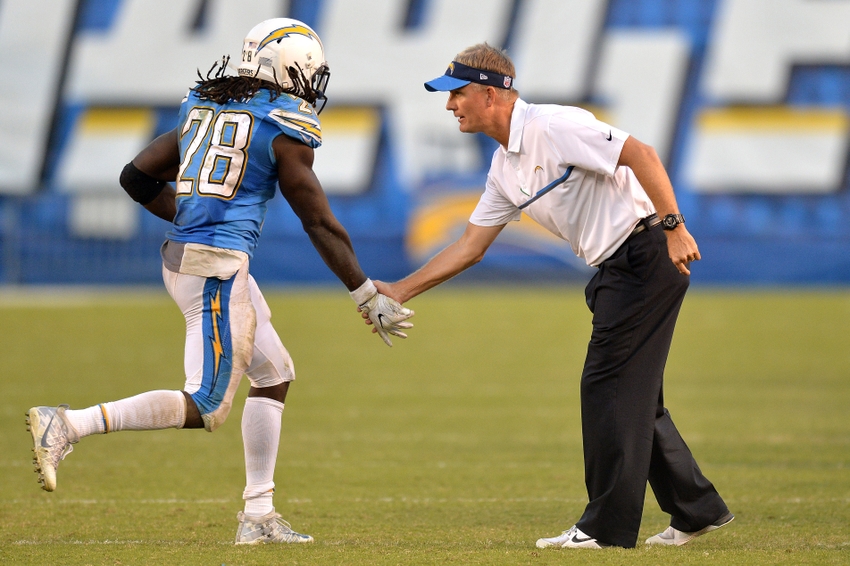 Yes, I'm already going to talk about the Pro Bowl. By no means does this indicate that I'm throwing in the towel on this season, but the San Diego Chargers are 4-6 and it is the team's bye week.
Since voting has opened for the 2017 Pro Bowl, I thought I'd take a minute to look over the Chargers players who should be considered for a spot in the annual All-Star game. Yes, the word game should be used loosely when talking about the Pro Bowl, but it's still an honor to be selected as one of the league's best players.
With all of the injuries the team has suffered this season, it's hard to envision many Chargers players actually participating in the Pro Bowl, but I've identified four guys who deserve a vote.
By the way, if you're interested in casting a ballot for the Pro Bowl, click here.
Philip Rivers
It may be tough for some Chargers fans to see Philip Rivers on this list after he tossed four horrendous interceptions last Sunday against the Miami Dolphins, but let's be honest, the Chargers would be much worse than 4-6 if he wasn't their quarterback.
Rivers has thrown for 2,886 yards in 10 games so far this season. Only two quarterbacks have thrown for more. He also has 20 touchdown passes while compiling a 92.0 quarterback rating. He has thrown 11 interceptions, but as stated, four of those came in one game. In fact, they all came in one quarter.
On top of that, Rivers has done all of this without Keenan Allen for nearly the entire season. Travis Benjamin and Hunter Henry have missed time, leaving Rivers to throw to Tyrell Williams, Dontrelle Inman and guys like Griff Whalen.
It's easy to say that Rivers lost the game against the Dolphins. That's probably fair. But he's shined in the four games the team has won and has done his part in most of the losses as well.
Melvin Gordon
This is an easy one. Not only has Melvin Gordon been one of the best players on the Chargers roster this season, he's been one of the best players in the entire league.
Gordon's 838 rushing yards through 10 weeks rank third in the league, behind only Demarco Murray and the rookie running machine, Ezekiel Elliott. He's also found the end zone 10 times. How many times did you hear about Gordon not scoring a single touchdown as a rookie? How many times did you hear that he was already being labeled as a draft bust?
Gordon has blown all of that talk away and he looks like he'll be one of the league's top running backs for years to come, reminding fans in San Diego of the days when LaDainian Tomlinson was in the backfield.
This shouldn't even be a question. Gordon should be a Pro Bowler, hands down.
Tyrell Williams
This one is unlikely, but Tyrell Williams does deserve some consideration.
With Allen injured in the season opener, it was common knowledge that Williams would have to step up in his absence. As a rookie, he'd only caught two passes the entire season. But the Chargers knew they could rely on him.
Williams has delivered in spades, catching 41 passes for 720 yards and four touchdowns. He ranks No. 8 in the league in receiving yardage and has earned the respect of Rivers as his No. 1 target.
If one of the wide receivers who is selected to play in the game has to pull out (which happens every year), Williams should get strong consideration as an alternate. Playing in the game would be a nice feather in the cap of the undrafted rookie from Western Oregon.
Casey Hayward
How good has this guy been? Casey Hayward was signed by the Chargers long after the free-agent signing period started, meaning every other team saw no need for the veteran defensive back. He's been a perfect fit in San Diego.
Not only has Hayward been one of the best free-agent signings made by the Chargers, his signing was one of the best offseason moves that any team made.
With Jason Verrett on injured reserve, the Chargers needed someone to step up and fill his shoes. Hayward has been that guy. Tied for the league lead with five interceptions on the season, he also has 13 passes defensed. One of those interceptions was returned for a touchdown as well.
As bad as the secondary has been in Green Bay this year, the Packers would probably really like to have this guy back. While Hayward doesn't have the name value as guys like Darrelle Revis and Joe Haden, he's been better than both of them and should make his first Pro Bowl following the season.
More from Bolt Beat
This article originally appeared on