San Diego Chargers Notes: Rivers has his worst day, adds to tough year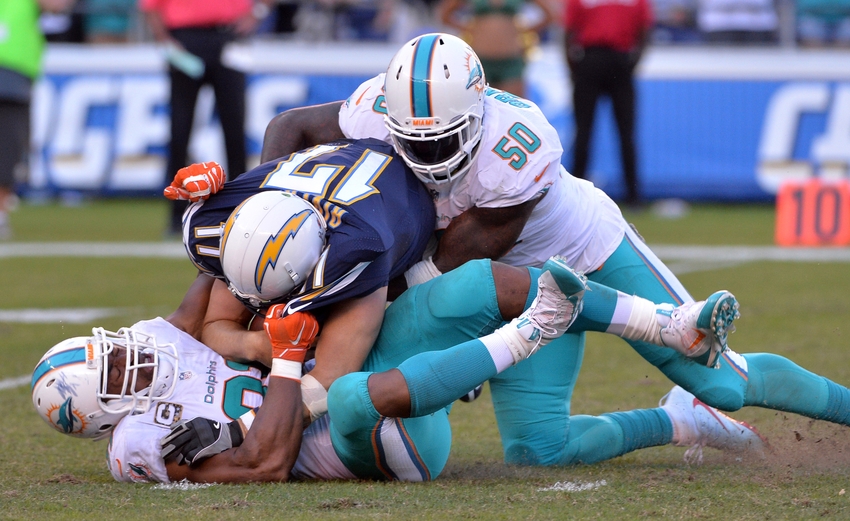 This has been such a tough year. Between the injuries and the close losses (are there any other kind?) the Bolts are now in a very difficult position. In order to make the playoffs, they pretty much have to go 6-0, but is that the only measure of success?
Let's give some credit to Miami. Their defensive line was unmovable and Ryan Tannehill is either the luckiest or the best quarterback in the NFL. How many times were the Bolts about ready to to blast the Miami QB when he unloaded a 40-yard pass right on the money for a huge gain or touchdown? I've never seen a team more snakebitten than the Bolts, although the New York Giants last year came close.
Maybe it's time for things to turn the Bolts way. Philip Rivers is still a great quarterback. In addition, management has done one heck of a job of picking up players that contribute. I suppose being low on the waiver wire doesn't hurt but recognition of talent is a big part of keeping an injury-prone team competitive. I just hope we get healthy before it's too late if it's not too late already!
As far as a measurement of success, maybe 8-8 with two or three division wins is moving in the right direction. Personally, I'd like to see us run the table and make the playoffs. We'd sure be the team no one wants to play in the postseason. However, as of right now, I'd look at 8-8 or 9-7 as somewhat realistic goals. That'd probably get us a top-15 draft pick. To show improvement and still have one more good draft might be worth a season like this.
If we can get through this tough season, showing improvement next year might be magical. However, I've thought this before, just never written it down and it's rarely panned out.
Finally, my take on Measure C is that most of San Diego didn't really care about a new stadium. However, this also doesn't mean that the Spano's don't care either. They have to make a decision by January if they want to share the L.A. stadium but even if they make that choice they could still be in San Diego until they move in 2-3 years. A lot can happen in that time.
At least we all have a bye week right now, that'll give everyone a chance to breathe…and heal. Maybe we come back fired up. I sure hope so.
Go Bolts!
This article originally appeared on