San Diego Chargers: Let's make the Bolts great again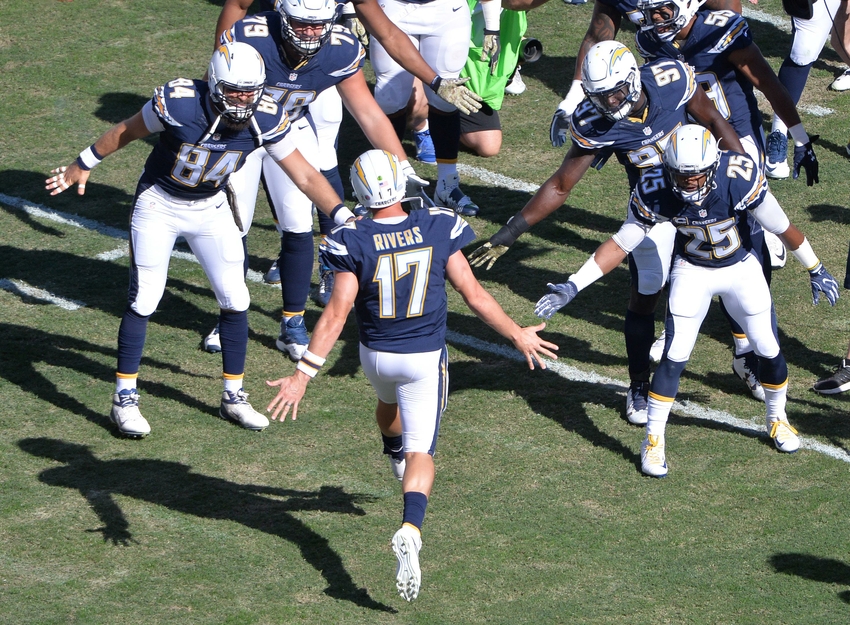 The San Diego Chargers suffered a crippling defeat at the hands of the Miami Dolphins this past week. After the loss, the Chargers fell to 4-6 and most likely eliminated themselves from playoff contention. However, not all is lost this year. This season, the Chargers found out a lot about themselves and have several pieces in place they can really build upon for the immediate future. If the San Diego Chargers want to return to relevance, then there are a couple tasks they must complete if they are serious about making a playoff push for years to come. The following is a blueprint on how to make the Chargers great again.
GET THEIR MONEY RIGHT
According to OvertheCap.com, the San Diego Chargers have a little over $23 million in cap space to start the 2017 NFL season. This is a lot better than years past. San Diego can add to that number if they make the following moves:
Get Rivers to chip in: Philip Rivers needs to restructure his deal to provide additional cap relief. Rivers has a $20 million cap number for 2017. San Diego can convert most of that into a signing bonus so that the Chargers can resign their own free agents, while being aggressive in the free agent market.
Other restructuring options: If additional money is needed, Tom Telesco could also reach out to Corey Liuget to restructure his $9.5 million cap number for next year.
Make the tough decisions: Brandon Flowers, Orlando Franklin, King Dunlap, and Stevie Johnson all have high cap numbers. The Chargers are going to have some tough decisions to make on these players and if they are going to be with the team for the foreseeable future. Prediction, San Diego parts ways with Johnson and Flowers (due to his concussion history)
MOVES TO MAKE
 Now that the Chargers freed up some money; Telesco needs to be active re-signing his own free agents while acquiring REAL talent in free agency and the draft. Open up that check book Telesco, and get that pen ready, because you have a lot of work to do.
Priority number 1, Super Melvin: Priority number 1 should be focus on their own free agents. These are the players that already know the system/culture and tend to be cheaper than external free agents. Melvin Ingram NEEDS to be re-signed to a 5-year deal ASAP! Ingram has played at a high level for two years now and is consistently ranked by Pro Football Focus as a top 5 outside linebacker. He has finally shown that he can stay on the field for a full season plus; putting to rest the notion that he is injury prone. In addition, Ingram has been the vocal leader for a young, improving defense. The Chargers can ill afford to lose something they have been lacking for the last 8 years; two dominant pass rushers that can change a game. Signing Ingram to a long-term deal, coupled with the growth of Joey Bosa, would give San Diego one of the best young pass rushing duos in the NFL.
Let's make a deal: Ingram is the only notable free agent for San Diego.  However, there are a couple of free agents that the Chargers could entertain the idea of re-signing if the price was right. Both Danny Woodhead and Manti Te'o would be acceptable re-signings if they were to give San Diego a hometown discount. If the price tag is too high, San Diego needs to walk away from the negotiation table and move on to other options for roster depth.
Make a splash free agency signing: If San Diego really wants to give Rivers a shot at a Super Bowl, then they need to go all-in this offseason. Telesco doesn't need to make it rain and go all Miami Dolphins with his money. But they need to get one big-time free agent this year to help supplement what they will do in the draft. The 2017 NFL free agent class is pretty


weak. But there are a couple of intriguing names that can be big additions to this Chargers team. San Diego could look to add another play maker on the offensive side of the ball. Two players to keep an eye out for are Alshon Jeffery and Michael Floyd. Jeffrey has had a subpar year for the Bears. Add to the fact that he has been suspended for PEDs, it is reasonable to conclude that Chicago might part ways with their all-pro receiver. As for Floyd, it is reasonable to think that Arizona could decide to move on from him because of his inconsistent play and its abundant of options they have at the wide receiver position. Both players would go a long way to help the Chargers struggles in the red zone and also provide great depth at a position that has been decimated by injuries this year for San Diego. Telesco could go another route and go defensive this off season. The Chargers could look into players such as Dontari Poe or Kawann Short to fortify the defensive line. Both defensive linemen are on teams that have salary cap issues where their teams could be forced to part ways with them. Either Poe or Short would help make a good defensive line more dominant.
Hit it big with the draft again: San Diego had a great 2016 NFL draft and needs to build off of that success. Depending where they pick in 2017, the Chargers need to focus on two glaring spots, offensive tackle and safety. If Telesco finds himself picking in the top 10 of next year's


draft he has to select a safety; whether it is Jabrill Peppers or LSU's Jamal Adams. In this scenario, San Diego would be forced to draft an offensive tackle in either round 2 or 3. However, if the Chargers find themselves drafting in the middle of the draft, then they need to look at Alabama's offensive tackle Cam Robinson. Robinson is perceived to be next year's top rookie tackle, but is not in the same class as other tackles that were drafted early in previous years (Stanley, Tunsil, Matthews, Greg Robinson). The beauty of this scenario is Cam can sit behind Dunlap and Barksdale and learn to perfect his craft before he becomes a full-time starter. This ultimately is the inverse of the previous scenario, where the Chargers would then need to find a safety, like Texas A&M's Justin Evans in round 2 or 3.
COACHING MOVES
Lastly, Chargers' general manager Tom Telesco needs to address the elephant in the room. The second the 2016 NFL season comes to an end, Telesco needs to hand the Chargers strength and conditioning coaches their pink slips. Year after year San Diego finds their top players on I.R. Last year, the Chargers were decimated with injuries at the offensive line position and this year it is their skill players that have found themselves on the injured reserve. A change must be made.
Speaking of coaches, fans have been calling for the head of Mike McCoy for two years now. Now this is a tricky situation. McCoy has been inconsistent at clock management, making adjustments, and coaching up his players. However, it is not his fault that players fumble at inopportune times, or throws interceptions on game-winning drives. No matter what the adversary has been (injuries, moving to LA, contract issues), McCoy keeps his team competitive and always in the game. There is a saying , "Better the devil you know, than the devil you don't." If there are no other coaching options that can significantly improve the team, then Telesco should not make a move just to make a move. On the flip side, San Diego needs to keep their eyes open for possible coach candidates like Todd Haley that can help propel the Chargers to the next level.
Fans sound off. Is this a sufficient plan to help the Chargers get to greatness, or is there more to be done?
This article originally appeared on