Chargers TE happy to be alive after scary hit-and-run while crossing a street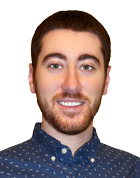 San Diego Chargers tight end Asante Cleveland returned to practice Wednesday, and while that may not sound significant on the surface, it certainly is considering what he's been through. Just 10 days ago, Cleveland suffered a concussion and was injured when he was the victim in an alleged hit-and-run crash in downtown San Diego.
Cleveland was simply crossing a street when a black SUV came screaming at him, sending him flying through air. The driver took off and has yet to come forward, but Cleveland is just happy to be alive.
"I'm extremely blessed to be able to sit here and complain about what happened," Cleveland said, via the San Diego Tribune.
In addition to a concussion, Cleveland was left with scratches, bruises and a banged-up knee, but he escaped without any major injuries. He didn't even have to buy a new phone as it somehow survived a 20-foot flight through the air without a crack.
Cleveland has his football prowess to thank for the fact that he was only slightly injured in what could have been a tragic accident.
"I see a car coming and naturally think they're going to adhere to basic traffic laws," Cleveland said. "I was already past the halfway point, and [the vehicle] still came careening toward me. Luckily, I jumped into the car because football has taught me that if something's coming at your knees, make sure your feet aren't in the ground because that'll be a knee injury.
"So I jumped into the car, I blanked out for a little bit, was in the air spinning, and the next thing I know, I was on the ground, watching the car speed away, making a right on G Street. It didn't hit the brakes. No courtesy honk. Nada. Just kept on going. Must have been late for something."
This is the second time in less than four months that a member of the Chargers organization has been the victim of a hit-and-run. An intern was hit back in August and was in a coma for 18 days.