San Diego Chargers: 3 players who must play big vs. Miami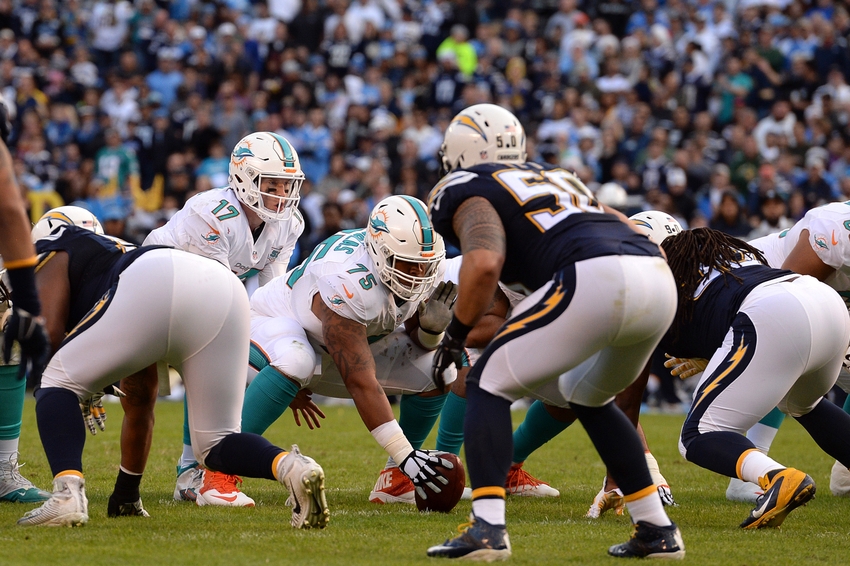 The San Diego Chargers (4-5) face an important test in Week 10 when they host the Miami Dolphins (4-4). Coming off a big win over the Tennessee Titans, the Chargers are trying to keep pace in a difficult AFC West division. However, the Dolphins are one of the hottest teams in the league, having won three games in a row behind a stout rushing attack.
Here, we will identify three players who must step up and play well in order for the Chargers to win this game. This game is important for more than one reason, as the Chargers can't fall too far off the pace in the playoff chase and the Dolphins could be one of those teams in contention for a Wild Card spot, along with San Diego.
Read on to see which players need to show up for the Bolts this Sunday.
Brandon Mebane, Defensive Tackle
Perhaps no running back in the NFL has been hotter than Miami's Jay Ajayi over the last three weeks. After posting back-to-back 200-yard rushing performances, he picked up another 111 yards last Sunday against the New York Jets.
Ajayi is putting together a tremendous season, having rushed for 646 yards and a ridiculous 6.0 yards per carry. In a tough game on the road after a long trip from Miami, nothing will be a better fried to Dolphins quarterback Ryan Tannehill more than a solid rushing attack. They are going to feed Ajayi the ball. When these two teams met last December, Ajayi ran for just 27 yards, but he did score the first touchdown of his career against the Chargers.
The Chargers will bring the league's No. 5 ranked rush defense into the game, allowing just 85.3 yards per game on the ground this season. A big reason for that has been the signing of Brandon Mebane, who makes the Chargers defensive line so much more formidable.
Mebane will be an important player for the Chargers in this game, and he must be ready to meet Ajayi at the point of attack, limiting his yardage and forcing the Dolphins into long second and third-down conversions.
Dontrelle Inman, Wide Receiver
It's being reported by Pro Football Talk that the Chargers have listed wide receiver Travis Benjamin as doubtful for this game, meaning they will likely be without his services. The Chargers are already limited on options in the passing game, so Dontrelle Inman needs to step up and provide another target for Philip Rivers to get the ball to down the field.
Inman has had a good season thus far, catching 27 passes for 365 yards. He should be in line for several targets against Miami, and he needs to make the most of them.
Tight end Hunter Henry missed last week's game, and even if the Chargers get him back, Antonio Gates and Tyrell Williams are the only other reliable targets the team has. Look for Inman to get a lot of opportunities and have a nice game here.
Casey Hayward, Cornerback
Casey Hayward has easily been the Chargers' best defensive back this season and because of that, he'll likely find himself matched up against Dolphins No. 1 wide receiver Jarvis Landry quite often on Sunday.
To say that Tannehill likes to look for Landry would be an understatement, as the wide receiver has been targeted 70 times in eight games this season. That is 28 more times than any other player on the Dolphins roster.
Hayward will need to win the battle with Landry, doing what he can to throw him off his rouyes but most importantly, limiting what he does after the catch. Landry is as good as any receiver in the league at turning a small play into a big gain once he has the ball in his hands.
Landry has been nursing a sore shoulder, but should be good to go come game time. Slowing him down will be essential if the Chargers plan to win this game.
This article originally appeared on