Sam Bradford throws worst interception ever (Video)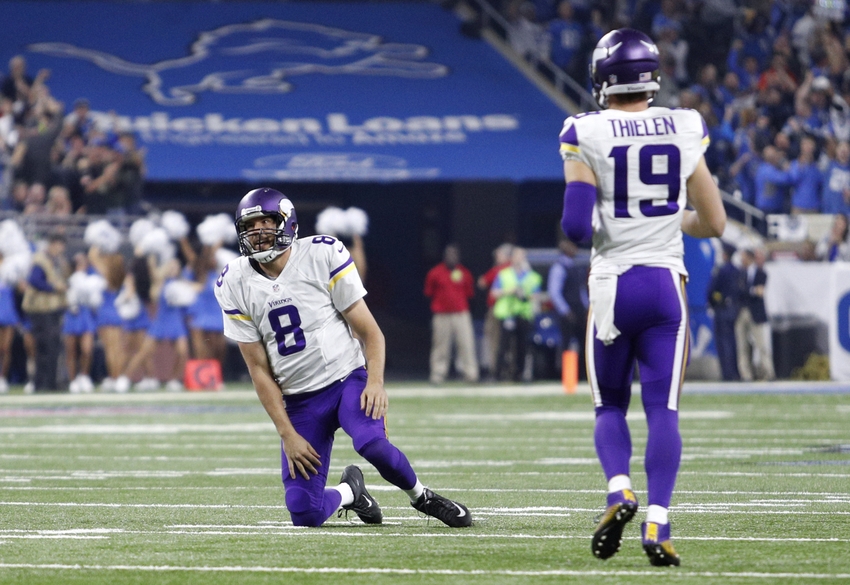 With first place on the line in the NFC North, Minnesota Vikings quarterback Sam Bradford throws a terrible interception to Detroit Lions cornerback Darius Slay to lose.
Football is really a game of timing and field position. With the game on the line, Minnesota Vikings quarterback Sam Bradford throws a horrendous interception to Detroit Lions defensive back Darius Slay.
Detroit would get amazing field position and win on Thanksgiving on a game-winning Matt Prater field goal. The game was all tied up at 10 points apiece. Playing for overtime was the right call in that situation. What was Bradford and the Vikings thinking on that drive?
Sam Bradford PICKED by Darius Slay.

Wow. #MINvsDET https://t.co/Ckn5syCJ5b

— NFL (@NFL) November 24, 2016
This is another awful loss for the Vikings that they just cannot recover from. A win in Detroit would have put the Vikings in first place in the NFC North. They would have been 7-4 on the season entering Week 13.
Because of that terrible Bradford interception, Minnesota falls to 6-5 and it is Detroit that improves to 7-4. To make matters worse for the Vikings, they surrendered two Prater field goals inside of two minutes to lose this game.
Detroit has no beaten Minnesota both times head-to-head in this biannual NFC North rivalry series. Should these two rivals tie at the end of the year atop the NFC North standings, Detroit will win the division by having the 2-0 advantage over the Vikings.
The Lions continue to be one of the NFL's most interesting stories. They are 7-4, with all seven of their wins coming in fourth-quarter comebacks. All 11 of the Lions' 2016 games this season have been decided by seven or fewer points.
Detroit is not a pretty football team to watch, but Lions quarterback Matthew Stafford always finds a way to keep his team in the game. At 6-5, the Vikings' 2016 NFC Playoffs chances are slowly fading away.
More from FanSided
This article originally appeared on