Sam Bradford Now Has a Huge Challenge Ahead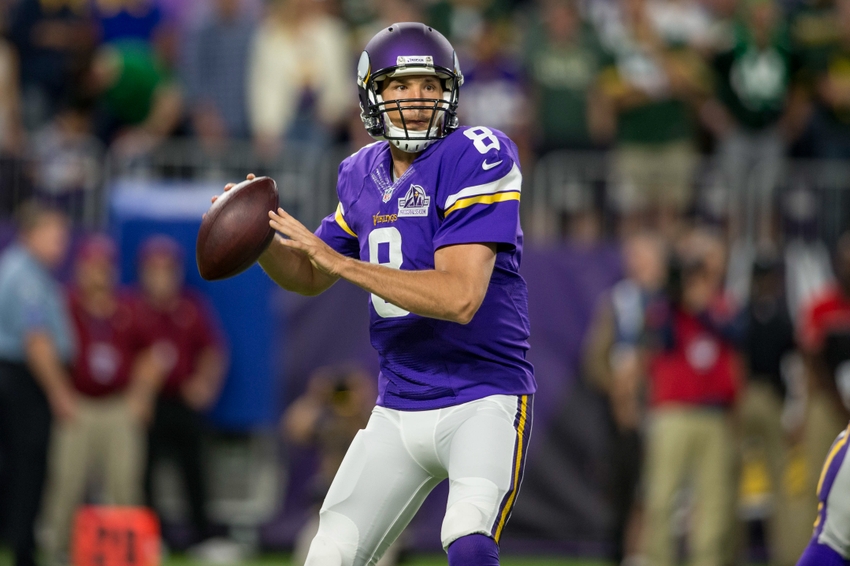 When the Minnesota Vikings first traded for Sam Bradford, it was a dream scenario for him. But now, with the big injury to running back Adrian Peterson, he has to earn his money.
Not even two weeks after the Minnesota Vikings traded for him quarterback Sam Bradford beat the Green Bay Packers 27-14. He connected on 22-of-31 passes for 286 yards, two TDs and a QB rating of 121.2. It all looked good for the Vikings going forward from there.
At least for a while it did as star running back Adrian Peterson will be out longer than anticipated. The torn cartilage in his knee will forced the Vikings to put him on IR/designated to return. And most of the voices around the NFL have him ready for the playoffs if the Vikings make it.
But that is not guaranteed as Peterson can play again on Nov. 20 at the earliest. Through two weeks, the All-Pro had 50 rushing yards on 31 carries because opposing defenses were set to shut him down. Before, opposing defenses forced the quarterback to beat them.
But Bradford has proven that he can beat the Packers so defenses will look to stop him now. Bradford still has that defense over there so the Vikings will still be in games. But as far as the offense goes, they will go as far as Bradford takes them.
Throw managing the game out the window, Bradford has to go out and win games with his arm now. He never had anything around him since Los Angeles Rams took him No. 1 overall in 2010. But even though Peterson is out, he does now so it's time to show he's worth the No. 1 over pick.
More from With the First Pick
This article originally appeared on