Sam Bradford: Minnesota Vikings need 'touchdowns, not field goals'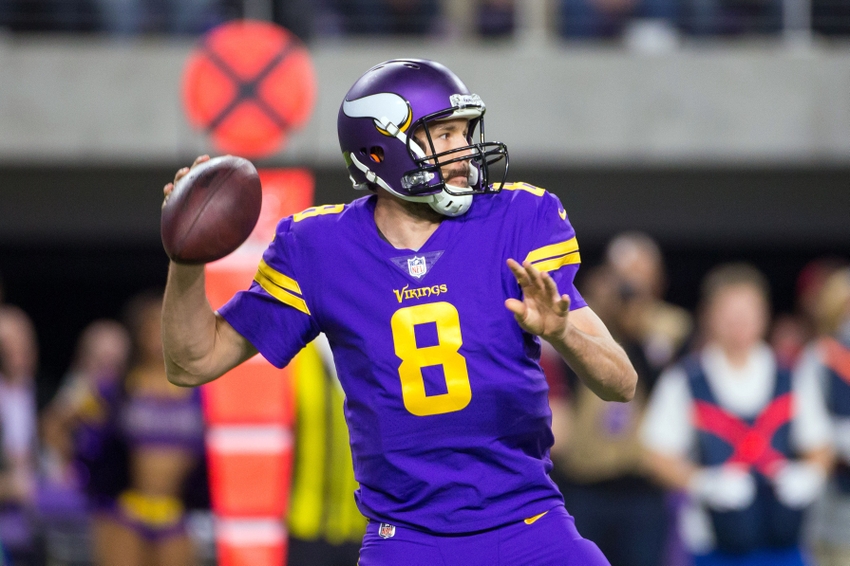 The Minnesota Vikings have been putting some points on the board lately, but many of them are coming from field goals, not from scoring touchdowns.
When talking about the offensive juggernauts of the NFL, odds are that the Minnesota Vikings will not be part of that discussion. Minnesota struggles in many ways offensively, but are able to stay in games thanks to strong defense and made field goals.
Putting points on the scoreboard on a possession is great, but there is a reason a touchdown and extra point is worth more than twice what a field goal is. This is to make it so offenses are much more motivated to get in the end zone.
Sadly, the Vikings have struggled to do that. During week 13's game against the Dallas Cowboys, Minnesota was able to move the ball fairly well. However, they stalled in a big way when they neared the red zone.
Quarterback Sam Bradford knows that the team needs to execute and finish drives. According to an article on Vikings.com, it is Minnesota shooting themselves in the foot that is doing a lot of the damage.
"I thought we moved the ball well at times tonight, but we just continue to shoot ourselves in the foot with penalties, especially in the red zone," Bradford said. "No penalties, no negative plays, no sacks when you're in the red zone. It's a crucial area. When we get down there, we've got to score touchdowns, not field goals.
Special teams coordinator Mike Priefer, who stood in for head coach Mike Zimmer during the game against Dallas, also was vocal about the team's inability to finish drives with touchdowns.
"The points for field goals are great; they're important," Priefer said. "But at the end of the day we have to score touchdowns to win games."
Several mistakes were made during the game between the Minnesota Vikings and Dallas Cowboys, but it would have been much easier to overcome those if the team had been able to end some drives with 7 points instead of 3. And although it is common sense to say this, it is good to hear it from the players and coaching staff.
This article originally appeared on