Sam Bradford heard of Norv Turner's resignation through his wife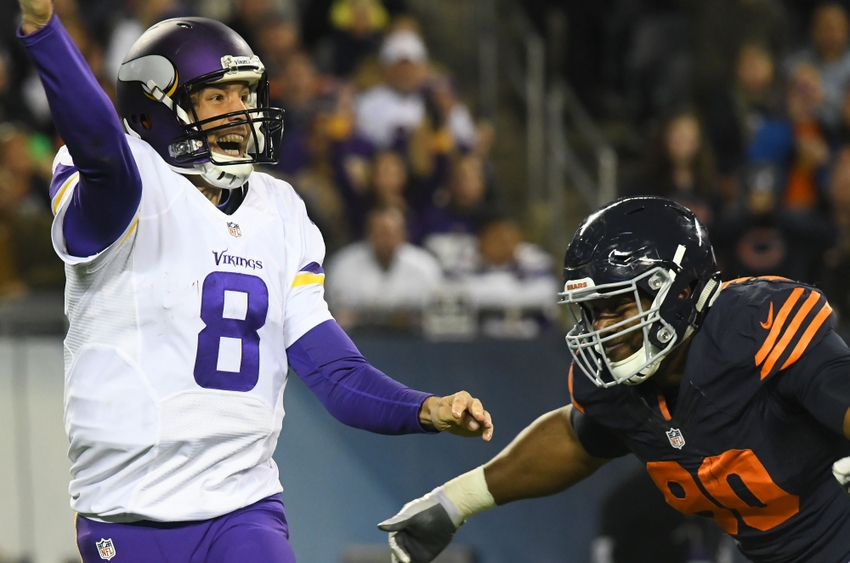 Minnesota Vikings quarterback Sam Bradford had to hear about offensive coordinator Norv Turner's resignation through an update his wife got on her phone.
Things are not going over very well in Eden Prairie for the Minnesota Vikings these last few weeks. After starting the season out 5-0, the Vikings have looked pitiful on offense since their Week 6 bye. They looked terrible against the Philadelphia Eagles in Week 7 and even worse against the lowly Chicago Bears on Monday Night Football in Week 8.
Just days after losing to the Bears, former Vikings offensive coordinator Norv Turner abruptly resigned on Wednesday morning. Though the Vikings have a suitable replacement on the staff in Pat Shurmur, Turner didn't tell anybody about his plans to leave the Vikings.
Quarterback Sam Bradford had to find out that Turner was leaving the Vikings from his wife who got an update on her phone. The Vikings have a huge divisional rivalry game against the Detroit Lions on Sunday afternoon. This offense is in shambles. It's hard to believe everything is going this sideways this quickly in the Twin Cities.
Bradford says he found out Norv resigned from his wife, who got an alert on her phone. Hasn't talked to him.

— Tom Pelissero (@TomPelissero) November 2, 2016
Let's think about this for a second. Bradford will have his third offensive coordinator this football season. Remember that he was traded from the Philadelphia Eagles to Minnesota on the heels of Teddy Bridgewater's devastating knee injury. Bradford was poised to start in Philadelphia for head coach Doug Pederson and offensive coordinator Frank Reich before the Bridgewater injury.
The good news is that Shurmur was Bradford's offensive coordinator in Philadelphia last season, as he was part of Chip Kelly's final Eagles staff in 2016. There is a chance that we might actually see better play out of Bradford under Shurmur than what he did for Turner.
Bradford had one of his better seasons in his up-and-down NFL career for the 2015 Eagles. Either way, the Vikings need to get better on offense to have any shot at winning the NFC North. The Lions and Packers aren't going away any time soon. Minnesota just lost to the Bears…
More from FanSided
This article originally appeared on