The Eagles are manufacturing their own quarterback controversies now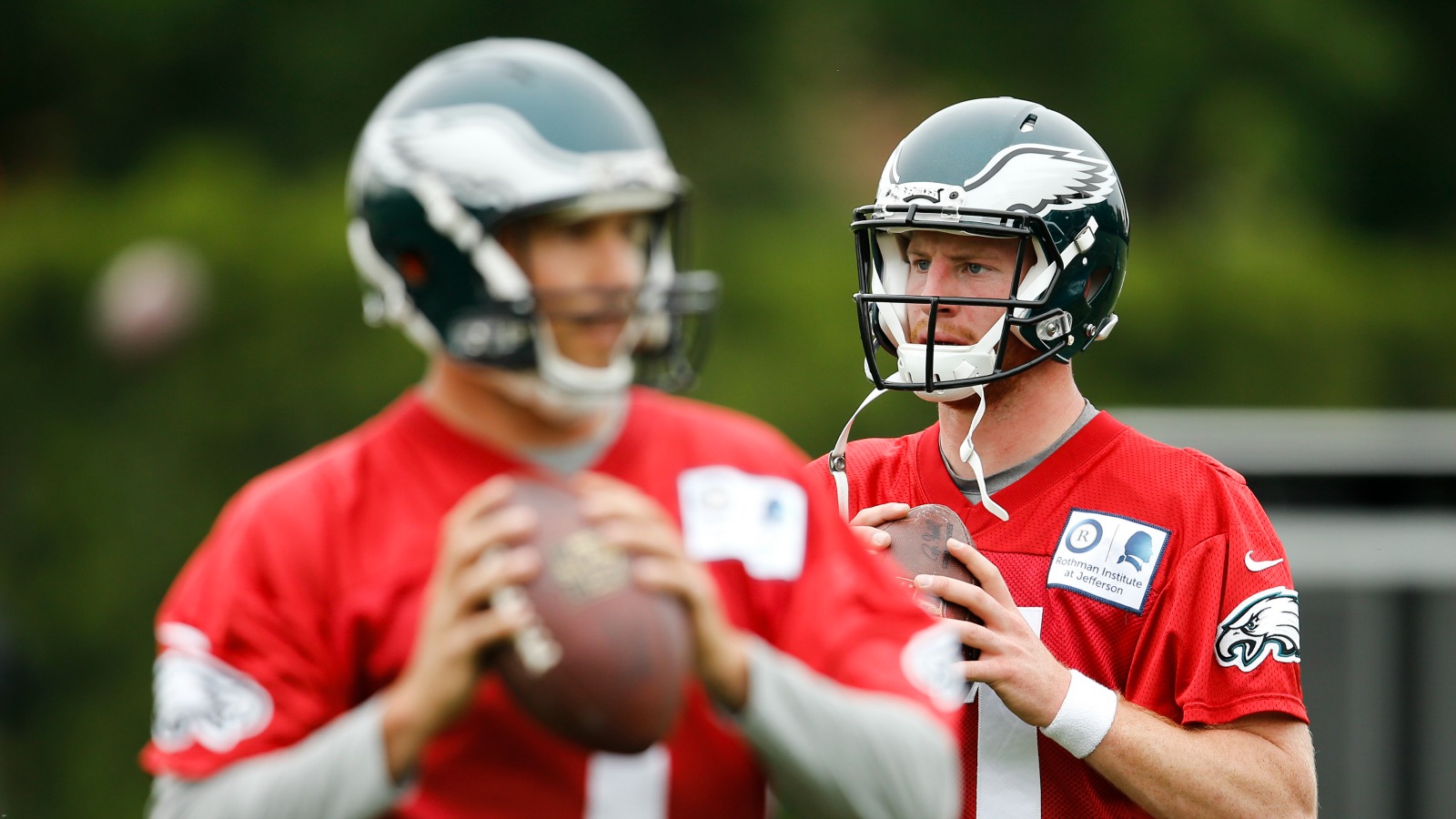 Sam Bradford started the initial quarterback controversy in Philadelphia. Let's be clear on that.
The moment he demanded a trade, took his toys and stormed off to Oklahoma to simmer—bingo, bango, quarterback controversy. Before Bradford's overreaction to the Eagles' drafting of Carson Wentz, there was no beef between he and any other backup in the stable.
Now, did the media pick Bradford's tantrum up and run for the hills that have eyes with it? Yes. But did it create this awkward scenario wholecloth? No.
Nonetheless, the narrative around the Eagles locker room since Bradford's return to the fold is that this fracture between Bradford and franchise and Bradford and Wentz was fabricated by the media. That any immediate unrest or power struggle regarding the starting quarterback position was just a falsehood or exaggeration created to fill pages.
"I mean, you guys made the stories out of it," Wentz said earlier this May.
There's a weird dissonance between this opinion and the recent remarks of Eagles coaches, who now appear to be actively working to perpetuate quarterback drama in Philadelphia. Because that's what they're doing right now.
Weeks after head coach Doug Pederson publicly attempted to quash the idea of a quarterback competition and assure Bradford of his rightful place in the Eagles' offense—"He's my guy" —the Eagles' offensive and defensive coordinators independently went on the record this week about the very real and active competition for starting quarterback in the organization.
At a press conference on Tuesday, Eagles defensive coordinator Jim Schwartz spoke about how he'd bring along a rookie like Wentz.
Schwartz stressed that it's important for coaches not to predetermine who starts at quarterback ahead of the season, and to not afraid to let young guys play.
"Don't judge [Wentz] on someone else," Schwartz said Tuesday, per NJ.com's Matt Lombardo. "And also, don't pre-determine the result of the race. Let him go play. Don't put extra pressure on him…I think when we drafted [Matt] Stafford, we just let him play."
Fast on Schwartz's heels was Eagles' offensive coordinator Frank Reich, who told listeners of the 94WIP Morning Show on Wednesday that the idea that Bradford is cemented in the No. 1 spot is a misconception.
This would be good and fine, if it didn't run exactly against everything the team's head coach has been saying for the last month. There is a competition in Philadelphia, and there is the belief that a young, freshly drafted quarterback should get his shot at holding the reins of the franchise.
So yeah, according to the team's own staff, there is a quarterback controversy in Philadelphia. They're making it themselves, by hand.
Dan is on Twitter. Always approach Sam Bradford slowly and from the left side or he'll spook.