Sam Bradford back under center in second half after sustaining injury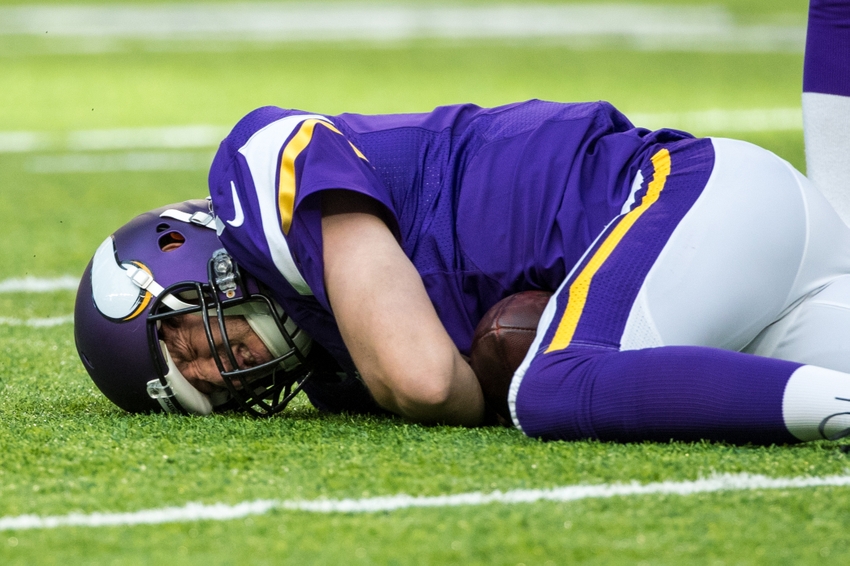 Sam Bradford made a courageous return back under center for the Minnesota Vikings after sustaining an apparent rib injury.
Sam Bradford lying on the U.S. Bank Stadium turf was not what the Minnesota Vikings wanted to see.
Already struggling to score against a stout Dallas Cowboys defense, the Vikings saw their starting quarterback lying on the field after being sandwiched in a devastating Cowboys pass rush.
Already taking a beating for much of the first-half, Bradford dropped back to pass late in the second quarter with the Cowboys holding a 7-0 lead. Then, almost out of nowhere, Cowboys' defensive tackle Demarcus Lawrence blew through the Vikings front line and got to Bradford.
While Lawrence got to him first, it was a blow by the helmet of defensive tackle Maliek Collins' that did the damage.
Bradford exited the game and was replaced by backup quarterback Shaun Hill, who led Minnesota to a field goal to cut the Cowboys' lead to 7-3. But after being examined by the team doctors, a decision was made that Bradford could return to the game.
Sam Bradford will return to play in the 2nd half.

— Minnesota Vikings (@Vikings) December 2, 2016
Bradford then made a Willis Reed-like comeback in the second half, and to show his team and the Cowboys that he was all right, Bradford completed his first pass of the second half, a 25-yard bomb to wide receiver Charles Johnson.
Sam Bradford's first pass in the 2nd half?

A 25-yard connection to @MrInkredibleXII.

— Minnesota Vikings (@Vikings) December 2, 2016
The Vikings can ill afford to lose Bradford now, with the team in the midst of a slump that could see their once dream season turn to shambles.
The Vikings' defense has remained stout, shutting down a potent Dallas offense, but for a split second, it looked like Minnesota's offensive line was going to cost the Vikings the season.
This article originally appeared on