Saints Film Study: Position By Position Breakdown of Week 1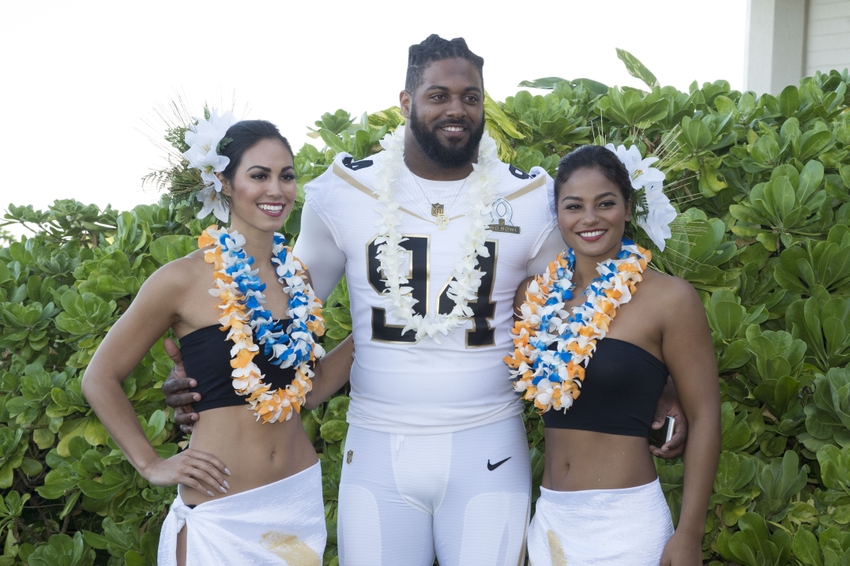 Saints vs Raiders: Film study
The Saints lost a heartbreaker this week. For the first half it looked like Saints fans' wildest dreams had come true: the offensive line held their own against All-Pro Khalil Mack, Breesus showed he's still one of the best in the game, and the defense, finally, looked like a solid unit. Delvin Breaux was hurt, but it was okay; he wanted to get back in the game. Then he went down for good in the third quarter, and everything fell apart.
Well, not everything. The sky isn't falling: Drew Brees still had a phenomenal game, and the offensive line quieted its doubters. Even the defense still has a chance to be solid. But defensively, things really came apart in that fourth quarter. It took me some time to work up the strength to look over the game tape, but I've done it. I'd now like to walk you, position by position, through the performances in week 1. There's reason for both concern and optimism, but ultimately the game felt like more of the same. From worst to best, here's the breakdown.
Defensive Line
The Saints struggled all preseason with generating pressure on the QB. They brought in Paul Kruger late in the offseason to fix this. It's only one game in, but it's clear: the D-line is still broken. Yes, Dennis Allen went with a game plan that limited the impact of the line with 3-man fronts. But when the Raiders lost their only two RTs to injuries in the first half, we all expected the line to finally generate some pass rush. Nothing. Cam Jordan and Fairley each had a few pressures to their name, and Edebali finished with a single pressure. Besides that, not one defensive lineman had a QB hurry, pressure, or hit, much less a sack.
Jordan has simply been disappointing so far, although the preseason may be a bad measure of his performance. It's a strange thing for Saints fans, who have come to expect Jordan's consistent performance week in and week out. In the 3-man fronts, Jordan moved around a lot, but failed to take advantage of any matchup. With Breaux injured, Jordan is far and away the Saints' best defender. He needs to start playing like it.
Nick Fairley and Tyler Davison both put in uninspired performances as well. We've heard a lot of talk about Davison throughout camp, and he flashed that speed and aggression a few times in the preseason. But now is the time to step up. He faced a lot of double teams on Sunday, but failed to generate a single pressure in 37 snaps. Fairley saw the field a bit more than Davison, and was at least getting penetration. But his penetration was typically the result of manipulation from the Raiders' O-line, opening up gap for the Raiders' backs. If the Saints are going to have any kind of success against the Giants, these two will need to improve.
Paul Kruger played his first game as a Saint, and maybe deserves some slack for that reason. But the veteran was woefully ineffective in his 39 snaps. We'll see how he plays going forward, but if this game is any indication the Browns may have been right to cut him.
Tight Ends
The tight end play from Sunday was tough to evaluate. The play was generally poor, but injuries had a lot to do with that. With Michael Hoomanawanui on IR, the Saints called up practice squad TE Chris Manhertz. Manhertz was inactive on gameday, though, with a head injury. That left Josh Hill and Coby Fleener as the only two active TEs on the roster. Josh Hill then promptly went down with an ankle injury that hopefully isn't too severe. The fourth-year player hasn't made many spectacular plays in his career, but Payton's offenses famously value multiple tight ends to keep the offense versatile.
As Coby Fleener was suddenly the lone remaining TE in the game, he saw his role diminish somewhat. He was Brees's first target of the game, but only managed three targets after that, and only one catch for six yards. He whiffed on some blocks, and looks by all accounts to still be working on his familiarity with the offense. So far, he isn't the player that the Saints broke the bank for. But I fully expect him to live up to his expectations. He wasn't actually paid like a top-tier TE, but expectations are nonetheless high when he was the most expensive FA acquisition of the offseason.
If Josh Hill and Manhertz can't return to action soon, expect the Saints to bring in help at the position. They've already added veteran Jake Stoneburner to their practice squad, and may choose to promote him to the active roster if either Hill or Manhertz can't suit up.
Safeties
A mixed bag from the safety group, for a clear reason: Kenny Vaccaro and Jairus Byrd both played every defensive snap, with polarizing effectiveness. Vaccaro had an excellent game; the best of any Saints defender. We've been talking about how versatile of a weapon Vaccaro is, and how creative Dennis Allen can get with how Vaccaro is used. Vaccaro played a number of snaps effectively as a OLB, lining up beside or behind the D-line. He made plays as a pass rusher and in coverage, but his impact was most clearly felt in the run game. The Saints gave up quite a few chunk-yardage plays to the Raiders' backs, and they would have given up a number more had Vaccaro not been such a ball hawk. He's the best tackler on this team, and he's so aggressive that he's almost impossible to completely block out of a play.
Byrd, meanwhile, made a number of questionable reads and had an overall poor game. This is a frustrating trend. The Saints brought Byrd in to create turnovers and provide sound blanket coverage down field. On Sunday, he did neither. It's not that the Saints expect him to force a turnover every game, but he only has one career interception as a Saint. That doesn't cut it. Furthermore, the sound blanket coverage that Byrd has from time to time demonstrated was not on display against the Raiders.
Most notably he made a strange read on Amari Cooper's 34-yard reception in the first quarter before the Raiders' first touchdown. To his credit, Byrd recovered with a great angle and was able to make a touchdown saving tackle. But the Saints have two solid safeties waiting in the wings, and Byrd can't continue to give up these big plays. Byrd took a questionable angle on Richard's fourth quarter 75 yard run, and missed the ankle tackle. He wasn't the only player at fault on the play, but he was the deepest safety and should be in a position to save the touchdown. At this point, Byrd simply has not played up to his contract or expectations. But it's early in the season. He needs to pick it up.
Cornerbacks
By and large, the cornerbacks actually had a pretty solid game. They were exposed by the lack of pass rush. Despite the injuries to Keenan Lewis, Damian Swann, and Kyle Wilson, the starting combination of Breaux, P.J. Williams, and De'Vante Harris looked to be a dangerous secondary group. Now, with Breaux injured, things are up in the air.
Breaux played, as always, a fantastic game. His coverage was on point, and he's continued to develop into a factor in run support. He's actually a hard player to block. His injury is perhaps the most devastating thing that could have happened to the team, apart from an injury to Brees. We're all hoping for a speedy recovery.
Opposite Breaux, P.J. Williams got his first regular season action, and played admirably. He gave up a few big plays to Cooper, but almost always because of a lack of pressure on Carr. I've said it before: Williams is a young player and still has some kinks to work through. But he's progressing faster than I expected. He looked altogether a very solid corner. He's going to be sorely tested from here on out until Breaux returns, matched up against Odell Beckham Jr and Julio Jones in the next two weeks.
It'll be interesting to see how Dennis Allen works out the coverages against these two talents. So far, it seems that the Saints could do much worse than Williams. He's a physical player, somewhat in the mold of Breaux; he likes to jam at the line and is excellent at mirroring his receiver. Like Breaux, he seems to struggle most when the ball is actually in the air, but he's improving. Saints fans seem to think the sky is falling in the secondary; not true. Williams is better than anyone the Saints had behind Breaux last year.
And, if you ask me, the same is true for De'Vante Harris. Harris had a superb game. I may be wrong but I didn't see him surrender a single reception on Sunday. He's not quite the physical specimen that Williams and Breaux are, but he's arguably better than Williams at sticking tight in coverage. And he's a scrappy tackler. He had a few notable moments against the Raiders where he evaded blockers very well, and was in position to make the play in run support. I'm curious to see where the Saints line him up against New York, if he'll stay as the nickel corner or move out to the outside. Talent-wise, he deserves to play on the outside. But he's been playing exclusively on the inside, and the Saints may prefer to keep him where he's playing well.
They didn't move him to the outside on Sunday when Breaux went down. Instead they brought in fellow UDFA Ken Crawley, who looked more the UDFA-part. The Raiders made their comeback primarily by attacking Crawley. He wasn't prepared to step in a cover Cooper. Dennis Allen will try to protect him more with safety help and game planning against the Giants, so he may not be such a liability going forward. But the secondary is no longer a strength of this D when Crawley is on the field. I'd also like to note that, although it's unfair to expect too much in run support from cornerbacks, he went unblocked and took the most questionable angle on Richard's 75-yard touchdown. We'll see if he gets the starting nod next Sunday, but if he does I expect him to play better.
Running Backs
Mark Ingram was the bell-horse, like expected. He did not have a big game, but he made the most of the opportunities that he got. Sean Payton's gameplan was an aerial attack, and its hard to complain about Ingram's numbers when the offense was so deadly. I expect this is Ingram's floor in terms of offensive involvement. He's still the best pass-protector of this group, and is consistently able to make positive gains out of little space. When the offensive line can start to open up real holes, Ingram should thrive. On Sunday they had their hands full with a deep Raiders front seven.
Tim Hightower was the spell-back for Ingram, and was for the most part an effective stand in. He's still no Ingram, and I'd like to see Daniel Lasco emerge in this spell-back role. He runs with intensity, and it'd open up a roster spot.
C.J. Spiller was a healthy scratch for the game, and has subsequently been released. That means that the main satellite-back going forward will be Travaris Cadet. Cadet managed to score a touchdown against the Raiders, but squandered quite a few opportunities to make plays. Payton clearly likes his ability to line up in the slot and matchup against LBs. But if Cadet is going to be the receiving back he needs to work on his hands. He dropped a couple of routes in the flat that could have turned into big yards. He was heavily involved but left too much on the table.
Finally, Marcus Murphy has gotten some flack for the lack of production in the return game. If anything, he should take that as a compliment: the Saints haven't made plays in the return game since Darren Sproles left, and the only reason they expect any kind of success in that vein is because Murphy has had success. Yes, he didn't make a big play when the Saints needed it most in the fourth quarter. But you can't expect him to save the team whenever he's called on. He did his part, and to his credit never fumbled the ball. I'd like to see more production, and possibly even some time in the satellite-back role, but he played a solid game.
Linebackers
The Saints' linebackers had a refreshingly great game, welcome news after last year's horrid showing. And they did so without their best player, Dannell Ellerbe, who is nursing a quad injury. Newly acquired James Laurinaitis and Craig Robertson both played all 73 defensive snaps, while Michael Mauti, Stephon Anthony, and Nate Stupar each had limited roles at SLB.
I admit, I was critical of Laurinaitis's preseason play; he looked slow and ineffective in coverage and run support. Sunday was a different story. The veteran still had trouble shedding blocks, but the positives hugely outweighed his deficiencies. Laurinaitis did everything he was brought in to do: he diagnosed plays well, consistently helped guys get aligned, and for the most part tackled effectively. He really is a cerebral player. It's possible that the real value of a MLB like Laurinaitis is only clear when the team gameplans, which they do not do in the preseason. Laurinaitis often pointed, pre-snap, in the direction that the play ended up going, allowing the team to react quickly to runs.
Now, the run defense still left much to be desired, and some of that is on Laurinaitis. He notably got run over on the Raiders' first touchdown, though he didn't have time to get set. He had to slide over to Craig Robertson's position when Robertson missed his gap assignment. Laurinaitis tackled well besides. He still might become a liability in future weeks, if teams find a way to isolate him in coverage. But if Dennis Allen can use him effectively and allow him to make plays with instinct rather than speed, he'll continue to be a great asset for this defense.
Stepping in for Ellerbe, Craig Robertson had his best game as a Saint. He makes up for what Laurinaitis lacks; he's speedy and active all over the field. He made some remarkable tackles at the line of scrimmage, although as I mentioned he was responsible for a missed assignment on the Raiders' first touchdown. He also got blocked out of the play on Richard's 75 yard touchdown in the fourth quarter and failed to make the tackle when Richard ran past his shoulder. A lot of Saints missed tackles on that play, so the blame isn't solely on Robertson. These two plays aside, Robertson was stout in run support.
He was equally effective in coverage, finally demonstrating the coverage ability that writers have been noting throughout training camp. Again, his coverage came with one key blemish: the critical PI call on 4th down on the Raiders' game winning drive. There was certainly some contact, and Robertson didn't do a great job of turning his head. But the ball was not catchable. It just wasn't. Now, the refs made mistakes both ways, and the Saints didn't lose the game because of one call. But we certainly would have won the game if the call had been correct. It's heartbreaking, but that's football.
Behind these two, Mauti saw the majority of the snaps at SLB. It's a disappointing situation for Saints fans, who expected more out of Anthony after he started his whole rookie year. But for what it's worth, Mauti played a very good game. He's not as athletic as Anthony but he's strong and can still cover ground. He's less of a liability in coverage. Still, I'm hoping that Anthony can earn these snaps over Mauti; his ceiling is higher, and he can develop into a real difference maker on defense.
Wide Receiver
Wide receiver is the most highly anticipated group on the roster, and on Sunday they lived up to the expectations. Cooks is a baller, and is finally developing into the sort of player that demands safety help. That spells open-space and single-coverage for the rest of this group. He put up huge numbers, and got a Raiders CB benched. Not to mention, the record-setting 98-yard TD reception. Yep, he can fly. But he's also surprisingly able to make difficult grabs over the middle for someone his size, as demonstrated on his first TD. Cooks just might be the most dangerous weapon Brees has ever had.
And it almost seems like Michael Thomas may one day overtake Cooks as the Saints' best receiver. The second-round draft pick didn't light the world on fire against the Raiders, but he showed that he's not just a flash player. He plays jam CBs perfectly, shifting from side to side and using his hands. I'm slowly coming to realize how talented he is after the catch; he's the most dangerous Saints receiver with the ball in his hands. Thomas' most impressive play, however, came on a 2-yard reception at the start of the fourth quarter. Raiders CB D.J. Hayden played the slant route perfectly, and Brees's throw almost ended up in Hayden's arms. Thomas somehow managed to get his hands across Hayden's body and make an absurdly difficult catch look easy.
And then there's Willie Snead, the fantasy owner's dilemma. He's not the big name that Cooks, or even Thomas, is. Thomas actually saw more offensive snaps than Snead, but Snead had the bigger game statistically. He really is the new Lance Moore: a manipulative route runner who is great at finding the soft spots in zone. And he's a surprisingly big target for Brees. Snead had a great game with the rest of the group. So long as Cooks continues to draw the safety help, Snead will have the space that he needs to succeed.
Coleman saw the field very little, and Tommylee Lewis was inactive for the game. I'd imagine that, week to week, these two will see varying roles. Lewis made still need some time to develop, and against the Raiders' big CBs, Coleman wasn't an ideal matchup. Whether or not the two see increased roles in future weeks, they are firmly at the bottom of a fantastic group of young WRs.
Offensive Line
We all expected this unit to struggle against Khalil Mack. They did not. I can't remember a time last year that Brees had such a consistently clean pocket. Moving forward, this was easily the most encouraging performance of the day. Even on the first quarter sack-fumble, the pocket was clean. Brees got greedy and looked for the deep ball to Cooks, which would have been there had he had about half a second longer. But it was a coverage sack. Brees had the time to make something happen.
Yes, the game plan effectively took Mack out of his comfort zone. But when Josh Hill went down with an injury, it fell to the tackles to contain the All-Pro Mack. Terron Armstead came back from his quad injury to put in the sort of game we've come to expect from him. He claimed he's still working through some rust, but it didn't show on tape. He smothered Mack enough that the Raiders tried to move Mack around and find a more favorable matchup.
They settled on Zach Strief, who many Saints fans feel is losing the battle with age. Strief arguably played Mack even better than Armstead. The RT has been a cornerstone of this Saints offense for years, and continues to play at a high level. Most fans underrate Streif. Mack was able to blow up a few runs, but he's Khalil Mack. No tackle is shutting him down all game. Strief played about as well as you can ask.
Max Unger put up one of his consistently solid performances, rarely missing on his blocks and making a few notable plays in the run game. The Saints struggled to use his athleticism early in his New Orleans career, but they're getting the most out of it now.
Everyone was happy when Jahri Evans returned to the team, but I don't know if anyone expected that he'd be ready to contribute at such a high level. Granted, he's still on the decline, even from an average showing last year. But he's so far ahead of Lelito and Kelemete. The aging vet was somehow exactly what this offensive line needed to sure up at guard.
Across from Evans, the much maligned Andrus Peat demonstrated why the Saints still have faith in the struggling second-year player. Now entrenched at LG, Peat opened up a number of holes in the run game, and was sound in pass protection. He struggles with the cut block, but has shown more than enough speed to pull and get to the second level.
Quarterback
Breesus. Yes, he's 37 years old. And yes, the Saints should be considering who is going to step in from the HoFer when he retires. But declining arm strength? No chance in hell. Brees put together one of his most complete performances in recent memory. He set a number of records along the way, including the longest passing play in Saints history, a 98-yarder to Cooks on a go route. It's clear as day: Drew Brees is the best player on this roster, and he will continue to be so until he retires.
I'll admit, I was worried about his performance after the first possession. Brees misfired on his first pass attempt, and then held onto the ball for way too long on his sack-fumble. And I never like to see the vet getting hit. But he shook off the bad start and came out shooting. He had plenty of help from his O-line and WRs, but he was the star of the day, not once forcing the ball into coverage. He dropped plenty of dimes; my personal favorite was his first touchdown to Cooks. Man can he thread the needle. So long as Brees is playing at this level, the Saints will win some games. And if the defense can hold it together like they did for the first three quarters, they might just have a shot at the playoffs.
This article originally appeared on