Saints fantasy football: Week 14, Buccaneers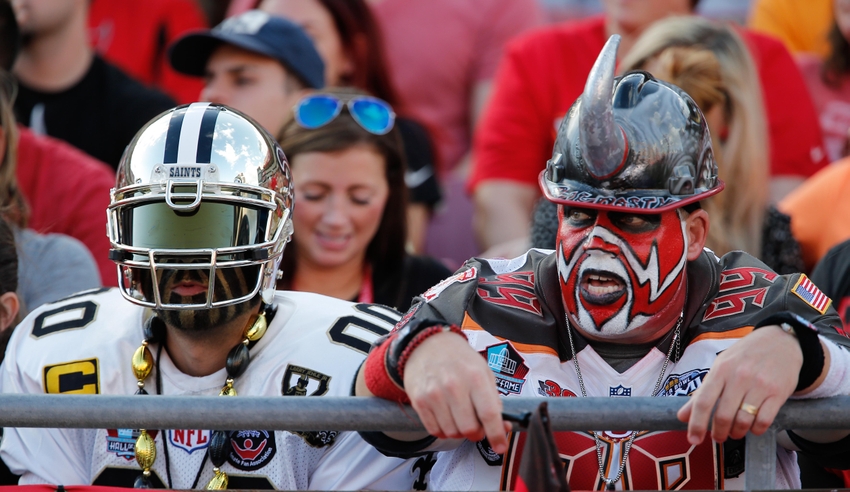 Well, the season's looking bleak. But your fantasy team is hopefully alive and well. And for many leagues, it's playoff time! As always, Who Dat Dish breaks down the fantasy outlook for the Saints, who this week matchup with the Tampa Bay Buccaneers.
In the Saints high-powered, multi-faceted offense, it can be hard to identify who's going to succeed from week to week.  We're here to help. Here's our breakdown of the fantasy outlook for all Saints players in Week 14.
Drew Brees
Drew Brees fantasy outlook: Start him.
There's going to be a running theme through this article: yes, the Saints played poorly last week. All across the board, their fantasy contributors put up duds. Even Drew Brees. 
But that doesn't mean a repeat performance. If you have Drew Brees, chances are he's your only QB on the roster. You should, under no circumstances, panic and go after another. Brees has been one of the best fantasy players in the league, and one bad game won't silence his thunder.
He does matchup this week with a dangerous Tampa Bay defense who recently held the Seahawks offense to a single, lowly field goal. But the Seahawks are hardly a powerhouse offense this year. When the Buccaneers have faced elite offenses they've floundered, giving up 43 points to the Falcons in Week 9. 
Now they face Drew Brees. And yes, the Lions game showed that even Brees is no sure thing. But he's about as close as it gets.
The Lions defended the Saints so well because they were able to get pressure with their front seven and play excellent coverage in the secondary. The Buccaneers are capable of both things. The difference in the game, and why I'm sure that Brees will be able to get his this week, is that Sean Payton and co. are familiar with this Tampa Bay defense. It won't necessarily be a shootout, but the Saints will be more comfortable in the matchup. I can assure you that. 
Nobody on the waiver wires is going to be more dangerous than Brees. Stick with him.
Mark Ingram
Mark Ingram fantasy outlook: Start him.
This was a tough call. On the one hand, Ingram's been bothered by a toe injury that kept him out of practice for most of the last week. He then aggravated it on Sunday against Detroit. Add to that the fact that he only amassed seven carries, and you see why there's some reason for hesitation with the Saints' bell-cow.
But when you look at how he's been running, you'll see why I chose to start Ingram. Against Detroit, he averaged over 5.2 yards per carry, a number that is quickly becoming the norm for Ingram. You can see it on the eye test. He's running with burst, with power, with vision. And though inconsistent, the O-Line has made some spectacular plays to open up holes. 
Yes, he wasn't heavily featured in the game plan last week, nor was any runner. But I'd be surprised if the Saints took a similar approach against Tampa Bay, who, historically, they've run the ball against. This is no new defense they're playing. This is Mike Smith. Tampa Bay is currently allowing opposing RB's 4.4 YPC, ranked 26th in the league. They're suceptable. 
Again, LT Terron Armstead's status for the matchup is unclear. And if he's out, Kelemete will get the start at LG, with Peat at LT. Kelemete really struggled last week. But I expect him to bounce back.
Low-end RB2. The Saints will never be a run-first team, and after last week's dud it's hard to recommend any to start. But this offense can put up points. And Ingram is still the leader of a somewhat crowded backfield.
Tim Hightower
Tim Hightower fantasy outlook: Sit him.
Hold onto Hightower this week, with Ingram possibly sidelined with a toe injury.
But unless Ingram does end up sitting, I wouldn't start Hightower. Ingram may have only had seven carries last week, but Hightower only had two. For five yards.
Ingram gets the goalline carries, and Ingram is the bigger threat to break out a big run. As long as he's healthy, he's going to control the backfield.
Hightower becomes a viable option only if Ingram goes down. Fumbles won't bench Ingram at this point. But hold onto him until the final injury reports.
Brandin Cooks
Brandin Cooks fantasy outlook: Sit him.
After going without a target against the Rams, Cooks was heavily featured against Detroit. Unfortunately, the focus came up with poor results.
Don't for a second think that Brees or Payton focused on getting Cooks the ball to the detriment of this team. I'm sure they wanted to get him involved, but that's natural with one of your best players. 
They're not going to let the bad results dissuade them from feature Cooks heavily in the future. The problem is that Cooks has now put up a few weeks of empty fantasy performances. He's just not a reliable option. It depends on who you have on your roster, because any week Cooks could explode for 100+ yards and some touchdowns. Like I say every week, with a deep threat like him, all you need is one. 
But he's no more than a high-upside flex option. If you have anyone with any semblance of consistency, I'd go with them. If not, you could do worse than Cooks.
Willie Snead
Willie Snead fantasy outlook: Sit him.
You just never know with a guy like Snead. The thing is, he's heavily involved in the offense every week. The question is whether or not that amounts to fantasy value. 
And more often than not, it doesn't.
I think the core of why I don't like Snead in fantasy is about risk-reward. Snead's floor is obviously very low. But his cieling isn't even that high. He's entirely touchdown dependent, and with so many weapons on the offense he just doesn't warrant a start based on touchdowns. He doesn't get enough. 
Brees will always look his way on third downs. And with Josh Hill likely done for the year, Snead will feature in a sort of TE-lite role. But he's not going to put up huge yardage, and unless he finds the endzone his value is too low.
Don't start. I'd think about dropping.
Michael Thomas
Michael Thomas fantasy outlook: Start him.
Michael Thomas put up another empty performance on Sunday. But that was a product of the whole offense floundering more than any deficiency from Thomas. 
With Cooks really coming up short week after week, I think Thomas is the Saints' most consistent receiver. And he's got the tools to win against great CBs. So as long as he's featured in the game plan, he'll get his.
I said it last week: he can do it all. He's a goal line threat, a possession receiver, a deep threat. He's got great hands, great route technique, great LoS technique. He can create yards after the catch. And he's got Brees's trust. 
Solid WR2, in my books.
Coby Fleener
Coby Fleener fantasy outlook: Start him.
If you need an example of why Fleener is a weak fantasy option, look no further than last week. After Josh Hill went down with a leg injury, Fleener proceeded to come up empty despite being heavily featured. He dropped a key touchdown pass that would have put the Saints in a much more comfortable position and dropped another key first down later in the contest.
He just isn't the hardnosed player that Saints fans have come to expect in their TEs. And it's frustrating.
So why did I recommend to start him, you ask? Well, because Josh Hill is out. Fleener will see a huge bump up in snaps in Hill's absence. And because Fleener isn't the blocker that Hill is, the Saints will need to feature him in the passing game to put him in a position to succeed. 
And as last week goes to show, he is a threat to score. He just needs to make the play. But for a TE, he's got a pretty solid situation going right now. He's essentially the only TE on this very TE-friendly offense. I think he's a solid start.
Saints Defense
Well, listen, I'm going to start the Saints defense. I don't care that it's playoff time, it's just what I do.
And yes, Jamies Winston is an aggressive player who takes risks. The Saints may be able to bait him into some INTs. 
But overall Winston is a great QB, and with Mike Evans on the outside, this offense is dangerous. Craig Robertson may be out for the game, who knows. That leaves the Saints desperately thin at MLB.
Also, what's up with Vaccaro? Is he going to play? We'll see.
I can't recommend the start for the defense. But I'll be starting them anyway.
This article originally appeared on