Saints fantasy football: Week 13, Lions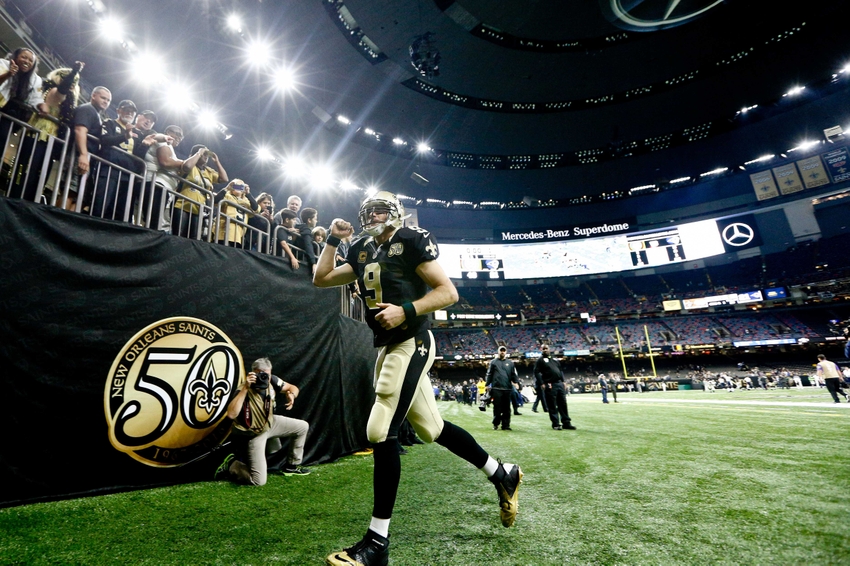 The Saints play the Detroit Lions at home on this Sunday, for another chance to reach .500. Who Dat Dish breaks down the fantasy outlook for the Saints.
In the Saints high-powered, multi-faceted offense, it can be hard to identify who's going to succeed from week to week.  We're here to help. Here's our breakdown of the fantasy outlook for all Saints players in Week 12.
Drew Brees
Drew Brees fantasy outlook: Start him.
The Lions are a talented team and have some decent players in their secondary. But they're not a good defense. Especially against the pass. Darius Slay has come up with some big interceptions this year, but as a whole, this secondary gives up big numbers to receivers every week. Brees should have a field day. And after a clobbering of the typically stout Rams defense, it's hard to imagine this offense not firing on all cylinders. 
Not to mention, for the second week in a row I expect the Saints to attack primarily through the air. It's not that the Lions have been great against the run, though they have played fairly well against some solid backs. But this is really a case of a weak secondary and a decent front seven. And after Brandin Cooks went without a target against the Rams, expect Payton and Brees to get him involved early.
Oh, and Cooks went OFF against the Lions last year. Brees should be fine. Five TDs is a high bar, but this defense looks much more suspect than the Rams.
Mark Ingram
Mark Ingram fantasy outlook: Start him.
I say start him for two reasons: One, there aren't too many highly productive backs available right now, and Ingram is the bell-cow on an elite offense. And two, Ingram exploded for a monster game against the Rams after leaving the Panther's game with a concussion. It'd been a few weeks since we'd seen that kind of production from Ingram, and it can only signal good things.
All that said, there's reason for concern with the matchup. Statistically, the Lions haven't been terrible against the run, while they have not been at all solid against the pass. That may spell a pass-heavy approach for New Orleans. But I don't think it will be so much so that it really limits Ingram's value. And after seeing him run against the Rams, it's hard to count him out. He really ran with some fire last week.
LT Terron Armstead's status for the matchup is unclear. If he's out, that means Kelemete will get the start at LG, with Peat at LT. Still a very solid offensive line. They really opened up some big holes for the running game last week. If that unit continues to click at such a high level, it'll be hard to keep Ingram on your bench. He will continue to be a valuable target out of the backfield. 
Low-end RB1. The Saints will never be a run-first team, but this offense gets points up. And Ingram is clearly the leader of a somewhat crowded backfield.
Tim Hightower
Tim Hightower fantasy outlook: Sit him.
I can see the value of keeping Hightower on your roster, especially in deeper leagues. If anything happens to Ingram, which history has shown to be likely, then Hightower is the only tried and true back on the roster.
But unless that happens, he won't produce consistently enough to warrent a start. He scored last week against the Rams, but that was on a trick-play reception from Willie Snead. I doubt that's going to happen again. As it stands, Ingram gets the goalline carries, and Ingram is the bigger threat to break out a big run.
Hightower becomes a viable option only if Ingram goes down. Fumbles won't bench Ingram at this point. Sit Hightower, and think about dropping him. 
Brandin Cooks
Brandin Cooks fantasy outlook: Start him.
Well, I told y'all to start Cooks last week. Sorry about that. In my defense, it's hard to understand the Rams' defensive gameplan. Take Cooks out of the game, and let the rest of the Saints offense beat you? Okay. Interesting.
After that whopping, I doubt anyone takes that approach the rest of the way. Cooks will see his typical coverages, possibly even lighter than typical with the way Michael Thomas and Mark Ingram have been playing.
The last time the Saints played the Lions, in 2015, Cooks exploded for 124 yards and a touchdown. That's not to say that he'll replicate the performance. But you can bet Payton and Brees are going to be sure to get him involved.
Like I say every week, it can be hard to predict receiver production on a team that spreads the ball as much as the Saints do. But after a silent outing against the Rams, it seems natural that Cooks will turn out have a big game against the Lions. Remember, he's this team's deep threat. All he needs is one.
Willie Snead
Willie Snead fantasy outlook: Sit him.
Told you guys to sit Snead last week, and for most of the game it looked like the right call.
Then he threw a touchdown.
You can bet it won't happen again this week, but it goes to show how unpredictable of a fantasy player Snead is. And while I do love his upside, upredictability is likely my least favorite fantasy trait. 
Brees will continue to look his way on third downs, and after finally running a successful WR/QB trick play Payton may cook up some new wrinkle that feeds off the play. But he's not going to put up huge yardage, and unless he finds the endzone his value is too low.
Flex option IF you're really desperate. But I'd look elsewhere.
Michael Thomas
Michael Thomas fantasy outlook: Start him.
Is Michael Thomas not the most capable rookie this team's had in a long while? He can really do it all.
I said just last week that he's still not at the level of WR1, "especially in such a multi-faceted offense." But to be honest, he sort of is. He's not Brees' third-down guy, but every week you get the sense that the HoF QB trusts this guy more and more. And really, like I said, what can't he do?
His biggest value is his ability to be a goal line threat. He's got the hands to make difficult catches, the body and route running to score with slants and fades, and he can break tackles like few WRs in the league. But he also puts up big yardage by being involved in nearly every phase of the offense. AND he's still an emerging deep threat. He's going up against a relatively weak secondary. Start the man.
Coby Fleener
Coby Fleener fantasy outlook: Start him.
Fleener put up solid fantasy numbers last week despite seeing his lowest snap count of the season. That's a good sign for the newly acquired TE. It shows that he's making the most out of his time on the field. He made catches and ran well.
It's obvious why he didn't see the field: the Saints needed blockers against that Rams front seven. That won't be so much the case this week.
But I'd still consider sitting him. Who knows if we'll run such a TE-friendly passing game as we ran last week? Like I said before in this series, he's getting better every week. And if he does turn out to be involved, he has all the tools to turn out a huge game. But his floor is just so low. That's sort of the name of the game with TEs in fantasy, which is the only reason I can see starting him. He can put up big numbers. But he can just as easily, perhaps more so, put up a dud.
Saints Defense
After an up and down performance last week, I think it's safe to say you should sit the Saints defense. I mean, I'm going to start them, but I always do. That's just what I want to do.
But this is a dangerous Lions offense, and no matter how well the Saints have played defensively at times they've never managed to hold it together for a full game. The Lions will likely be one-dimensional, as they have no running game to speak of and the Saints have played well against the run recently. But until Delvin Breaux looks like Delvin Breaux against, I can't trust the secondary.
Also, who knows if Vaccaro will play.
This game should be a shootout. Go offense, offense, offense. And defense, too, if you're feeling reckless.
This article originally appeared on