Saints fantasy breakdown: Week 11, Panthers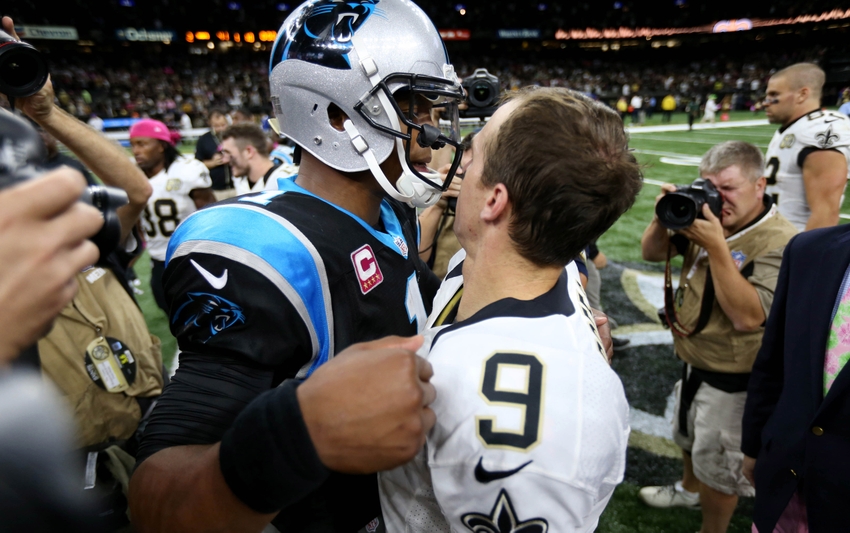 The Saints play the Carolina Panthers this Thursday on a short week. Who Dat Dish breaks down the fantasy outlook for the Saints.
In the Saints high-powered, multi-faceted offense, it can be hard to identify who's going to succeed from week to week.  We're here to help. Here's our breakdown of the fantasy outlook for all Saints players in Week 11.
Drew Brees
Drew Brees fantasy outlook: Start him.
The Panthers secondary is not nearly as banged up as it was in Week 6 when Drew Brees threw for 465 yards and 4 touchdowns. And while that unit isn't much improved even when healthy, the Panthers defense seems finally to have come alive after a horrible start to the season.
That said, I still expect the Saints to take a pass-heavy approach to the game. Perhaps not to the extent that they did during their first meeting when they only ran 21 running plays, but I think it's safe to say Brees should have plenty of opportunities to air it out.
And while this is still a dangerous defense, I think Brees will find success. It'll help, of course, if Terron Armstead can suit up. 
Mark Ingram
Mark Ingram fantasy outlook: Sit him.
Ingram didn't have a great showing last week against a bad run defense missing their best run stopper. Admittedly, that didn't look like any fault of his. I hadn't watched the Broncos all year, but they didn't look like the pushovers in the ground game that I'd heard coming into the game.
Well, we know the Panthers team well enough. Luke Kuechly and that Carolina front seven is monstrous. Last time this teams played, Payton elected to essentially abandon the run game in favor of attacking a crippled Panthers secondary. That secondary is now healthy, but is still clearly the weak link in this unit. So I don't expect much to change in terms of the Saints offensive approach.
That said, it's not as if Ingram will have no value. He still notched 16 carries on their last meeting, and is a viable goal line threat. He's a low end RB2, I'd say, considering he seems to be separating himself from Tim Hightower as the lead back on this high powered offense.
Tim Hightower
Tim Hightower fantasy outlook: Sit him.
Hightower had a few strong games recently, obviously including against Seattle when Payton benched Mark Ingram. 
As I said with Ingram, the Saints will likely take a pass-heavy approach to the game. And while Hightower still provides needed value and speed to this team as a runner, Ingram usually takes the goal line carries. Unless Hightower can make a push to usurp Ingram as the bell-cow, I don't see much fantasy value. Certainly nothing consistent or predictable.
I don't think Hightower is even worth a flex look this week.
Brandin Cooks
Brandin Cooks fantasy outlook: Start him.
Brandin Cooks caught fire the last time the Saints played the Panthers, making seven receptions for 173 yards and a touchdown. I don't expect a repeat performance, but it's hard not to love this matchup. 
Yes, the Panthers will have CB James Bradberry back after he missed the last Saints game. He will likely draw the Cooks assignment. But until Bradberry can show consistent production in this league, I'll take Cooks any day.
I think other Saints receivers may have a better time of it this week, but that's no knock on Cooks' matchup here.
Even if he's limited in the intermediate game, all he needs is one bomb. Cooks is, I'd say, a high-end WR2.
Willie Snead
Willie Snead fantasy outlook: Start him.
Well, I recommended that you sit Snead last week. May have been a bit wrong there. He only had 47 yards, but reeled in two TDs. 
It just goes to show what I said last week. Snead is so dependable on the field, and yet it doesn't translate into consistent fantasy stats. It's impossible to predict when the Saints are going to run goal line plays for him.
His first TD came on a fake pick play, set up by the real pick plays against Seattle. Both players followed Michael Thomas assuming he'd be coming free off the pick, and Snead slid easily into open field behind them. Who knows what playcall will come next.He's easily Brees's favorite third down target, and against this stingy defense that will be important. He'll likely be heavily featured as a blocking receiver, which should open up some space for play action and the like.
Against this thin secondary he'll draw a favorable matchup. But like I said last week, he's a possession receiver. Without a TD, he's a miss. Start him if you need to, he's a low-end flex option. But look for something better.
Michael Thomas
Michael Thomas fantasy outlook: Start him.
I don't think anyone expects Thomas to fumble anymore. But you can be certain teams are going to be aggressive with him when he has the ball. 
I recommended starting him last week, and I'm going to do it again. Yes, he really botched the Broncos game. But he's such a talented receiver, and I'd be willing to bet Payton will try to make a statement by going to him early and often. He's got favorable matchups all across the board in this one. And he is still the most prolific redzone threat on this offense.
I'm going to give Thomas a WR2 grade again. He's going to bounce back, and knowing the Saints, it could be in a major way.
Coby Fleener
Coby Fleener fantasy outlook: Sit him.
Fleener continues to struggle to see the field on account of his limitations as a blocker. Hopefully that's something he can improve in the offseason. And while I expect the Saints to go pass-heavy this Thursday, I don't think the TE position will be heavily featured.
The Panthers have some of the best cover LBs in the game. Kuechly just smothers guys, whether they're Jimmy Graham or Gronk. Fleener does maybe have a step on him, but this is likely his least favorable matchup of the year.
Fleener did score a TD and a 2pt conversion on a carry during their last meeting. He's not going to get a goal line carry again. Tight ends are hard to predict and with this prolific offense he's worth a look, but I'd be surprised if he sees the end-zone this week.
Saints Defense
I'm going to keep previewing this defense. Why not.
Again, they're trending in the right direction. They put the team in a position to win last week against the Broncos. Delvin Breaux had a really rough game, but I expect that to be cleaned up for Thursday. (Though it is a short week.)
And while the Panthers defense has come alive again, the offense continues to struggle. If the Saints can generate anywhere near the pass-rush we saw against Denver, this could be a huge game for the defense. 
I think they can do it. But if you have the Saints defense, you're probably going to start them whether they're playing the Patriots or the Browns.
This article originally appeared on