Saints fantasy breakdown: Week 10, Broncos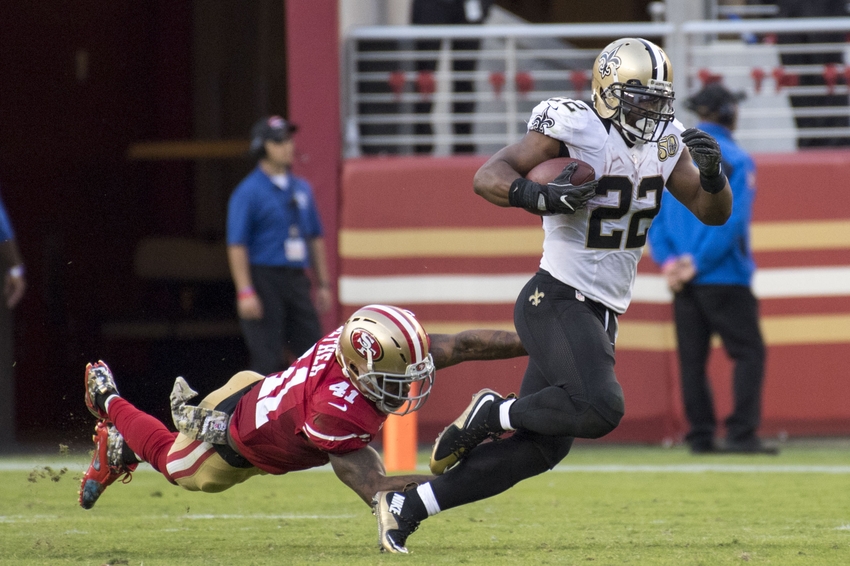 The Saints play the Denver Broncos at home this week. Who Dat Dish breaks down the fantasy outlook for the Saints.
In the Saints high-powered, multi-faceted offense, it can be hard to identify who's going to succeed from week to week.
We're here to help. Here's our breakdown of the fantasy outlook for all Saints players.
Drew Brees
Obviously, the Broncos are not the ideal matchup. But Brees is the second-highest ranked quarterback through the first half of the season, and if you have him, you should start him.
The Saints may be catching the Broncos at the perfect time. Denver CB Aqib Talib is out with a back injury, and backup Kayvon Webster missed last game with a hamstring injury. The Saints will probably take a run-heavy approach to the game, but Brees gets his either way.
Denver is still the top ranking pass defense, so temper your expectations. But Brees is, as always, a solid start.
Mark Ingram
Ingram isn't going to repeat last week's breakout performance, but against this Broncos defense expect the Saints to go run heavy. They're the best pass defense in the league, but they're giving up a surprising 4.4 yards per carry. With run-stuffing DE Derek Wolfe out with an elbow injury, there should be room for Ingram to break out a few.
Considering he will likely continue to split carries with Tim Hightower, Ingram is a solid RB2. He's the better back of the two, and will see goal line carries.
Tim Hightower
Hightower has surged the last two weeks, and his success will continue to earn him carries. But I don't expect him to start any more games. I'd say he's no more than a flex option this week.
As I said with Ingram, the Saints will likely take a run-heavy approach to the game. And Sean Payton likes to give his running backs full drives, rather than split carries within a possession. But Ingram is more of the goal line threat, and should be the starter.
Like I said, flex. He's a solid player who could easily see paydirt, but could just as easily not.
Brandin Cooks
There's reason for optimism with this matchup. The Broncos are missing Aqib Talib and possibly Kayvon Webster. While this is an amazingly deep group of cornerbacks, they should have a harder time matching up with the Saints trio of dangerous WRs.
In a run-heavy offensive gameplan, against a depleted secondary that struggled with PI calls last week, expect the Saints to take some shots. More likely than not, that will mean Cooks.
The home-run threat is very real this week. Cooks is a low-end WR1.
Willie Snead
I'm never thrilled about Snead's fantasy outlook. It's so strange, because he's so dependable on the field and yet it doesn't translate into consistent fantasy stats. He's easily Brees's favorite third down target, and against this stingy defense that will be important. He'll likely be heavily featured as a blocking receiver, which should open up some space for play action and the like.
But overall he's a possession receiver. And he's facing his stiffest challenge yet against the Broncos deep group of CBs. I'd sit Snead this week.
Michael Thomas
Thomas still hasn't emerged as the blocker that he has the tools to be, but with the speed he's improving that could quickly change. And if he can lay some blocks, he should see plenty of field against the Broncos.
Most importantly, he's becoming rather dependable for a touchdown. You can't expect him to replicate last week's spectacular catch, but Brees loves to look his way goal line.
I'd say Thomas is a solid WR2. I love the guy. I'd start him.
Coby Fleener
I was high on Fleener coming into the season, and the potential is always there for a big game. But he hasn't been heavily featured in the passing game as of late. Josh Hill's talents as a blocker make him a much more attractive player for Sean Payton.
I'd still take a look at Fleener, and if you have no other appealing options he's a reasonable start if only for his high ceiling. But until he can consistently get separation and complete his catches, he's a risky start.
Saints Defense
Okay, let's be honest, most of you probably don't have the Saints defense on your roster. But I do. I start them every week, it just makes me happy, and they've put up some decent numbers from time to time.
They're trending in the right direction, and they'll need to win their matchup with a relatively weak Denver offense if the Saints want any chance at this one.
I think they can do it. But if you have the Saints defense, you're probably going to start them whether they're playing the Patriots or the Browns.
This article originally appeared on