Saints at Giants: Preview, Predictions, and More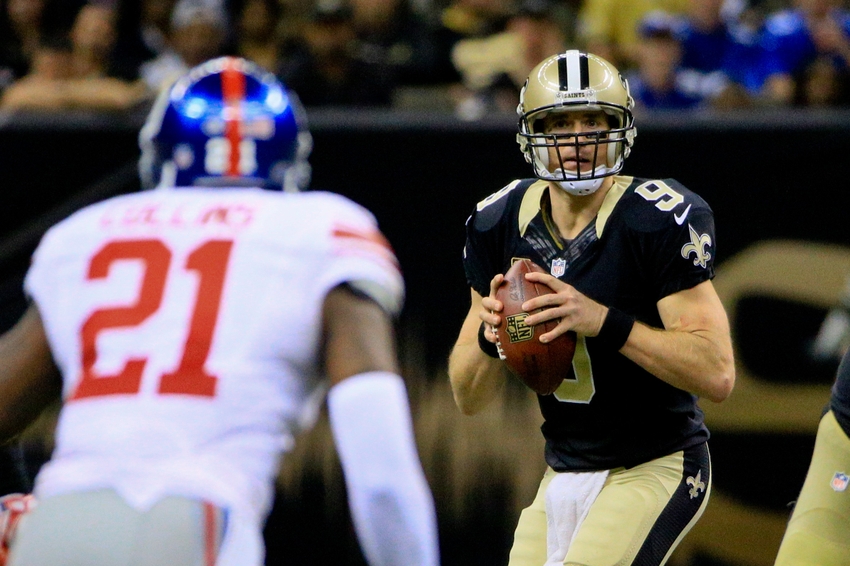 New Orleans Saints vs New York Giants
The New Orleans Saints travel to the New Jersey Meadowlands to take on the New York Giants in an NFL Week 2 showdown that shouldn't be a repeat of 2015's shootout.
The Saints used to be unbeatable at home, but those days are long gone. The upstart Oakland Raiders gutted out a late game win in the Superdome thanks to a 22-point fourth quarter and a risky two-point conversion that gave the Silver and Black a one-point victory. Drew Brees was elite yet again, chucking for 423 yards and four touchdowns while connecting with seven different targets. Had new kicker Will Lutz not missed two field goals, the Saints could be 1-0. That defense, though.
The Giants squeaked out a one-point win on the road over the divisional rival Dallas Cowboys thanks to a brainfart by Terrance Williams. New York's new defense was on the field for 75 plays—third most in Week 1 and was the only team in the top six of that category to win. Yet, that revamped unit bottled up rookie Ezekiel Elliott and shut down Dez Bryant. Big Blue's offense was bolstered by the return of Victor Cruz and the debut of Sterling Shepard.
These two teams have faced each other 28 times with the G-Men leading the series, 15-13. The last time these two teams met in New Orleans, the Saints nailed a last-second field goal to win a high-scoring affair. Prior to that, the Giants hosted the Saints in 2012 and won big, 52-27. The last time New Orleans beat the Giants on their home turf was in 2006 (Drew Brees' first season with the Saints) when Eli Manning only mustered 74 passing yards and six first downs in a 30-7 losing effort. 
Keys To Victory For Saints
1. Fluster Eli Manning – The Cowboys sacked Manning twice and generated a bunch of pressure that made Eli move in the pocket. That usually translates to mistakes by Manning. If New Orleans can upset his rhythm, it could mean takeaways for the Saints. That will largely depend on taking away the quick, easy throws.
2. Attack the Middle – The Giants linebacking corps and young safety group remain the unit's weaknesses. If New Orleans can exploit those matchups, they could wear down New York and force adjustments that get their defense out of their comfort zone.
3. Disrupt The Run – The Saints allowed a league-leading 167 rushing yards and 6.7 rushing yards per attempt to Oakland in Week 1. The Giants averaged 4.7 rushing yards per attempt, totaling 113 against Dallas. If New Orleans can be more aggressive with New York's misdirection run-blocking scheme, it will put the Giants in long yardage passing situations.
Keys To Victory For Giants
1. Cut Down Cooks and Snead – The Giants secondary faced a fairly average receiving corps in Week 1, but they'll be up against two top young wideouts in Brandin Cooks and Willie Snead in Week 2. Cooks averaged 23.8 yards per reception and Snead averaged 19.1 yards per reception against the Raiders. If the Giants defensive backs can prevent the long ball to these two targets, they should be able to beat New Orleans handily.
2. Clog Drew's Throwing Lanes – Brees stands at about six feet, which means he needs passing lanes to make throws. If the Giants defensive line can't get to him because of his quick release from snap-to-throw, Big Blue's front needs to block his sight line and get their hands up to bat down balls.
3. Get Off The Field – It's been a problem for way too long: third down inefficiency. It seems like the Giants defense has been able to get to third down more than any other team, but has been awful in making the stop to get off the field. The bend-but-don't-break method worked last week when they forced field goals, but it could lead to a breakdown, especially when the offense inevitably goes cold for a couple series.
Odds
Point Spread: New York -4.5
Moneyline: New Orleans +180, New York -210
Over/Under: 53
Prediction
Had the Giants not spent record numbers to bring in and retain top defensive talent in the offseason, this might've been another shootout. But so far, the 2016 Giants D appears to be worth every penny with still more to improve upon. That unit might give up yardage, but they won't give up points. With Saints kicker Will Lutz struggling indoors under the dome, he'll have even more trouble splitting uprights in windy East Rutherford.
Outside of a couple hiccups, the Giants offense could be very dangerous when they're in-sync. This game should be a testament to their scoring prowess.
Pick: New York Giants: 31, New Orleans Saints: 23
This article originally appeared on