Saints at Giants Live Stream: Watch NFL Online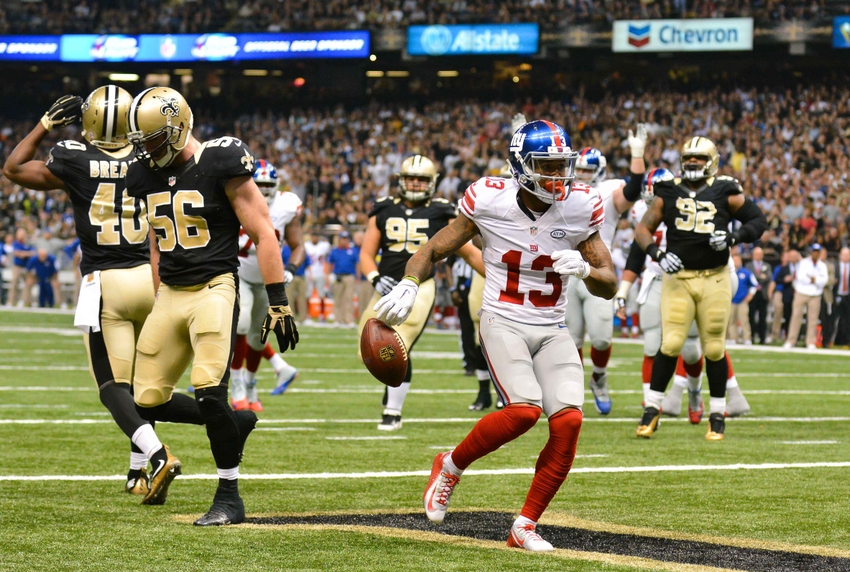 The New York Giants host the New Orleans Saints at MetLife Stadium on Sunday. Here's all the info you need to watch.
Both the New York Giants and New Orleans Saints had thrilling opening week matchups. The Giants were able to pull off a 20-19 victory over the Dallas Cowboys, while the Saints dropped a heartbreaking 35-34 loss to the Oakland Raiders.
This should be a fun matchup between two teams looking to make a run in the NFC. This should be a fun one.
The story of this game will likely come down to the Giants' offense against the Saints' defense. Allowing 35 points against the Raiders last week, the Saints' defense does not appear to have improved much from last season. Considering they allowed the most points in the NFL last season (29.8 per game), that is not a great sign.
Expect Eli Manning to have his way with the Saints' defense, with star receiver Odell Beckham also likely to be a major beneficiary.
To make matters worse for the Saints' defensive unit, their number one cornerback Delvin Breaux is going to be out for a while. Breaux suffered a broken fibula last week, and is expected to miss at least six games. The Saints will definitely miss Breaux in their lineup this week, as Manning and company should be able to move the ball at will.
The Giants' defense was not much better than the Saints' unit last season, allowing a 30th ranked 27.6 points per game. However, they made significant improvements to the unit this off season, and it has seemed to pay off so far.
They are not an elite unit, but the Giants' defense appears to be on the right track. However, I would not bet on them being able to shut down Drew Brees and the Saints' offense.
As bad as the New Orleans' defense is, Brees has the ability to keep them in any game. Brandin Cooks, Willie Snead, Mark Ingram and Michael Thomas give Brees a host of weapons to work with. The Saints' offense is loaded with talent and could legitimately keep up in this game, even against an improve Giants' defense.
This one could quickly turn into a shutout, and you are going to want to catch as much of it as you can. FOX will broadcast the game live for the television audience. However, you can also catch all of the action live on an online stream.
If you want to watch this game on an online stream, you must have a paid DirecTV NFL Sunday Ticket or NFL Sunday Ticket TV subscription. With that NFL Sunday Ticket subscription, you will get access to all NFL games during the 2016 regular season.
Details for Sunday's game are below:
Date: Sunday, September 18th
Start Time: 1:00 p.m. ET
Location: East Rutherford, NJ
Stadium: MetLife Stadium
TV Info: FOX
Live Stream: NFL Sunday Ticket
This is going to be a fun matchup filled with offensive fireworks. Be sure to be in a position to catch all of the action.
This article originally appeared on