Saints at Giants: Highlights, score and recap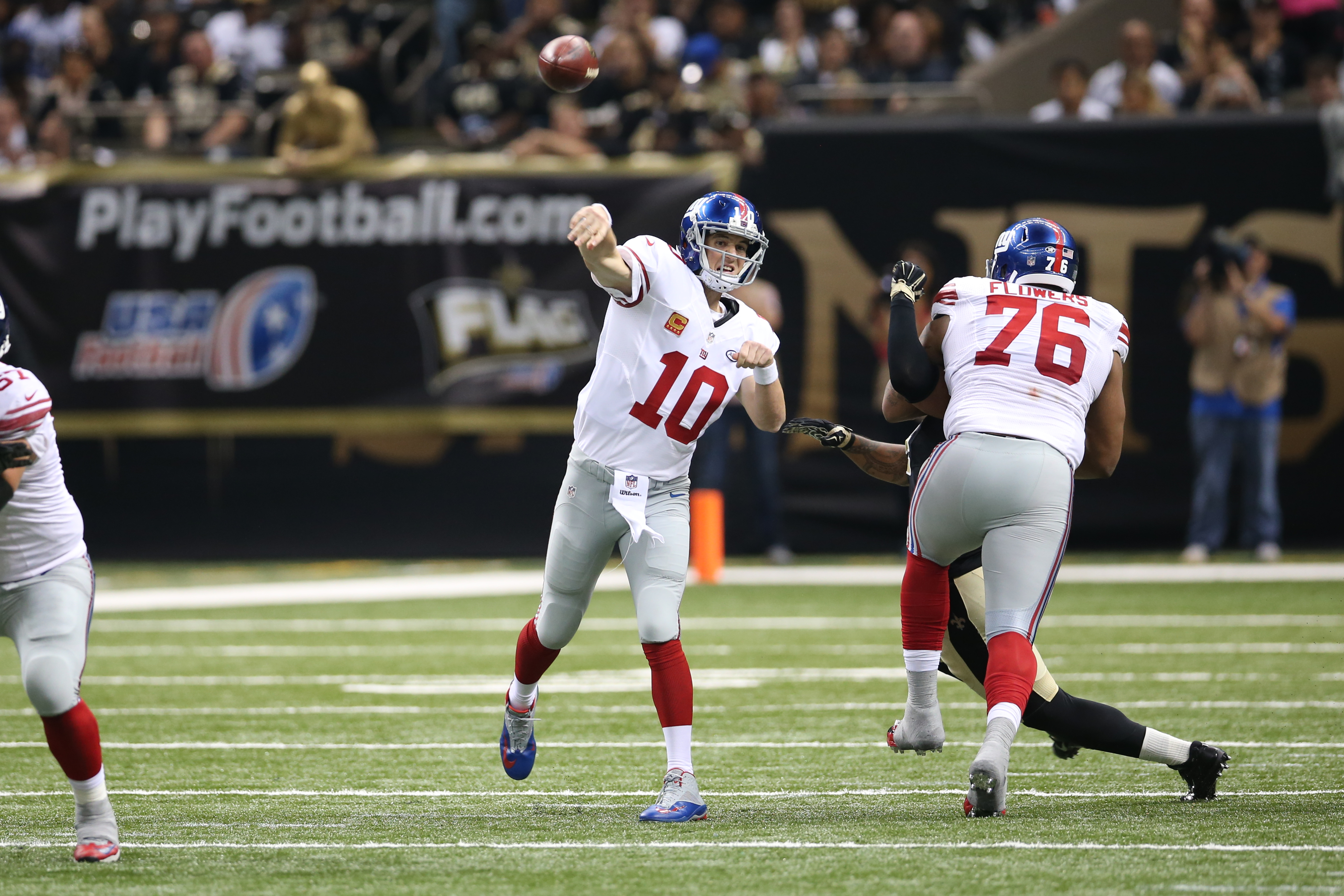 A look at the Saints at Giants matchup from Week 2 of the 2016 NFL schedule including highlights, score, and recap of their game on Sunday afternoon.
The New York Giants will host the New Orleans Saints in a Week 2 matchup of the 2016 NFL schedule. New York comes into this game fresh off a road win at Dallas. Eli Manning guided his team to a come from behind one-point victory over the Cowboys.
The Saints were also involved in a one-point game, but unfortunately, Drew Brees and his star receivers came up on the short side of it. Oakland bested them 35-34 in a major scoring duel. Despite losing, New Orleans saw some hefty performances.
Brees finished with over 400 yards passing and four touchdowns thrown. Willie Snead had a monster game as he tallied 172 yards and a TD on nine receptions, while teammate Brandin Cooks had 143 yards and six TDs.
Manning threw for just 207 yards but had three touchdowns against Dallas. Now he gets to go to work against a very soft New Orleans defense. Odell Beckham Jr. had a quiet game of 73 yards and no touchdowns, so he may be hungry here. Victor Cruz is also back and the Giants now have rookie Sterling Shepard as well.
This very well could be a major scoring duel with two veteran quarterbacks throwing bombs downfield all game. Both teams have good running backs too, so this could be an entertaining scoring duel.
All of the latest game highlights will be posted below as they happen.
Highlights
Three Stars
Here's a prediction of three players who may be the stars of the Cowboys at Redskins game.
1. Eli Manning
He played well last week on the road and now can continue that momentum at home. Look for Manning to do well against a weak Saints defense and pick his spots on the home field. A 300-yard performance certainly isn't out of the realm of possibilities.
2. Drew Brees
He's going to need to be at his best in this game, because of the fact his team's defense is that bad. Brees needs to keep scoring in order to give his team a chance at their first victory. Based on his Week 1 performance, he looks to be in similar form to his usually impressive play. Watch for Brees to try to go back and forth with Manning on the scoreboard here.
3. Odell Beckham Jr.
With just 75 yards and no touchdowns in Week 1, fantasy owners of Beckham got a mediocre performance. This guy has been known to be one of the best of the best when it comes to receivers. In this game, he'll get to go to work against a really bad defense, so a big game could be on the way.
Odds
The Giants were 4-1/2 point favorites at many sportsbooks heading into this game.
Next Week
The New York Giants host the Washington Redskins next Sunday at 1 p.m. Eastern Time. The New Orleans Saints will also play at home in Monday Night Football against the Atlanta Falcons starting at 8:30 p.m. ET.
This article originally appeared on