Saints' Andrus Peat: A reminder not to overreact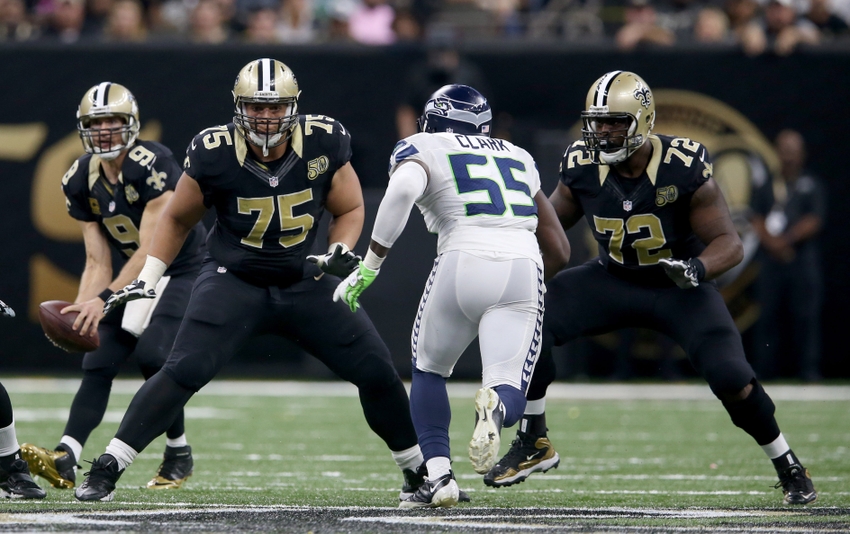 New Orleans Saints' 2015 first-round pick Andrus Peat has silenced critics with a strong opening to the season. Who Dat Dish breaks it down.
It's hard to fault Saints fans for their frustration with the development of second-year OL Andrus Peat. Throughout training camp and into the preseason, Peat looked less than ready to start in the NFL. Add to that the fact that Sean Payton drafted Peat with the 13th overall pick, when the team so desperately needed defensive talent, and you'll understand the early rumblings of 'bust'.
But Peat's silenced his critics with excellent play through the first half of 2016.
After rotating him all across the line in the preseason, Payton and Saints' offensive line coach Dan Roushar decided that Peat was best suited for the left side. They'd drafted him as the eventual replacement for aging RT Zach Strief, but he never really looked comfortable on the right. He played LT in college, and struggled with the flipped stance. He never outplayed Zach Strief at RT, and he looked borderline disastrous at RG before the Saints resigned Jahri Evans.
Fans took that as a sign that Peat was a bust. The Saints already had one of the best LTs in the league, and with two promising young players rotating in at LG it looked like there was no where to plug Peat.
But after some trial and error, Peat managed to find some time at LG. Things finally started to click.
It helped that his competition didn't live up to its promise. Senio Kelemete struggled at times in pass protection, and Tim Lelito really seemed to fall off a cliff performance-wise.
But more so than that, Peat finally looked like a first-round pick. He still made the occasional miss in pass protection, but he's looked better in that department every week. And in the run game, he's been a monster. He's most dangerous when asked to go to the second level, where his athleticism really helps him take down linebackers and create space for the backs.
When Terron Armstead started missing games with a knee injury, Peat moved over to LT. Even after seeing his improvement, the move had many fans, myself included, worried. Armstead had missed time in the preseason, and Peat struggled to fill his shoes.
Well, we're now ten games in, and Peat has shown he's more than ready for the task. The Saints O-Line has been one of the better in the league, and Peat manning Brees's blindside has been a huge part of that.
Yes, the Saints needed plenty of talent on defense when Payton drafted Peat with the 13th pick. But after seeing the offensive line struggle so mightily in the preseason, I believe Payton showed great foresight with the choice. He's been invaluable, and far from a bust.
If you want to see what a bust looks like, simple. Look no further than the Saints' other 2015 first round pick.
This article originally appeared on