Russell Wilson injury: Seahawks QB suffers MCL sprain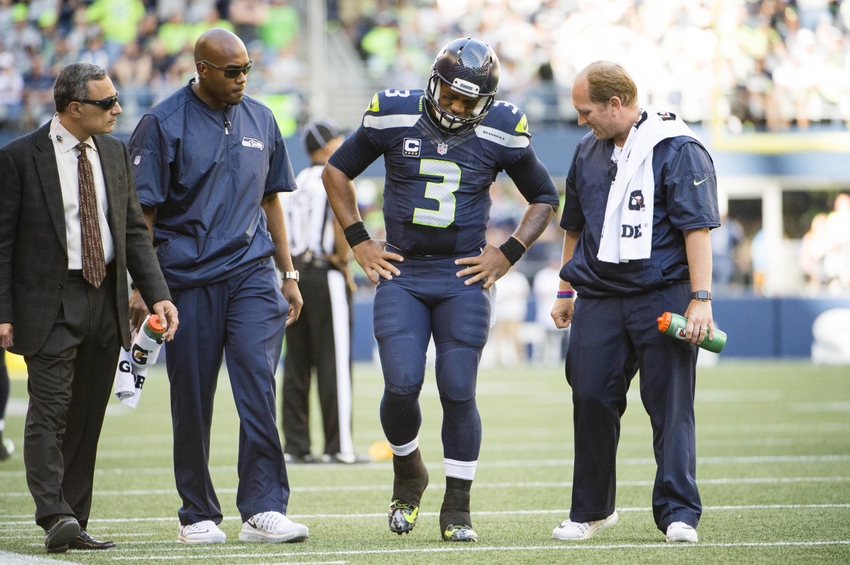 Seattle Seahawks quarterback Russell Wilson suffered an MCL sprain in Sunday's win over the San Francisco 49ers.
The Seattle Seahawks moved to 2-1 with a dominant 37-18 victory over the San Francisco 49ers on Sunday, but may have suffered a significant loss as well with quarterback Russell Wilson going down.
According to NFL Network Insider Ian Rapport, Wilson has suffered an MCL sprain. He is scheduled for an MRI Sunday night.
In a third quarter sack during Sunday's game, Wilson was taken down by linebacker Eli Harold, and his knee bent awkwardly. Rookie backup Trevone Boykin came into the game for the next play, but Wilson returned the following play to finish the series.
After that drive, which put Seattle up 27-3, Wilson exited the game.
More on FanSided:
The Seahawks' next game is Sunday against the New York Jets, but it's currently unknown if Wilson will be able to suit up. He was also dealing with a nagging ankle injury, though it didn't seem to be a hindrance in the win over San Francisco.
Wilson has never missed a game in his five-year NFL career.
If Wilson does miss time, the Seahawks will turn to their rookie quarterback, Boykin, who went undrafted in the 2016 NFL Draft out of TCU.
Boykin looked good during the preseason. In his first preseason game, he threw for 188 yards and one touchdown, going 16-for-26 and leading an 88-yard game-winning drive.
In his first regular season game filling in for Wilson on Sunday, Boykin was 7-for-9, throwing for 65 yards, one touchdown and one interception. Wilson exited the game with 243 yards and one touchdown. Stay tuned for more news on Wilson's injury as it develops.
This article originally appeared on