Roy's Mock Draft 2.0
Roy Anderson/FanSided via Who Dat Dish

Fansided
A lot has happened since I released my first mock draft for WhoDatDish. The Senior Bowl has changed the landscape quite a bit for the 2017 NFL Draft. Here is my revised submission.
It's been repeated ad nauseum what the needs are in the draft and free agency for the Black and Gold heading into 2017: pass rushers, cornerbacks, linebacker, offensive guard. In a recent interview, New Orleans Saints Head Coach Sean Payton acknowledged the need for pass rushers. But he also mentioned the depth at running back in the upcoming draft.
In my first mock, I had the Saints taking Stanford DE Solomon Thomas with pick 11. The CBS big board now has him ranked at number 3 overall. While I disagree with this assessment and have yet to see a mock draft with him going anywhere near that high, we'll pretend that's a thing and draft accordingly.
While the Saints are famous for taking who they consider the best player available despite position or need in their drafts under Sean Payton, we're going to go for a healthy mix of need and best player available in this mock.
For the sake of consistency, I'll be using the Big Board available at the CBS Sports website. There are plenty of arguments you can make with some of their projections but it's a solid list nonetheless.
Let's get started.
Derek Barnett, Defensive End, University of Tennessee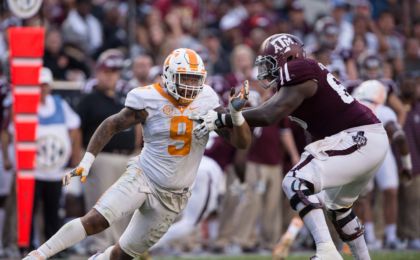 The man who broke Reggie White's sack record for the Vols is exactly what the Saints need to bolster an anemic pass rush outside the solid efforts of Cam Jordan. Since the departure of Junior Galette, the Black and Gold has relied almost exclusively on Jordan to provide a rush off the edge.
We saw flashes from Dannell Ellerbe in 2016. Hau'oli Kikaha flashed for a brief moment in 2015 before injuries knocked him out of that year and 2016. It's time the Saints spent heavy and addressed the issue.
Barnett is at 17 on the CBS big board and number 11 is O.J. Howard. Is it a reach to think the Saints might go tight end in the first round? Of course not. This is Sean Payton, remember? The guy who took Andrus Peat and Brandin Cooks in consecutive first rounds despite the obvious needs on defense.
But all signs point to the team finally doing the right thing in 2017. Too much is on the line. Derek Barnett is a beast. There are plenty of highlight videos of him on YouTube. Take your pick. He's got the length, the power, the speed, the bend, the spin moves, the swim moves, the bull rush and solid run defense.
He's 6'3″ and 263 lbs and will be a terror in the NFL. Who Dat Nation would be ecstatic to have him.
Jarrad Davis, Middle Linebacker, University of Florida
Some have described him as the second coming of Ray Lewis. That's rare air and probably quite an exaggeration but Jarrad Davis is a nasty, hard-hitting, wrecking ball of a linebacker and would fit nicely into Dennis Allen's young Saints defense.
Let's be perfectly clear, however. If Reuben Foster is available when the Saints pick in the first round, the Saints have to take him. Similarly, if Temple linebacker Haason Reddick is available at this pick, the Saints take him. Despite being listed as an outside linebacker, Reddick is perfectly capable of handling Mike duties in the NFL. But he's listed at 31 on the CBS big board.
Further, if Tre'Davious White, CB, LSU is available here the Saints should take him. But he's at 36 on the big board.
That shouldn't make you believe that the Saints would be settling if they took Jarrad Davis at 43. At 6'1″ and 238 lbs. Davis looks like a prototypical NFL middle linebacker. He was the undisputed leader of a solid Florida defense and looks primed to take the same skills to the next level.
He had a rather uninspiring Senior Bowl but with the right coaching, i.e. Mike Nolan and Dennis Allen, you can bet he'll be an excellent fit for the Who Dats.
Gerald Everett, Tight End, University of South Alabama
At 6'3″ and 227 lbs., it's likely Everett will need to bulk up a little to play tight end at the NFL level. He's a pass catching TE and will also need to work on his blocking skills at the next level. But Everett is a solid receiver. The kind who could develop into the next Jimmy Graham for the Black and Gold.
He was quiet at the Senior Bowl and was overshadowed on the South squad by first rounder O.J. Howard. But the film is out there on this kid and he'll be a stud in the pros.
It's worth mentioning that Everett is number 75 on the big board and the Saints could certainly use more depth at cornerback. Tight end could be seen as a luxury pick for a team needing so much defensively. Southern Cal's Adoree' Jackson could be available at this pick and if he is the Saints should take him over Everett but Jackson is at 69 on the big board and we're assuming he's gone at this point in the draft.
Everett would give Drew Brees the big, red zone target he needs and develop into a future all pro for the Who Dats.
Fabian Moreau, Cornerback, UCLA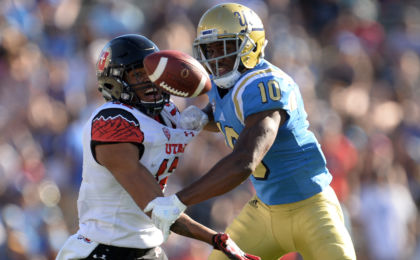 The Saints need depth at cornerback. That's a known quantity. It's a position that will need to be addressed in free agency as well as the draft. There are plenty of solid corners who will be available as free agents. And the Saints finally have the money to make plays there.
Additionally, the team has promise in P.J. Williams, Delvin Breaux and Ken Crawley and solid backups in B.W. Webb and Sterling Moore. But, even if the Saints get a solid, lockdown corner in free agency and Breaux and Williams return to the form expected of them, you can't be too set on cornerbacks in the NFL.
Moreau has been all over draft boards ranging from first round discussion to where he sits on the CBS big board currently ranked as the 16th best cornerback in the draft. He had a solid outing in the East-West Shrine Game but only had one pick in his senior campaign for the Bruins.
He's got solid cover skills, maybe a little handsy at times, and at 6'0″, 205 lbs. is a solid tackler and good at jamming receivers. He's the kind of product a coach like Aaron Glenn could mold into a solid NFL starter and the Saints would be wise to take him if available at this pick.
Taquan Mizzell, Running Back, University of Virginia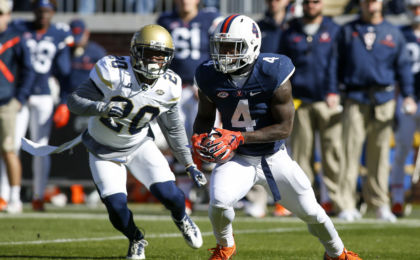 I did a draft profile on this kid following the NFLPA Collegiate Bowl which you can read here. I called him the second coming of Darren Sproles and I'm still of that opinion. In that terribly obscure collegiate all-pro game, Mizzell was easily the star.
He's a solid runner inside and has all the scat back ability and pass catching skills you could want from an NFL satellite or third down back. At 5'10", 194 lbs. he could stand to add a little weight but he took licks aplenty playing at Virginia and was an every down starter for almost four years.
He had one game without a pass reception, his very first on the field for the Cavaliers as a freshman. He's the only player in ACC history with 1500+ yards receiving and 1500+ yards rushing. He's a legit 4.3 – 4.4 speedster and has excellent kick return skills though his coaches primarily used him as a running back in his junior and senior seasons.
This is the replacement for Travaris Cadet who, although serviceable, isn't exactly catching the world on fire like a Sproles or Pierre Thomas.
Chad Kelly, Quarterback, Ole Miss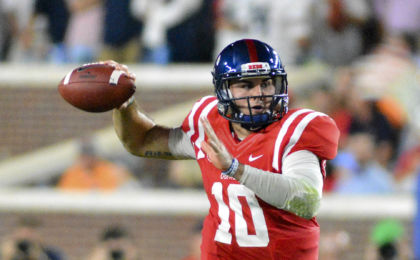 Same as my last mock, I have the Saints taking the once sure first rounder and possible first overall pick in the 7th round. In all honesty, I don't see Kelly falling this far but, on the CBS big board, here he is.
There are mild comparisons to Johnny Manziel here. Off the field issues aplenty. Kelly was forced off the Florida State team, had to go the JUCO route at Eastern Mississippi Community College, had a solid first season at Ole Miss and then regressed wildly in his senior year.
He didn't play in the Senior Bowl due to an injury that ended his career at Ole Miss. But Kelly has promise. We won't pull the TMZ treatment on him and go over the off-field stuff. He was at Senior Bowl practices and seemed ready to take a mature stab at a professional career.
If he's available in the 7th round, why not take a shot on someone with the pro-caliber arm and physical traits this kid possesses? With the right guidance behind Drew Brees and under the coaching of Sean Payton and quarterbacks coach Joe Lombardi, Kelly could easily find himself in a starting role in the NFL is he keeps himself on track.
The Saints are known for making waves with undrafted rookie free agents. Here are a few names to look for after the draft.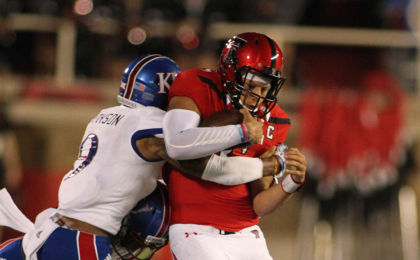 The one name I'm hoping the Saints add following the draft if he doesn't go is Fish Smithson. Look him up on YouTube. He's a free safety out of Kansas and more than being a Jayhawk, he's a ballhawk. Four picks in 2016. He's solid in coverage and can tackle and blitz with the best of them. I have no idea why he's not rated more highly but he's listed as a 7th rounder or free agent in most big boards.
On the CBS big board Clemson middle linebacker Ben Boulware is listed as falling out of the draft. While I don't see that happening he'd make a solid addition to the Saints defense as well.
Hardy Nickerson, yes, the son of that Hardy Nickerson, is an inside linebacker out of the University of Illinois and why not?
Austin Appleby, quarterback from Florida via Purdue. Listed at 6'4″ and 240 lbs. why not bring him in. I'm sure Drew will put in a word for the former Boilermaker.
More from Who Dat Dish
This article originally appeared on