Ron Rivera Named Panthers Salute to Service Nominee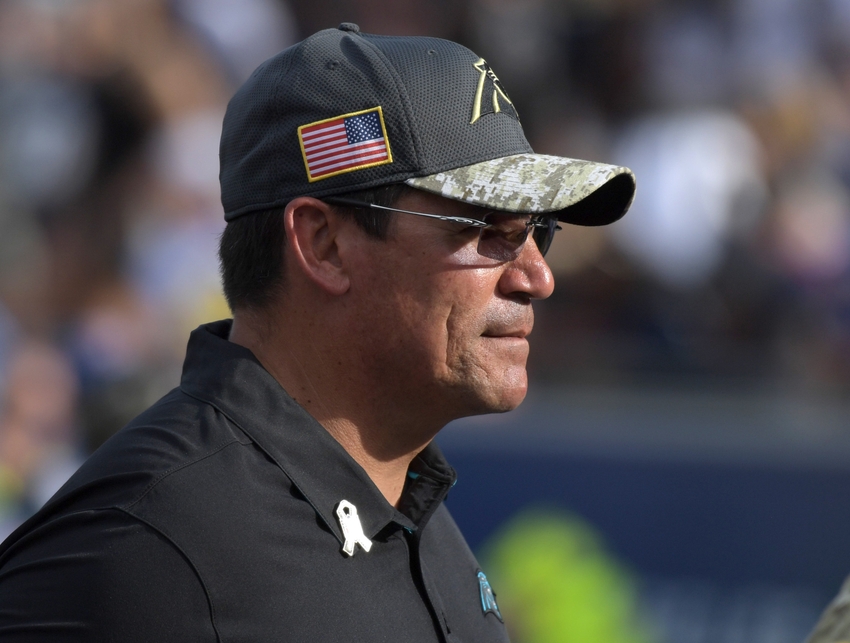 The NFL nominates one individual from each organization as a finalist for the Salute to Service Award and for the Carolina Panthers it went to Ron Rivera.
Carolina Panthers head coach Ron Rivera has been named the team's 2016 Salute to Service Award nominee.
Presented by USAA, the official military appreciation sponsor of the league, the Salute to Service Award honors a member of the NFL who exhibits exemplary commitment to honoring and supporting the United States military community.
Rivera was chosen as the Panthers' nominee due to his experience growing up in a military family and for his continued support of the military.
The Carolina head coach has been open about his experiences growing up in a military family and was featured in a USAA commercial. His father served for 32 years including two tours of duty in Vietnam and raised his four children on military bases all around the world.
Rivera and his wife, Stephanie, make yearly visits to multiple military bases throughout the Carolinas and hosts current and former military members at Panthers games and practices. He and his wife also serve as ambassadors for the USO of North Carolina dontaing their time and resources to support USO events as well as active duty troops.
The finalists for the Salute to Service Award will be announced in January with the award-winner revealed at the NFL Honors award show on February 4th, the eve of the Super Bowl.
Two former Panthers, Jared Allen and Charles Tillman, have been recipients of the award in 2014 and 2012, respectively. Other nominees around the league include former Panthers wide receiver Steve Smith Sr. ofthe Baltimore Ravens, Atlanta Falcons head coach Dan Quinn and Pittsburgh Steelers left tackle and former army ranger Alejandro Villanueva.
To view Rivera's nomination video, click here.
This article originally appeared on