Rodney McLeod Makes An Insane Interception (Video)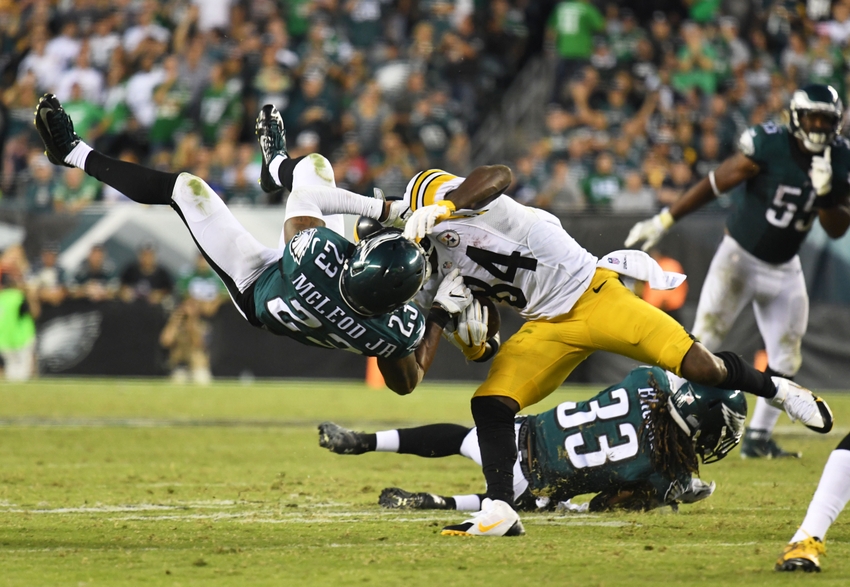 Philadelphia Eagles safety Rodney McLeod makes an insane interception late in the Eagles Week 3 game.
One of the biggest knocks for the Philadelphia Eagles over the years has been their poor play at safety. Last season they saw Malcolm Jenkins rise to the occasion and play well enough to earn himself a trip to the Pro Bowl.
Then, in the offseason, the Eagles went out and signed former Los Angeles Rams safety Rodney McLeod. Signing McLeod was huge for the Eagles, mainly because they completed their safety tandem. With Jenkins and McLeod, the Eagles have arguably the best safety combo in the entire NFL.
It remained to be seen how these two would play with each other, but through three weeks the results have been fantastic. Jenkins still looks like the Pro Bowl player he was a year ago, while McLeod could be on his way to his first.
In Week 3, McLeod ended the day with five tackles and an impressive interception off of Ben Roethlisberger.
On the play, McLeod is actually beat, but recovers well. When he finally recovers, he has a split second to get his arm between the ball and the receiver, which he does. The best part about it, his one arm that he gets in there, he uses to intercept the ball. As he is falling to the ground, he gets his other arm on the ball and secures it before the wide receiver tries to take the ball from him.
The referees talked for a little, but determined that McLeod did in fact intercept the pass. It was a ridiculously good play by McLeod and capped off an impressive 34-3 victory for the Birds. McLeod now has 14 tackles and two inceptions on the season.
This article originally appeared on